I am a little behind in my reading stack right now. Life has been busy in the inkstuds house. I have been getting some great work in the mail and will be following up with those. My favorite recent arrival was this amazing envelope drawing by Jesse McManus.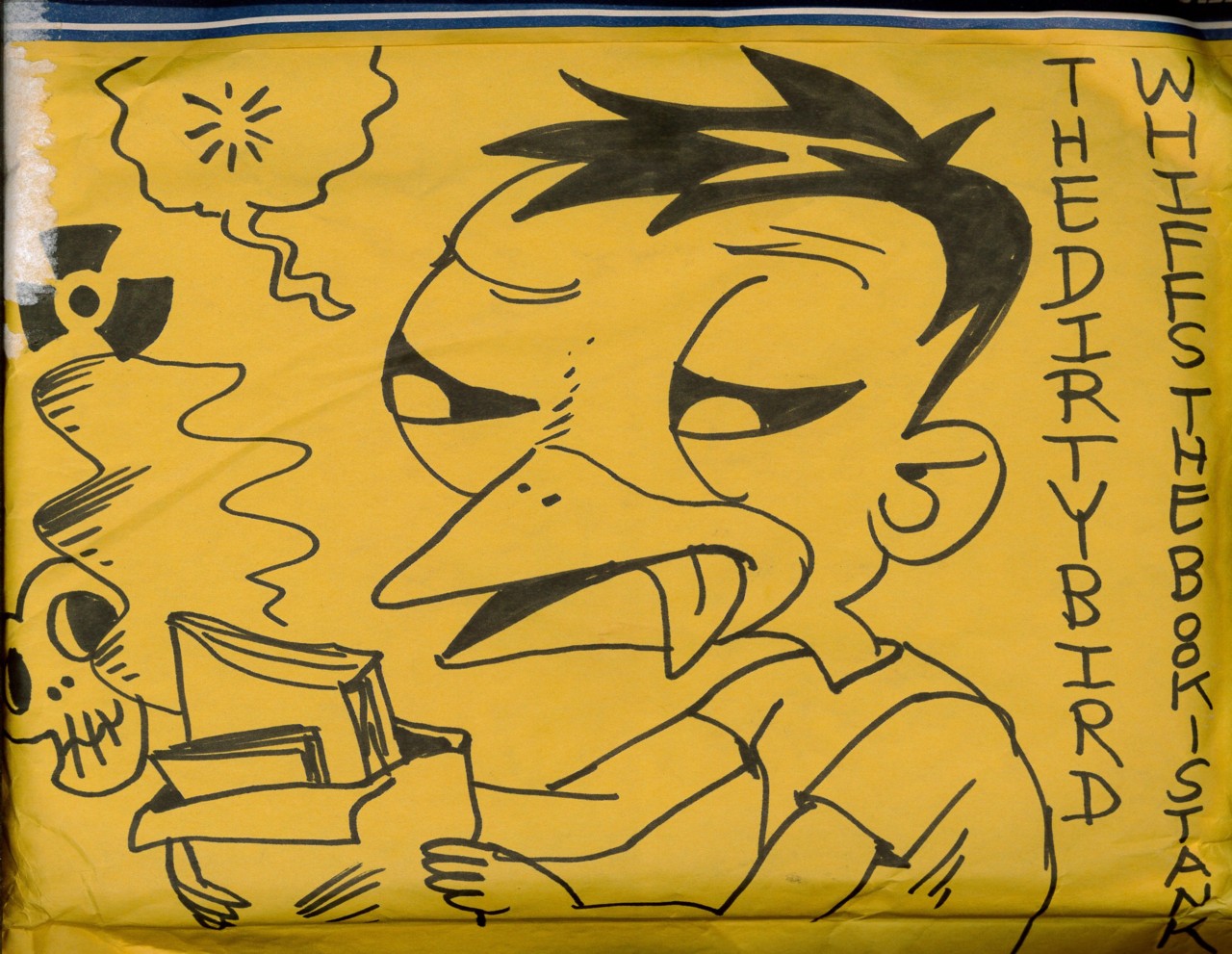 If you want to send stuff for me read, I can be found at
Inkstuds
388-2416 Main st.
Vancouver BC
V5T 3E2
Canada
I wanted to draw attention to an amazing book I picked up today at a local book store. Martin Vaughn-James is one of those names mentioned that were creating "proto-grapic novels. The Cage has been discussed a lot and you can check out a great analysis here.
Vaughn-James artistic skill's are pretty unparalleled in this work. Published in 1971 in an edition of 1000 by Canadian arthouse publisher, Coach House Books, The Projector is a trip into a dark surreal world that is probably home to the creations of Al Columbia.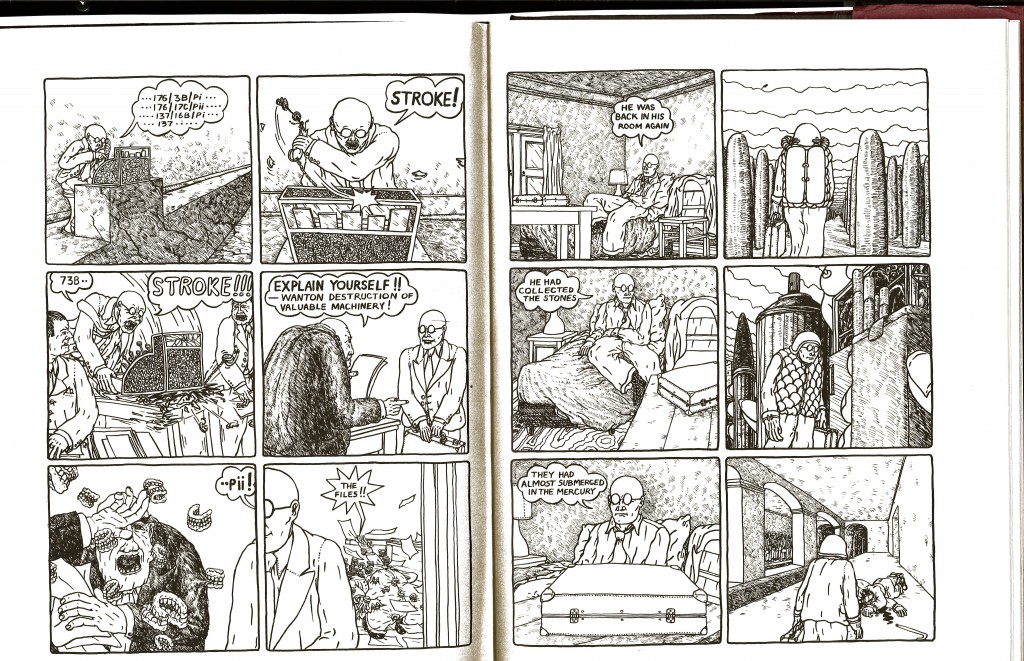 The work loosely follows the main character, who i am weary of calling a protagonist, wandering through his world of angry piglike vengeful bosses, busy scurrying herding workers and the occasional drawing of rivers of poop flowing out of radios. The character shifts from being a regular bald human, not unlike Mr X, to a sad confused dog headed person, more like a Jason character then any idea's of anthropomorphism that was coming out from underground contemporaries like Funny Aminal's and Fritz the Cat. The illustration of the character show's some kind of acknowledgement of earlier Disney work, taking this corporate symbol and thrusting him into the machine of his making, surrounded by movie projectors, and monstrous people with heads of tv's, camera's and other elements of communication technology. It's conscious rejection of symbol's in consumerism, or I guess understanding the grander idea of those elements.
There is a certain madness in this work, that makes me feel like I am in one of those Japanese subway photo's where a guy is coming in head first through the window. Forced into this horrid existence of being lost in the machine.
The juxtaposition of these basic characters in meticulously drawn setting is amazing. I am blown away by how he renders the details, it's like something from a Geof Darrow or Moebius comic.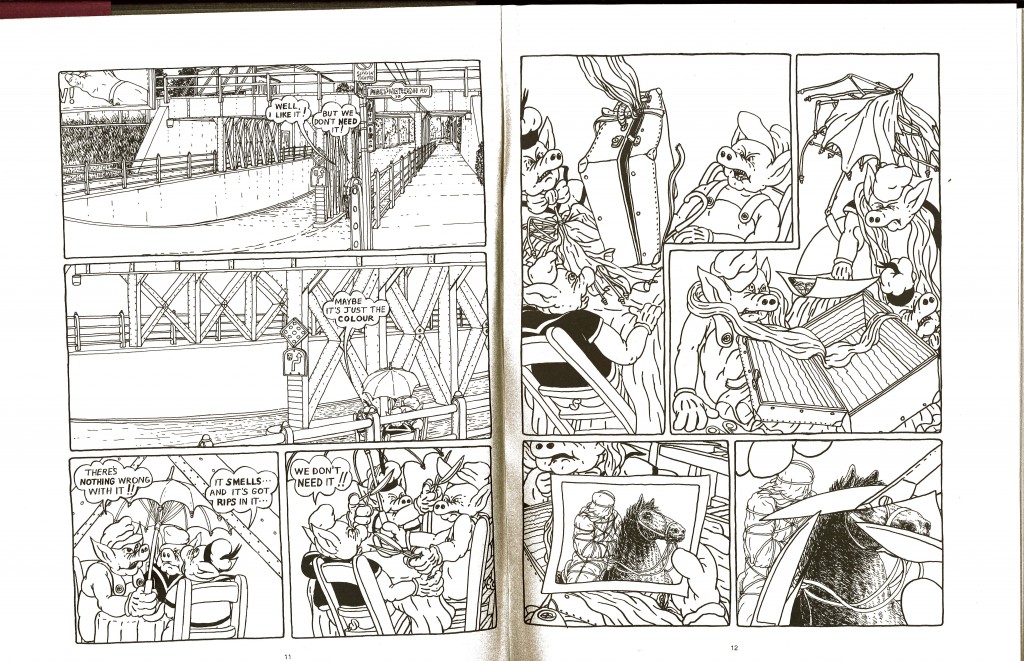 Look at this!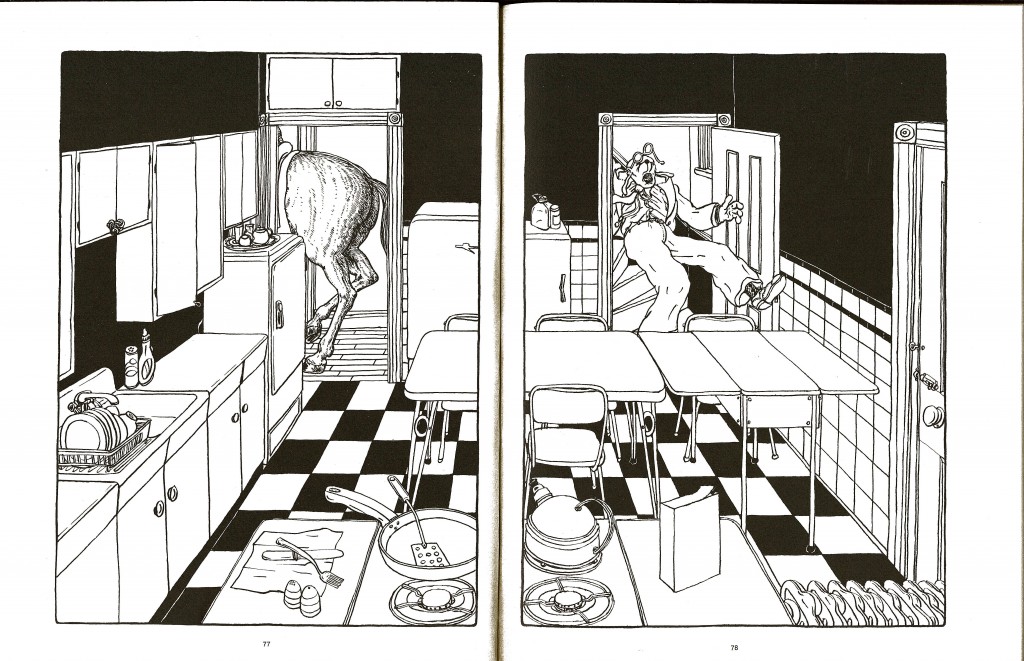 If I try and think of some modern cartoonists to compare him with, John Hankiewicz and Anders Nilsen. He has that clinical precision of Hankiewicz's work, formalistically playing with the movements of the characters within the page. You can feel a certain fluidity.
This looks like it takes place just down the river from the odd little world of Big Questions. I really hope someone eventually brings this work back into print. It would resonate now more than ever with readers.
I did read some other comics over the last couple of weeks.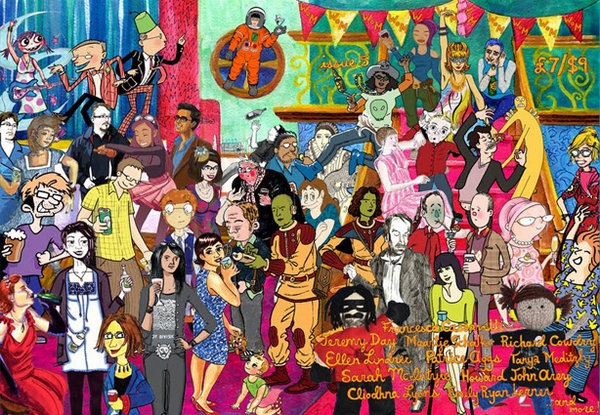 Whores of Mensa issue 5 was a delightful read. I had read the earlier issues and remembered enjoying them a bunch. The work in this wasn't particularly deep. The strengths in the anthology, is how the comfort I can find in the work. The cartoonists are all disarmingly honest in their story telling. My favorite was a 2 page story about folding napkins by Sarah Mcintyre about folding napkins.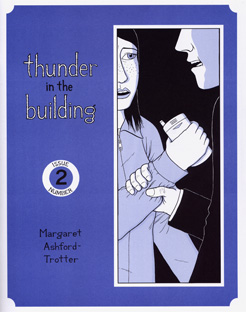 I picked up the first 2 issue's of Margaret Ashford-Trotter's Thunder in the Building at Shortrun in Seattle last fall. I was drawn in by the skillful work in it. As you can tell, I am pretty slow at catching up to my reading pile. The first issue is a couple of short stories that show Margaret's great skill's as cartoonist. She has a lot of potential in this work, introducing some intelligent concepts and premises. The second issue came out 2010, three years after the first, and you can see the jump in writing. She revisits one of the stories from the first issue, following up the plot, but being a great independent piece of work in itself. I really hope she continue's to make comics, there is a lot of potential in these books.
Everything We Miss by Luke Pearson was fantastic. This is one of the pricey books from Nobrow i was talking about on the show last week. It's dark story that explores the regrets and pains of breakup mixed with the lost moments and things that could of been. This is really an excellent read. I will be reading the other titles he has at some point soon.