Comics as we know it is wide and fractured. There's Direct Market comics, bookstore comics, webcomics, indie comics, manga, Eurocomics, and several more subcultures. I'm curious about what working under the broad umbrella of "comics" is like for creators, publishers, critics, academics, and more. Over the course of this month, I'm going to interview several people whose work, position, or goals I find interesting and attempt to paint a picture of what "comics" means today. Today, I'm talking to Jimmie Robinson, creator of Bomb Queen and Five Weapons, on what it means to survive in comics.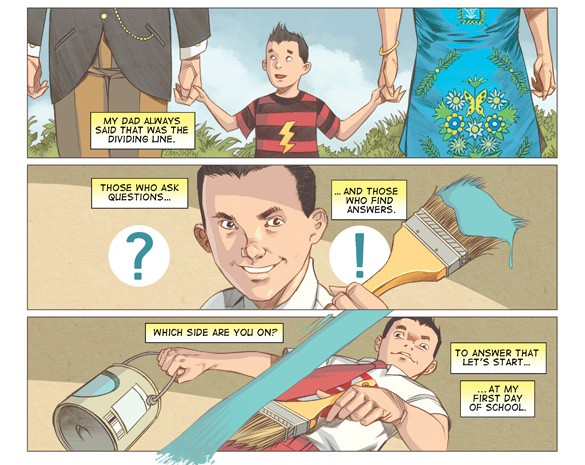 For the month of February, I'm taking over the Inkstuds podcast in order to introduce Inkstuds Spotlight, a focused look at what it means to be in comics. A comprehensive look isn't my goal. My goal is to show you several different slices of life in comics, as the people I'm interviewing this month play a wide variety of roles in comics.
A bit of context before we begin: Inkstuds is a comics podcast founded and hosted by Robin McConnell. It's focused largely on indie and underground cartoonists, and now that it's 500 episodes deep, exists as a great resource for finding out not just more about comics, but about the lives of cartoonists. ComicsAlliance is one of the most important news outlets in comics. I'm biased, having written for CA for a few years, but the staff has a voice and variety of interests that still can't be matched. With both sites broadcasting Inkstuds Spotlight, I'm hoping we can reach a wide slice of the comics readership.
Today, I'm talking to Jimmie Robinson. Jimmie is currently writing and drawing Five Weapons, published by Shadowline/Image Comics (my employer, as well). Prior to that, he created Bomb Queen, Avigon, and T. Runt! with writer Derek McCulloch. Robinson is celebrating twenty years in comics this year, having begun self-publishing in 1994 before working with a publisher for his later works. Twenty is a milestone number in any industry, and surviving twenty years in comics is no easy feat. But Robinson has done it, and has created a diverse body of work at the same time.

Inkstuds Spotlight 01 - Jimmie Robinson and Surviving In Comics
[ 45:28 ]
Play Now
|
Play in Popup
|
Download
Show Notes:
0:00: How Robinson came to comics, drawing his idea of what comics were before reading them, association with local artists, being self-conscious about his style, and the diversity of his work.
10:00: The origin of Five Weapons and its relationship with Bomb Queen, the story of Prince Five-Weapons, working conventions, inspiring other people to do the work, how it's harder to stay in comics than to break into comics, and staying viable in comics.
20:00: Robinson is one of the rare creators who takes part in comments sections on blogs and discusses why, this infamous piece for Comic Book Resources, playing devil's advocate and seeking balance, putting thought into seeing things from two sides, creating work to fill a needed niche, and the necessity of giving readers space to interpret the story on their own.
30:00: What it feels like now that he's been in comics for 20 years, feeling like he hasn't made a significant impact, being interviewed by Publishers Weekly and denying being an icon, canceling his Grey's Anatomy-style comic Code Blue, working with Shadowline, falling off the Top 300 and how that felt, working mostly in finite series instead of continual ongoings, and Jim Valentino's non-line.
40:00: working character-driven instead of plot-driven, what he's working on currently, where to find him online, doing work with a museum in Norway, and the difficulty involved in portraying two sides of a conflict honestly.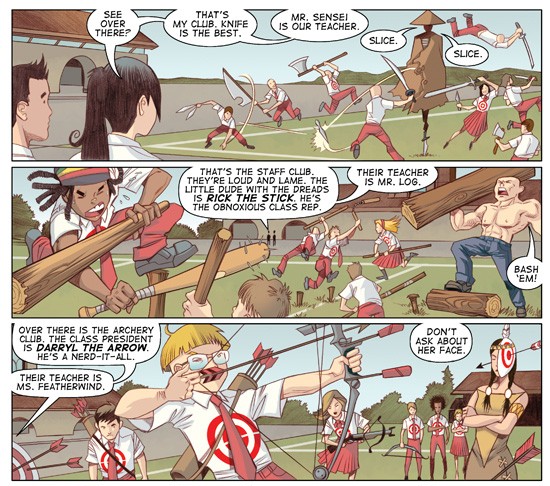 Recommended Links:
–Wikipedia
–ComicBookDB
–Preview/Review of Five Weapons #1
–Preview of Five Weapons #2
–Preview of Five Weapons #6
–Preliminary interview on Five Weapons
–Interview with Tim O'Shea
–Interview with Steve Morris
Jimmie Robinson:
–JimmyKitty.com
–Twitter
–Tumblr