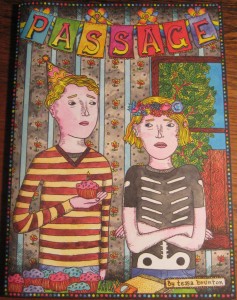 I know, I know, Passage isn't exactly a mini (it was published by Sparkplug Comic Books), but I really wanted to tell you about it, because it showcases the growth of one of my favorite mini/web comic makers. Everything exciting about Tessa Brunton's art is present in Passage. Small patterns and hatching provide depth and make each panel something to return to. There are more full-page panels and spreads than I've seen from her and they work to tell the story in interesting ways.
Passage is ostensibly about the wacky coming-of-age ceremony that Brunton's parents concocted for her older brother. The book leads up to the story of his capture, transportation and rebirth (really), with several small stories about parental dorkiness, the pleasures of scary sleepover movies and a sweet two-page look at her brother as he approached teendom. She is excellent at skewering the absurdity of the trappings of hippy-dippy parenting–the section on a fertility workshop that was foisted upon her is painfully hilarious. Her facial expressions, especially shock, (and there is a ton of this in response to parental shenanigans), never fail to make me smile.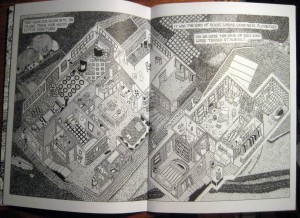 As the story builds, Brunton also explores the theme of hiding within one's own life. It starts off fun–the thrill of playing hide and seek with friends–and moves to a much darker place. Talk of hiding segues into the exploration of shame. "Who can't relate to the fear of being found, right?" This is what the whole comic is about,–shame and conquering shame–but her approach doesn't quite hit home like it should. All the sweetness of her brother's story, as well as the lighthearted jabs at living in "the kind of house where weirdness flourished," is contrasted with the dark way she feels about it, but we never get to explore what makes her so negative. She does straight out say on the third-to-last page that molestation is the cause of this shame, so as a reader you draw in breath, waiting to hear the rest. Instead the comic wraps up and even though the writing that brings us to the final page is very good, it is too pat an ending for such a faceted story.
In the end, Passage feels like the first part in a longer series and, when looked at in the context of Brunton's work, it is. Pick it up.
See my interview with Tessa over at try harder.