This past weekend, me, Brandon, Daniel and Noel traveled down to Portland for a multitude of purposes. Brandon had gotten us gas paid for by Floating Worlds Comics, as he was to be doing his first King City book launch. Daniel and I were off to go do a bunch of video interviews with Portland folks.
The trip started early Thursday, with a bunch of bro's on the road listening to terrible music.
You can tell Brandon is excited to leave Vancouver at 8am, as he had been going to bed at around that time for the week previous. The drive down was pretty unexciting for the most part.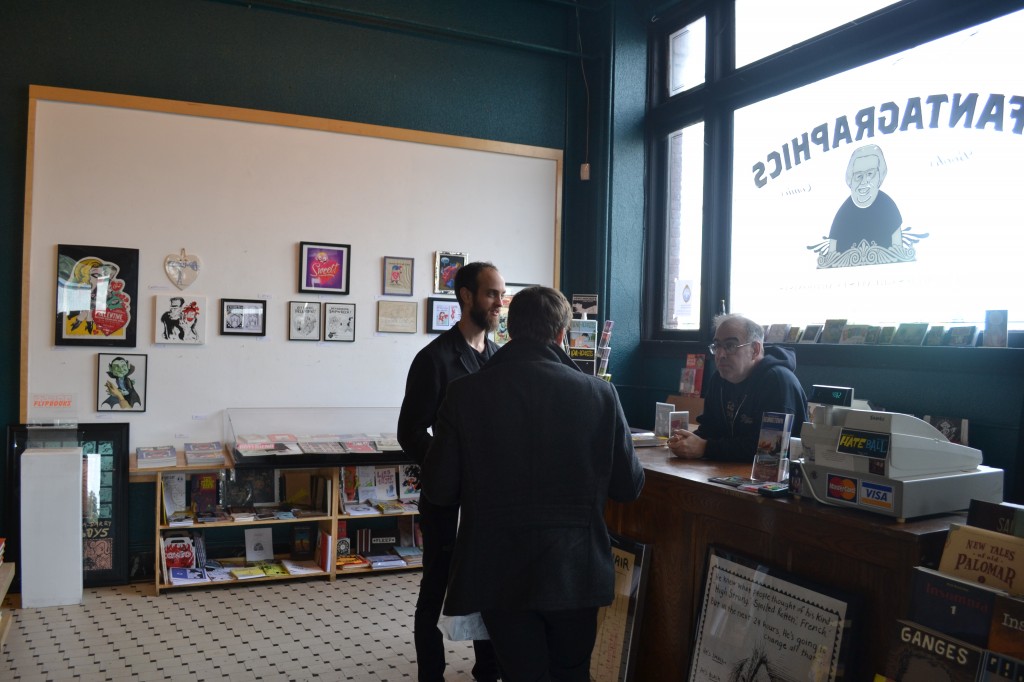 We stopped at the Fantagraphics store, where I picked up a couple of goodies from the damaged room, and Daniel got the amazing Cabbie, and then hit up Georgetown for some tasty lunch. We got po'boys.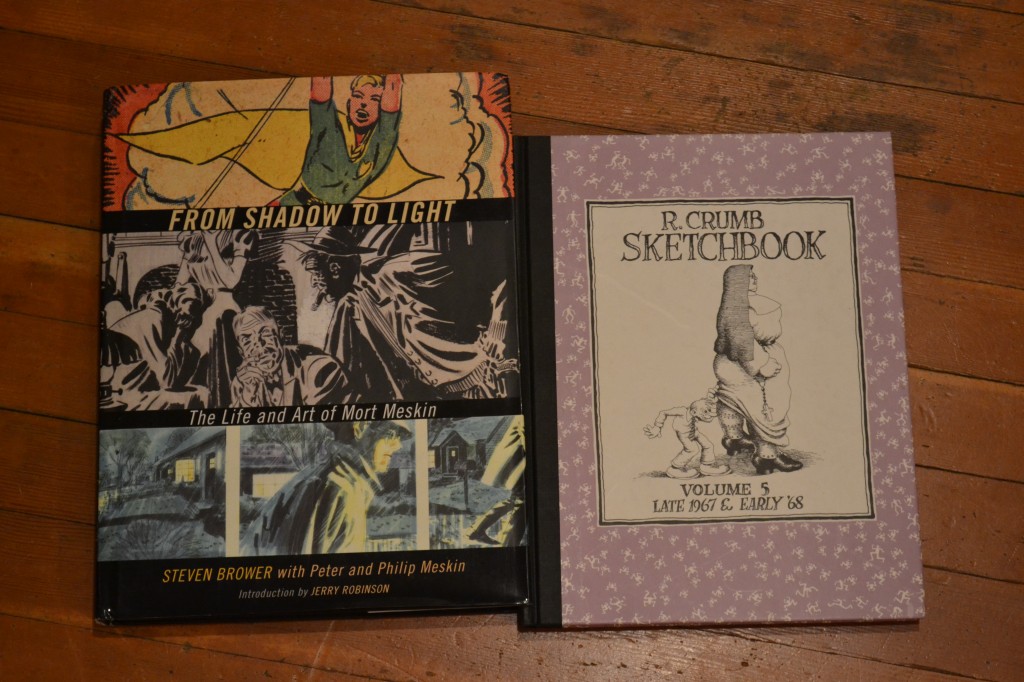 Brandon and Daniel judged my purchases.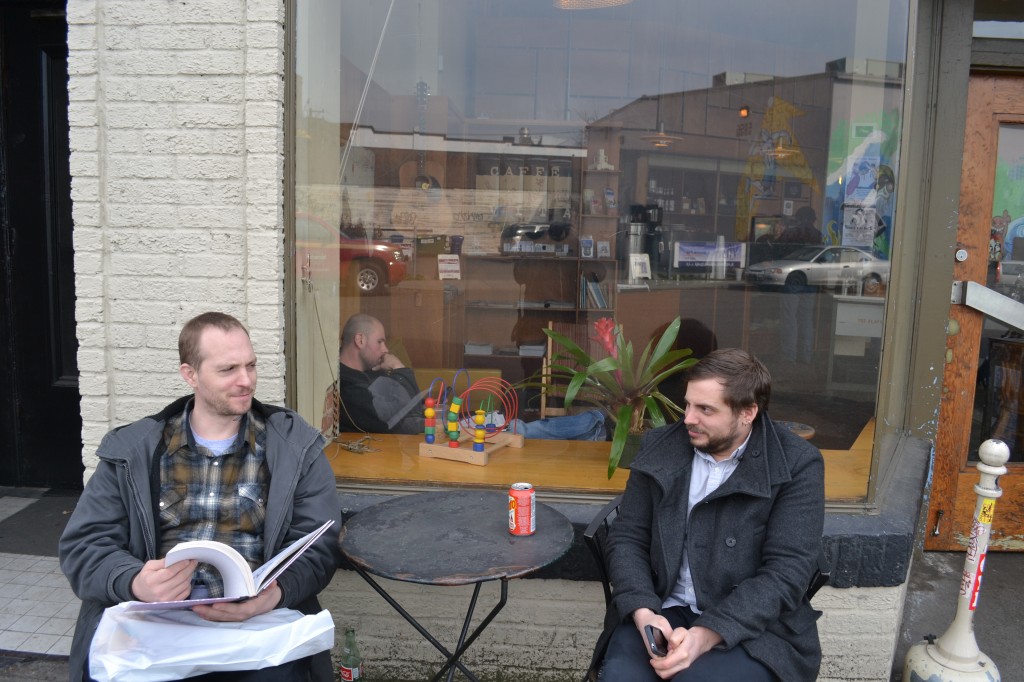 From there, it was off to Portland. Our driving time wasn't fantastic getting down there, but we did find an excellent gas station.
Our first destination in Portland, was the home of Study Group 12 editor, Zack Soto. I like Zack a lot. When I went to New York for the Brooklyn Fest, we spent a day just wandering through Manhattan with Ben Catmull. An excellent way to waste an afternoon. Zack is bred from the same cloth when it comes to talking comics as me, Brandon and Frank Santoro.
I have been wanting to interview Zack for a while, so when we were deciding on who to talk to in Portland, he was a natural choice. This was probably one of the more honest and intense interviews I have ever done. Zack was very open about some heavy personal stuff and I appreciate him taking the time with us and letting us into his home. He has a good thing going there.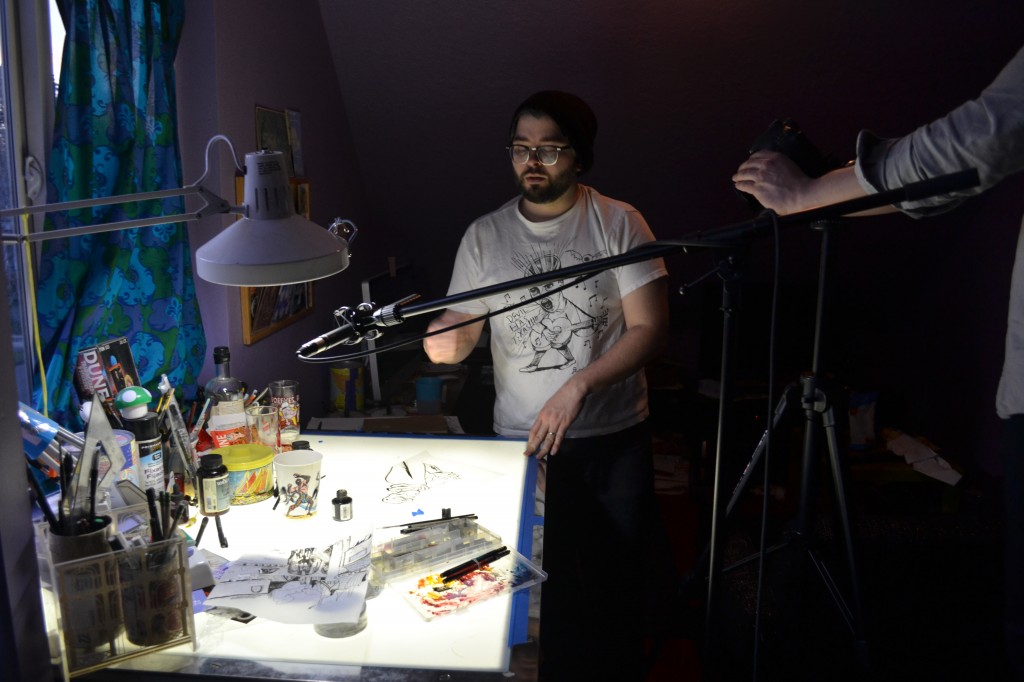 After Zack's, we rushed into town to check into the hotel, and maybe relax a little bit. I split from the group for my own illfated meeting, but caught up later. It is good to have some alone time when you are spending some intense time together.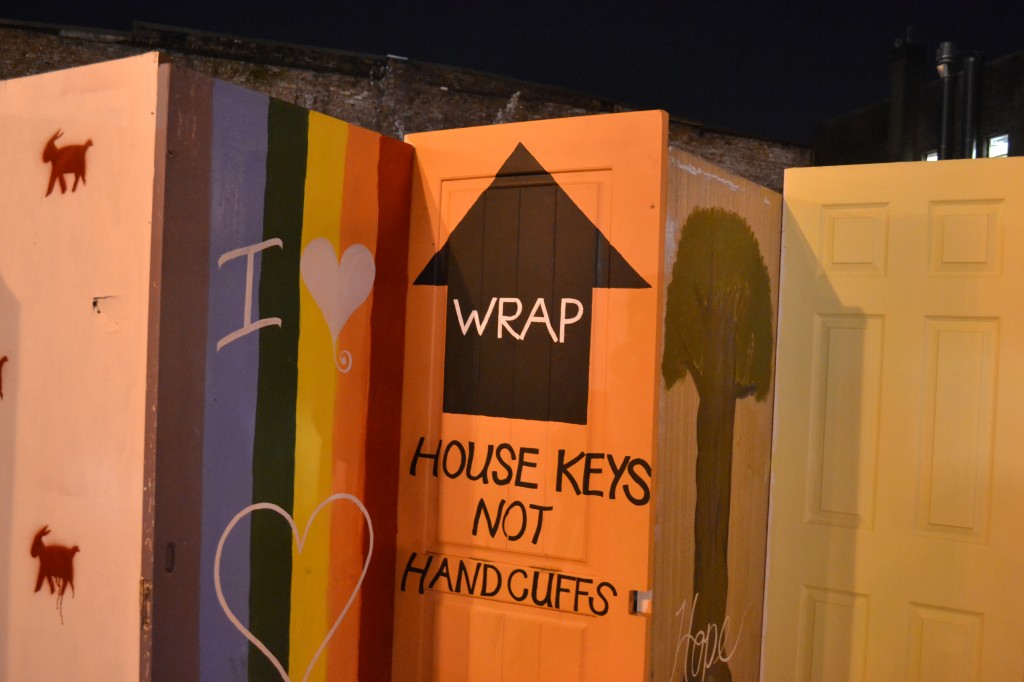 I took this picture of the outside of what I guess was an organized homeless camp. Homelessness is a particularly important issue to me. It seems to get swept aside as the focus of the larger milieu of the occupy movement looks at book releases and records, when a fundamental need is still not being met.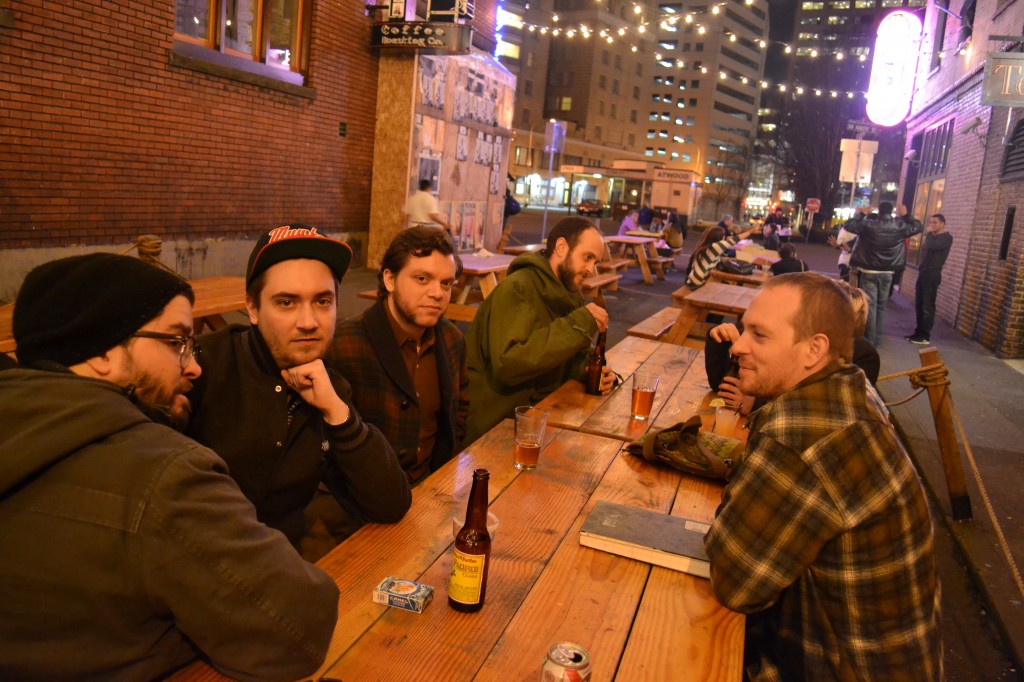 I caught up with the bro's downtown by a donut shop. Doug Sherwood and Ian MacEwan were there and eventually Joe Keatinge made his way after a whirlwind of signings in California.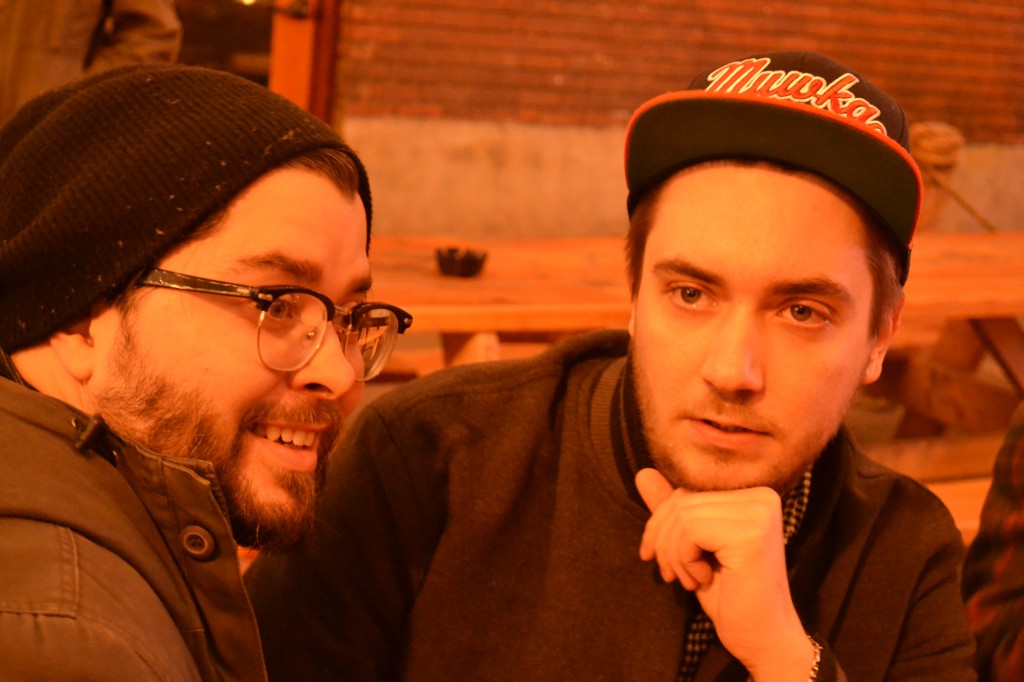 I always take this same photo of Zack and Doug. Such happy boys.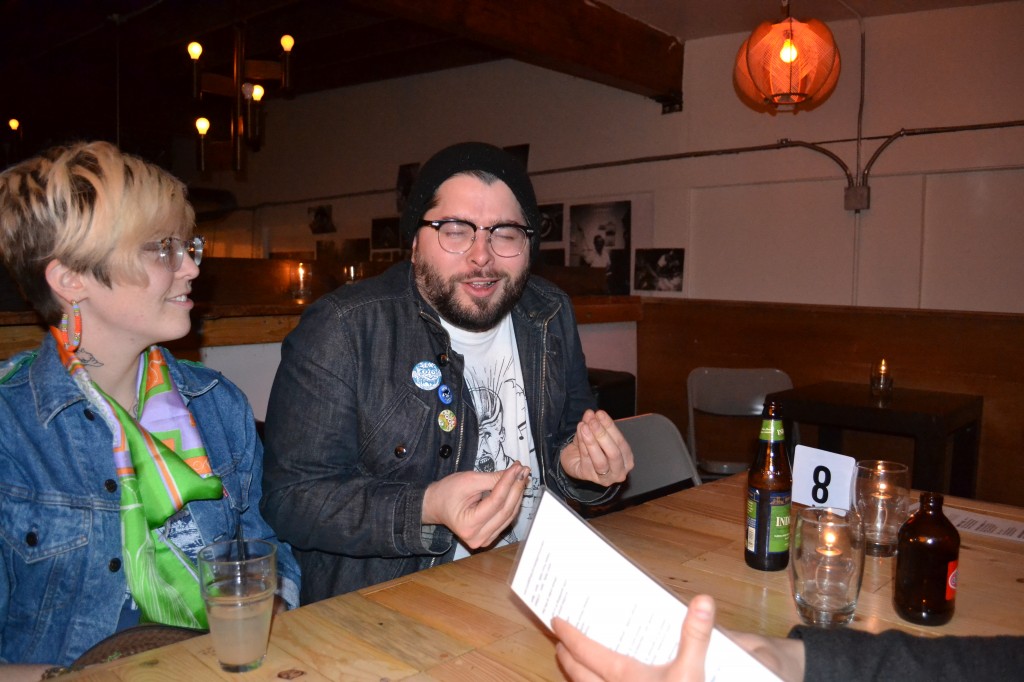 Here is Zack with his very nice wife, Krista, explaining gabagool from the Sopranos to my Italian film maker Daniel. He was not impressed, and me forcing him to watch the Jersey Shore that night back at the hotel, did not help matters. While Daniel and I were at the hotel, Noel went off to the tube to watch some local music, and regaled us with a story of a goth singer getting mad because the audience wasn't paying attention to him and his candlelit set.
Daniel had some homework to do in the morning, so Noel and I took off to Powells. I hit up Powell's twice over the weekend, so here are photos of all my purchases there.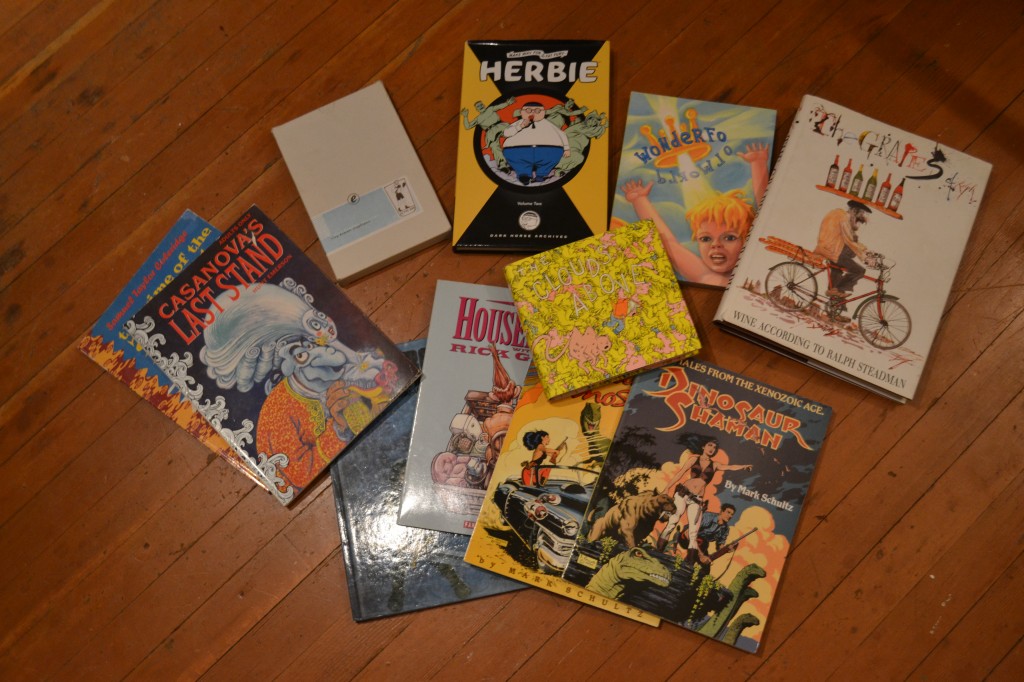 The Herbie book is as awesome as can be. I picked up a couple of Hunt Emerson books for really cheap. He is someone that I need to know more about. The Jordan Crane, limited silkscreen edition of the Clouds Above was a total steal. I have an incredible admiration for Jordan's work. He is a great creator, thinker, editor and talker about comics. Tom Spurgeon just did a thing about talents more deserved of recognition, and I would put Jordan on that list. There is a David Sandlin book from a gallery show he did in New York. He is another guy that I need to know more about and eventually interview. I picked up some neat stuff by him when I was at Printed Matter a couple of years ago.
Our day started with the an interview with Jack Hayden from Snake Bomb. He is doing some really interesting stuff and getting some really great talents out there. He comes from a D.I.Y. back ground that feels like it is infused with a pragmatic sensibility.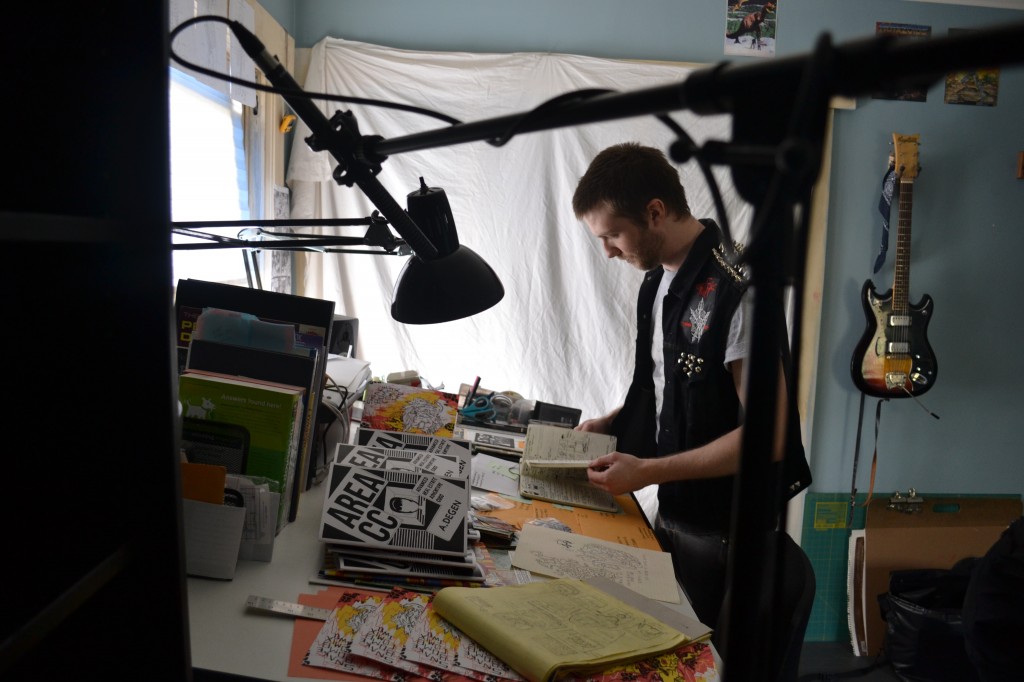 His house was pretty great. He had this amazing Prince poster in his living room. I thought of Michael Deforge.
After interview Jack, we did a short video with his room mate, Karissa Sakumoto.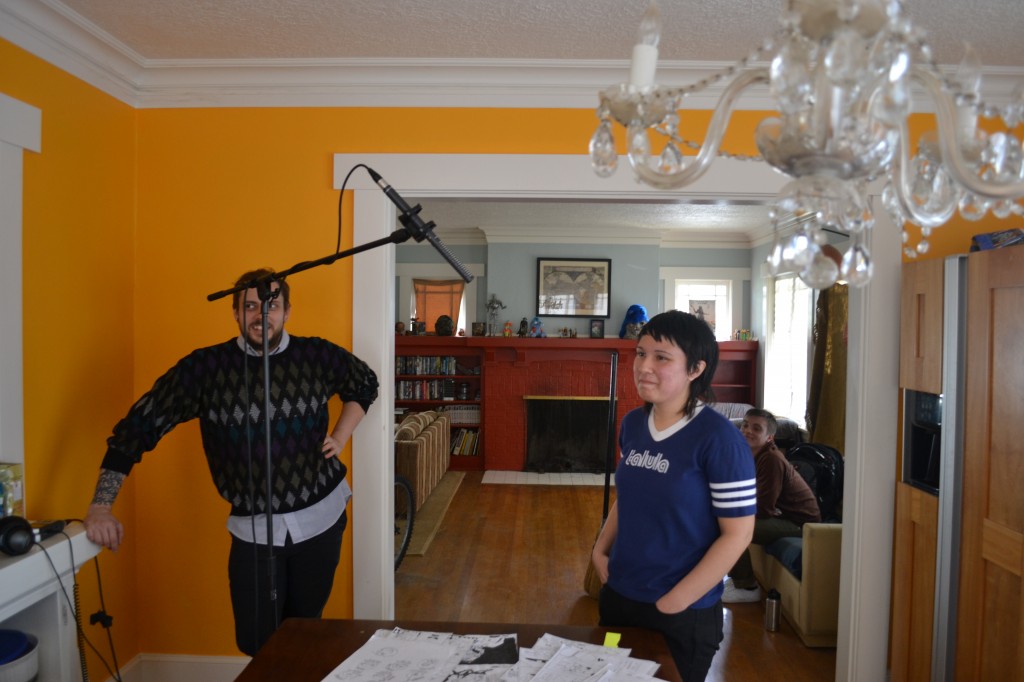 She does some hilarious drawings, and for someone who is still really new to comics, I can see her work really resonating and going far.
They had this broom standing on it's own in the living room.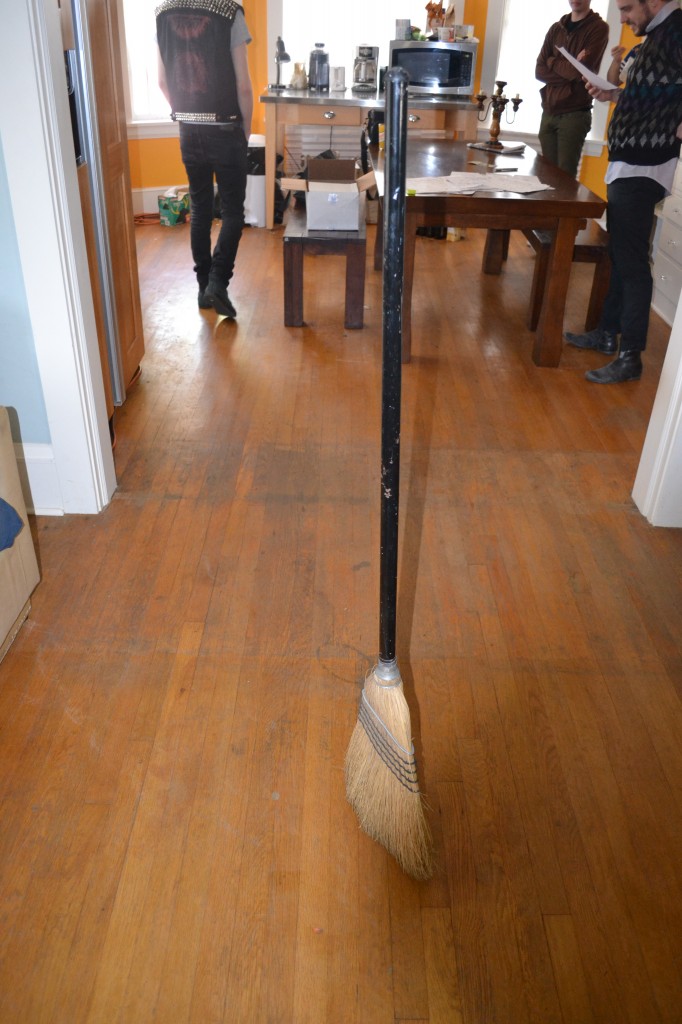 Our next stop, was the time portal known as Future Dreams. This is the type of comic store I love. Lot's of crazy shit that had been sitting there, untouched for 20 years. It is a windowless basement bunker.
I got an amazing selection of out of print European comics. Just the kind of thing that I am looking for.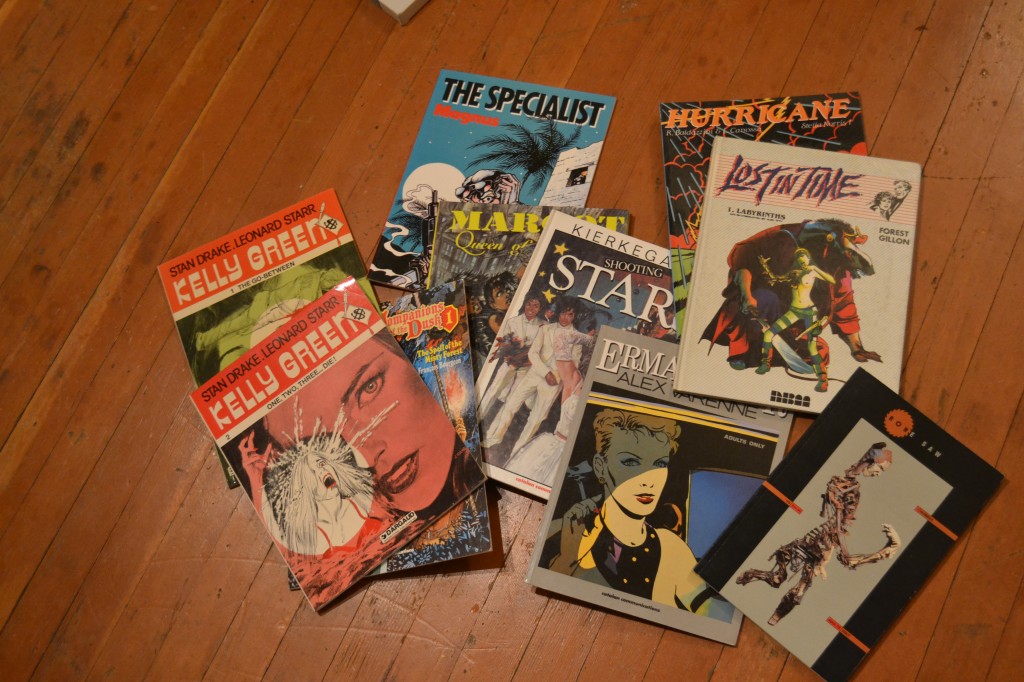 After that, it was time for interview number 4 of the weekend. Angie Wang was another person that I have wanted to talk to for a while. The really interesting thing about doing these video interviews, is that we aren't really focusing on big named talents, we are more into talking to fascinating people with a variety of skill levels.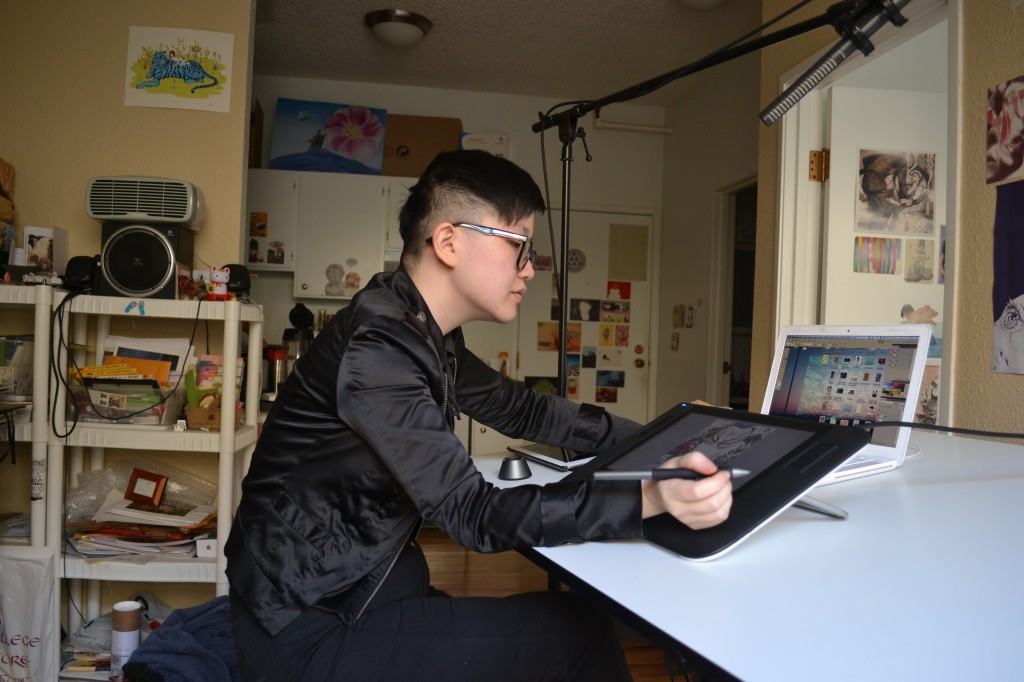 Interview Angie was a delight. She is a really smart focused creator that puts a lot of thought into her work. I think this is the first interview of the recent batch that Daniel is going to try and get up.
I was very exhausted after doing all the interviews that day, but we still had one more event to go to, the launch for Brandon Graham's King City collection. This book has been a number of years in the making and has transformed Brandon from relative obscurity, to being one of the more exciting creators out there right now.
The signing itself was excellently attended, with Floating World almost selling out of a very large order, with only a handful of signed copies left. It was a great chance to catch up with with some swell comics folks.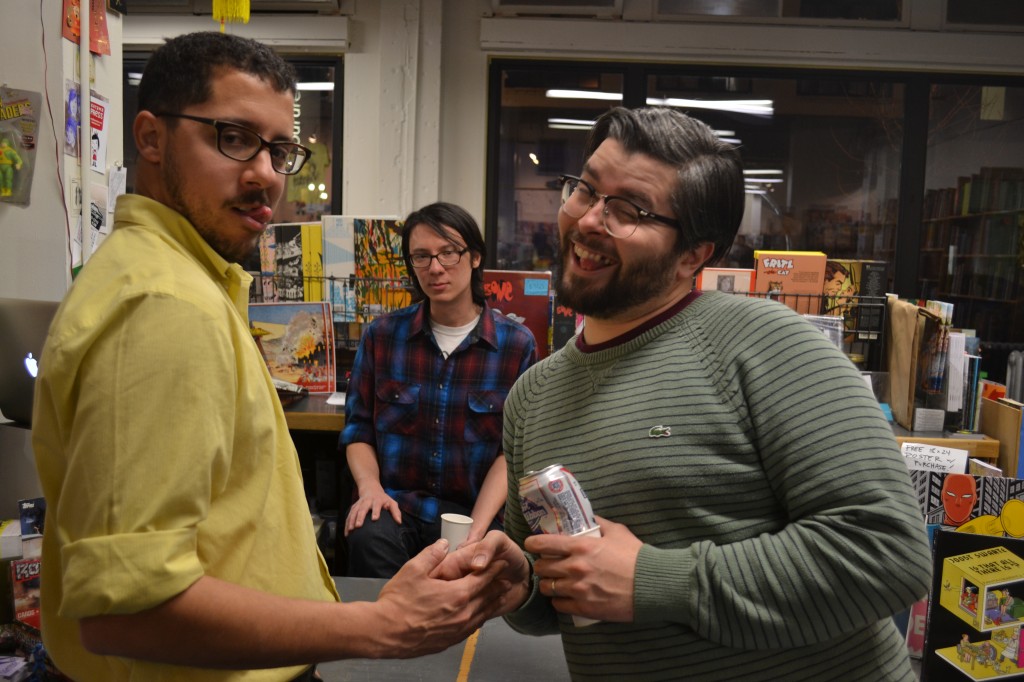 You can tell that these guys are excited to hang out with me in Vancouver when they come up here for the VanCAF.
It was nice to Farel Dalrymple. The friendship between him and Brandon goes back a long way, so it's exciting to see them working together for the first time on a project like Prophet.
We went out for drinks later and caught up with Emi Lenox, who had her own book launch that night at Bridge City Comics. I think Brandon was pretty of sick of me by this point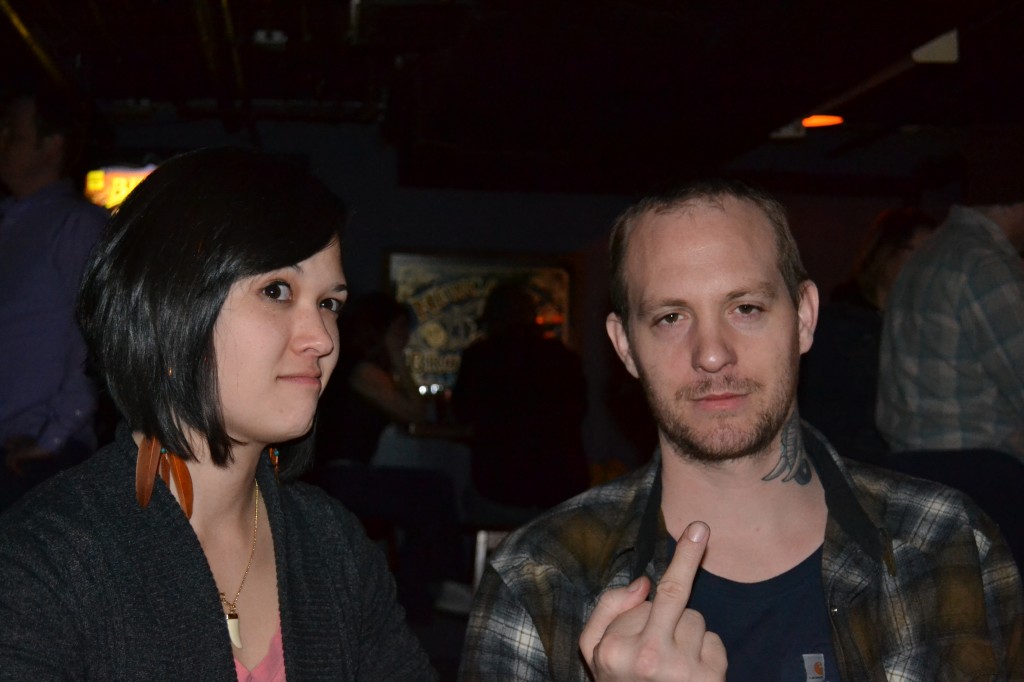 The next morning was another early start. I had somehow talked Craig Thompson into travelling down to Eugene, Oregon with us to visit Michael Allred and film them talking comics with Brandon.
The interview was amazing. I had originally planned to just have an hour of those guys and then have some one on one time with Allred. The first half of over an hour went to so good, we just wanted to keep it going.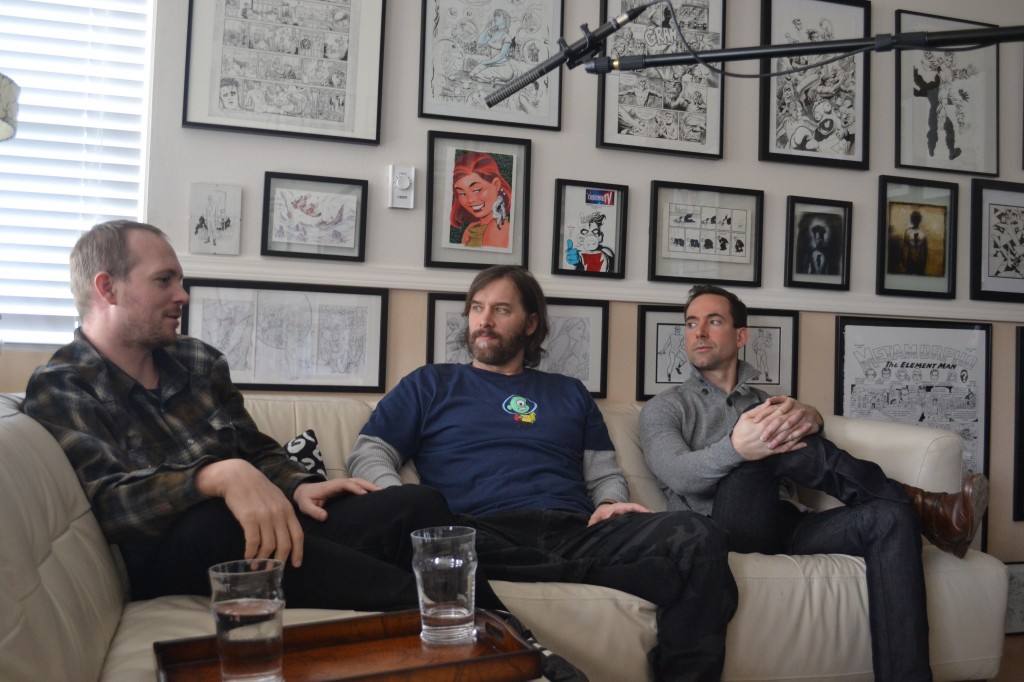 I loved being able to see all the original art in his place. It is like a shrine to Madman, and it could easily be gaudy or ostentatious but it is the complete opposite. Madman is like a member of the Allred family. On of his sons came in at point, wearing a Madman hoodie that Michael hadn't seen before and got his son to give it to him. It was a really funny moment that captured the role of comics in that house. Being able to see a Frazetta original  on his wall, next to some Al Columbia drawings, across from Jamie Hewlett was nothing short of impressive.
The conversation between the three of them was so good, that it is actually giving Daniel and I a lot to think about, in regards to how we approach these videos and interviews.
Michael is very proud of this chair, and it is very comfortable.
The last day was all shopping. I picked up a heap of stuff from floating world. Jason has by far, the best selection of new work in the small press that I have seen.
I went through the store during Brandon's launch and made a stack of stuff I wanted to get and then came back on Sunday and added to that stack.
We hit up Counter Media, where Daniel bought a huge stack of European goodies, and I got a couple of treats. It was nice to see my book in the store there among other comic's history type works.
Next door at Reading Frenzy, I saw my book again, but this time in the clearance bin. It would of stung a little, if not for finding these awesome books in there. Blanquet makes for good company.
And with that, it was time to return to Canada. Brandon was out having some business lunches while were shopping, but I think all of us were ready to leave, lest we spend more money on comics.