It's been feeling really good to incorporate regular reading into my life again. Quite often I just hold off on reading something because maybe I will need to interview that person one day. So no more rules, no more waiting, just read and enjoy.
If you would like to send stuff for me to read, you can do so at the address below. I probably won't read pdfs, as I am an old man stuck in his ways.
#2147 – 720 Sixth St
New Westminster, BC
V3L 3C5
Canada
I've read the occasional Matt Furie Boys Club thing. I have always enjoyed his art, especially his detailed painted work. Boys Club is a lot of fun. it reminded me of my own time in my early 20's living with a bunch of friends. Those times were weird and crazy. I have many stories that include the time we had a friend that worked the graveyard shift at a Burger King 2 blocks from my house. I was very poor at the time and being able to go and hangout in closed up shop and munch down on food was very exciting to this 19 year old. Making my own burgers while slipping around on the incredibly greasy kitchen floor, grabbing packets of cheese curds and just inhaling them. Cheese was a luxory at that point. Cheese in Canada is more expensive than anywhere else in the world. One time I took home a poutine and put it in the fridge and heated it up the next day in the microwave, in its styrofoam container. I have never gotten so ill, so quickly from eating something. Boys Club perfectly encapsulated that time of bad choices, fun nights and no regrets. Thank you Matt Furie.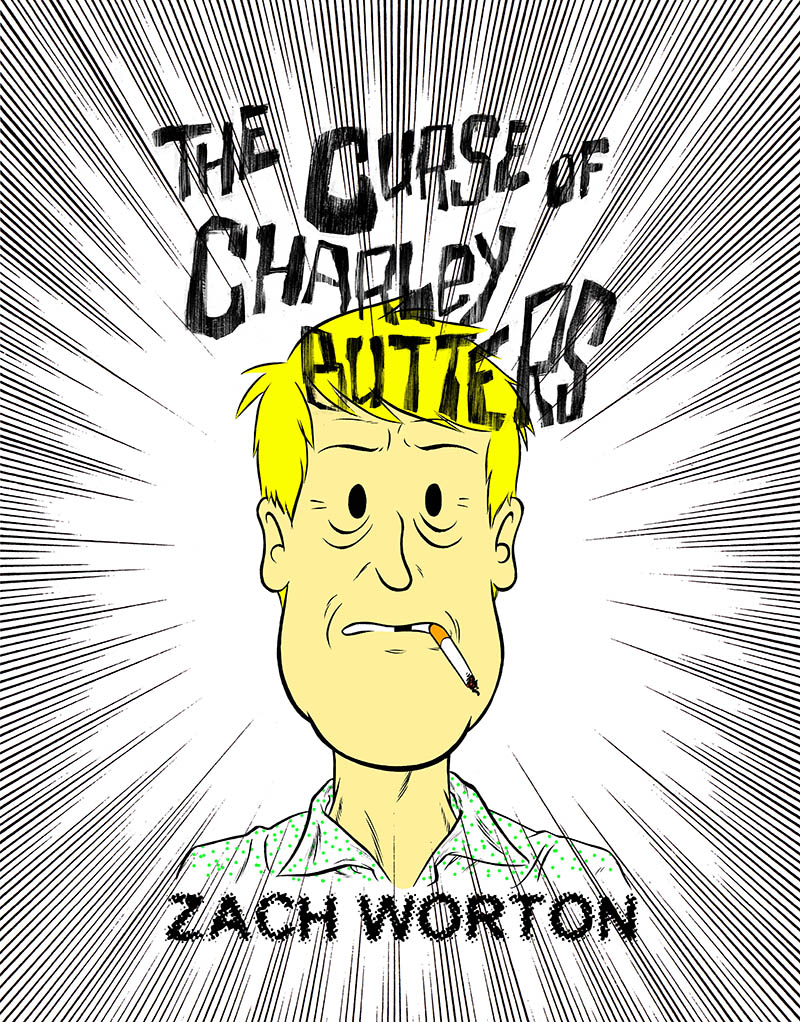 I had read the first installment of Zach Worton's Curse of Charley Butters a couple of years ago. I really enjoyed it, but wasn't really sure where it was going. Zach has a great art style that serves his comics really nicely. His previous book, Klondike for Drawn and Quarterly was great. Super fresh style made for comics. His latest book, collects the first part of Charley Butters with the full rest of the story. It's a solid volume from Conundrum Press (conundrum also published the inkstuds book many years ago, so publisher, Andy Brown is a saint in my eyes). The book quickly shifts into high gear with the other parts. What at first seemed like would be a fake history of a mysterious artist, quickly changes into a look at personal failure, addictions, obsessions and all regrets. While Boys Club was fun and silly and lives in this great bubble, Charley Butters is the result of the bad choices we make, or the good choices we don't make. being shitty to friends, resenting people and life. Zach really works these characters and doesn't make things easy, but not in a super depressing why bother way, but in an experiential way, challenging who we need to be and the motives behind our decisions or actions.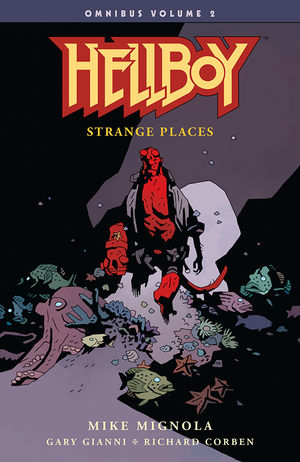 Volume 2 of the complete Hellboy Omnibus volumes was fantastic. It's like comic popcorn. i really like the lack of any kind of moralistic superiority to Hellboy. He's just a devil dude who was brought to earth to bring about the end of the world. What do you do when all sorts of horrible people are telling you, your destiny, go crazy and wander the earth and get into all sorts of messy fights. I know this all connects with the greater BPRD story-lines and whatnot, but I like the way Mignola is able to limit the hellboy stories and you can enjoy them on their own, without having to fall into this bigger thing, which I will be revisiting soon. Also, there is some A+ Richard Corben stuff in it, so that's always worth the price of  admission. I feel like this book is where Mignola is really hitting his stride in terms of the greater Hellboy story arch.
Sophie Yanow's What is a Glacier? Sophie is a strong thoughtful researched cartoonists, so I went into this expecting a book about how we are all fucked because of impending environmental disasters. Instead it's a really touching read on the uneasiness of life and where we are i our lives.
Going through my own period of personal change and re-evaluating, I really appreciate Sophie's lack of answers, but instead a focus on not having an answer. There's a teetering existential crisis that feels really raw and universal. Go read Sophie's comics. She's great.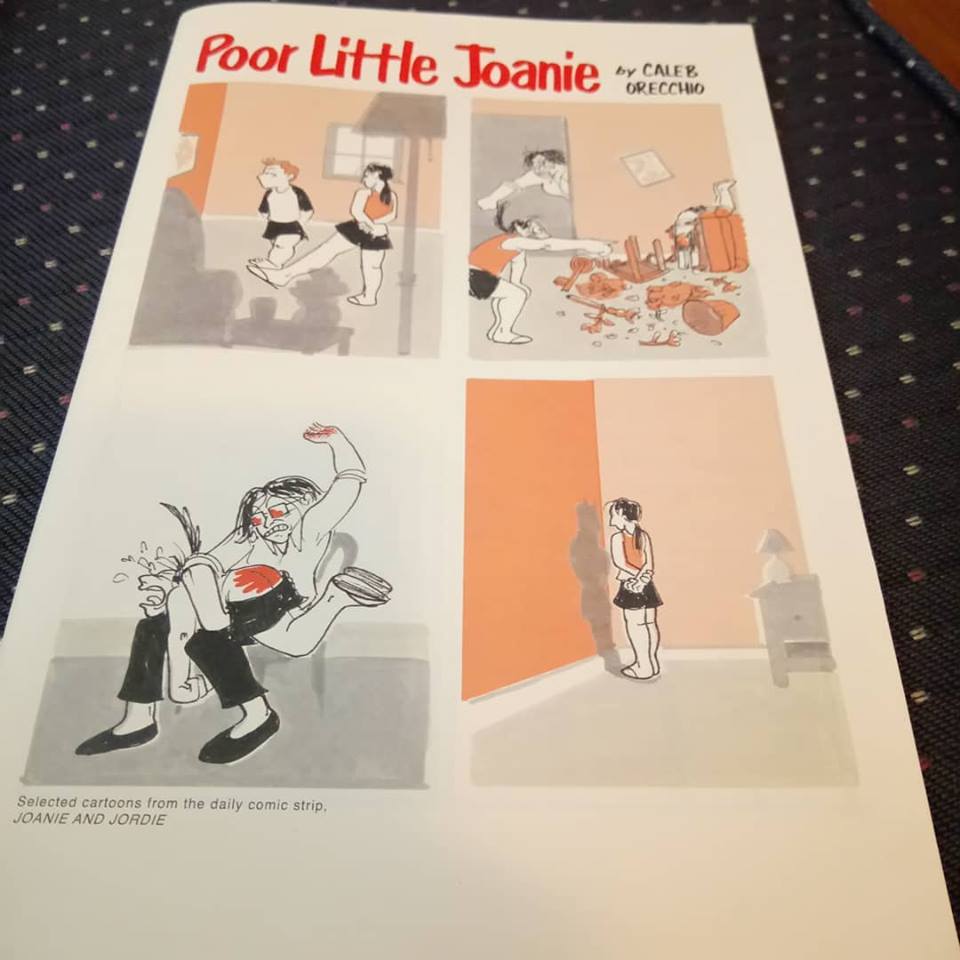 Poor little Joanie by Caleb Orecchio. Published by Comics Work Book last year I think. Caleb mailed this and another mini to me and they got lost in my mess. I am trying hard to sort through things and catch up on reading. This is a collection of 4 panel gag strips that have some story connecting them. I don't completely understand the whole time, but I really appreciate Caleb's drawing and capturing of expressive figures in motion. The work has a lot of life to it. I would be really interested in seeing a more specific contained work. I have never been super into daily style Strips, but I see the skill in what he is doing.
I really enjoyed this book, Solanin by Inio Asano. I don't read much manga, a fault in my part. I was always learing of manga when I was young, because I made grand wide assumptions about the work. So it's always been too much of a gap in mind reading. I saw my old pal Sarah horrocks writing about Asano's work, and other folks talking about his works, so when I saw this used at my local book, I figured I would give it shot.
This book is full of so much heart, but not in a saccharine way. Very honest personal and comforting. A good book for a summer afternoon outside.
I've really been enjoying read and trying to log off. All these distractions pull my brain down and take me away from the work.
Yesterday I was talking to a friend about the difference between talking about comics as something other than the work itself and actually just reading comics and sharing thoughts about the work itself.
Reading and writing these little reviews has been really cathartic in reconnecting and centering.