The third year of Seattle's Short Run Comics festival was quite a blast. It was the first year they are in the Washington Hall, an early 20th century building giving the show a nice old school vibe to it. For the two previous Short Runs, I had gone for day trips, driving down and back from Vancouver with some friends. This year I went down for a couple of days.
I took the Bolt Bus, which is probably the cheapest way to get to Seattle from here with a car of your own. While waiting for the bus to leave I took a photo of the amazing security fence at the Vancouver bus station. The security features a guy at a table, but you can easily walk around the other side of the fence to the buses. Security, Canadian style! I was yelled at by a bus driver for taking this photo. There weren't any signs saying I can't. Since it was American Thanksgiving, they only ran two buses that day. Mine was full. The person sitting next to me was very polite and thankfully didn't judge me for watching Survivor on a bus. A young woman with a ukulele played a song for the same bus driver that yelled at me outside. Thankfully she did not play anything on the bus.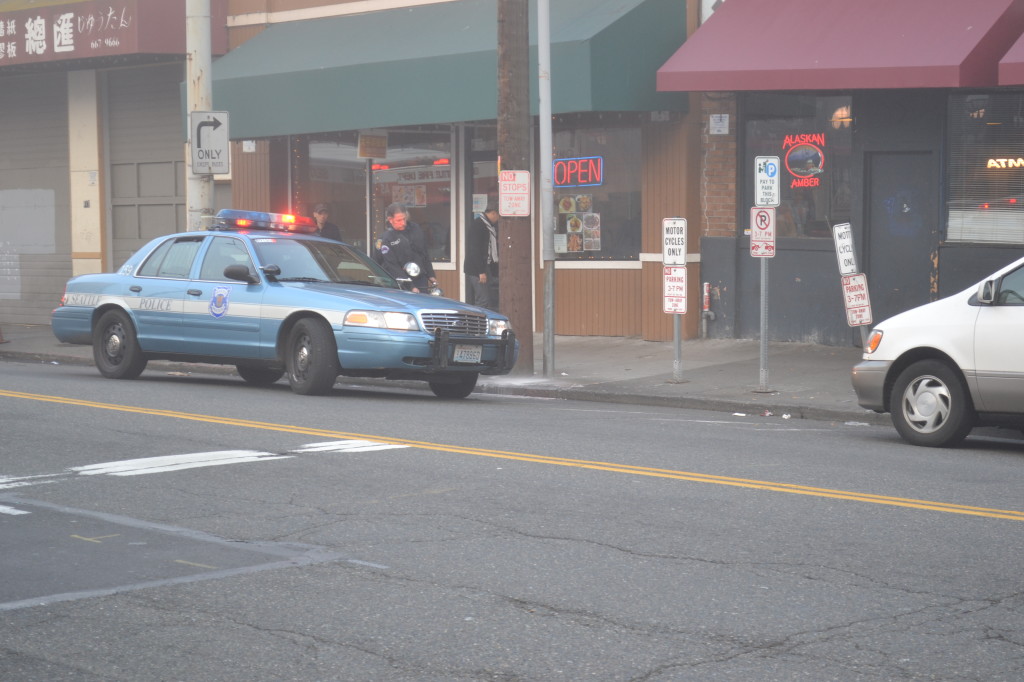 The bus lets off in a relatively colourful area of Seattle. While I was waiting for a cab, I saw police pull up in front of a bar. They were there to hose blood off of the sidewalk. Happy Thanksgiving! Someone wondered why so many bars were open that day, I responded "have you ever been sad?".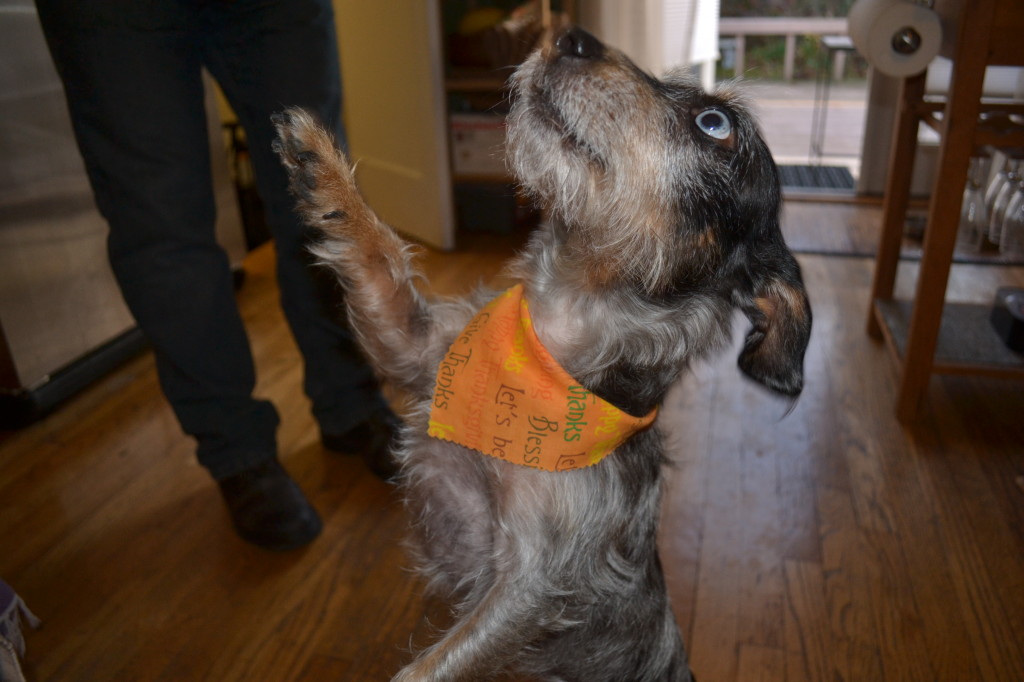 This dog is the best thing ever. 
I have never done the full American Thanksgiving, so somehow I managed to weasel my way into the Fantagraphics-esque dinner. It was a big affair with two birds and a very variety of dishes for those of different culinary needs,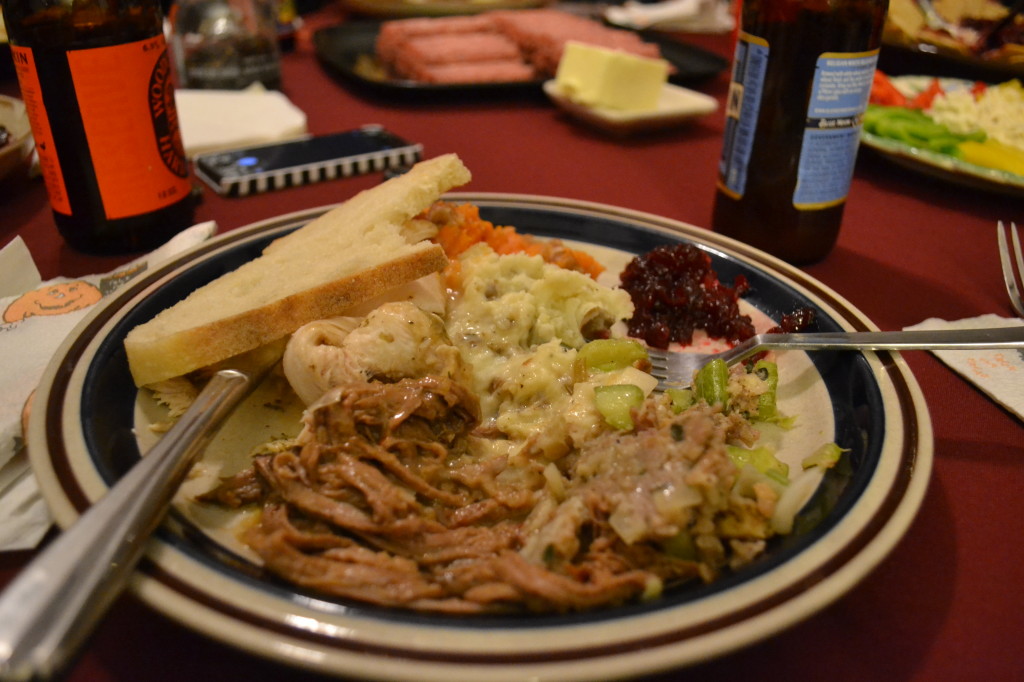 Here's my food pic. deal with it. 
Here's Tom Neely's food. I eat meat, Tom's vegan, so i thought it would be nice to see the great amount of different stuff. We were both full and happy. 
The long table and happy eaters.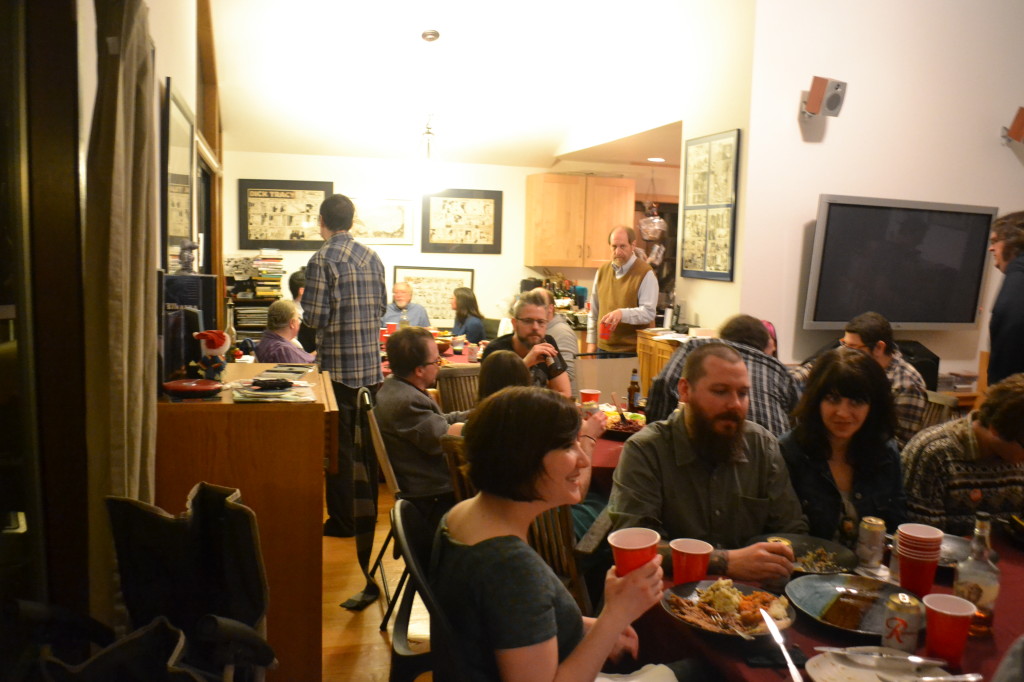 And even more eating happening. Lot of folks! Many thanks to Jacq Cohen for coordinating this, Gary Groth for hosting and Jen Vaughn for bringing me!
Gary's pet snake also needed dinner. Eric Reynold's delightful daughter was very excited for everyone to have something to eat. 
And so was the snake.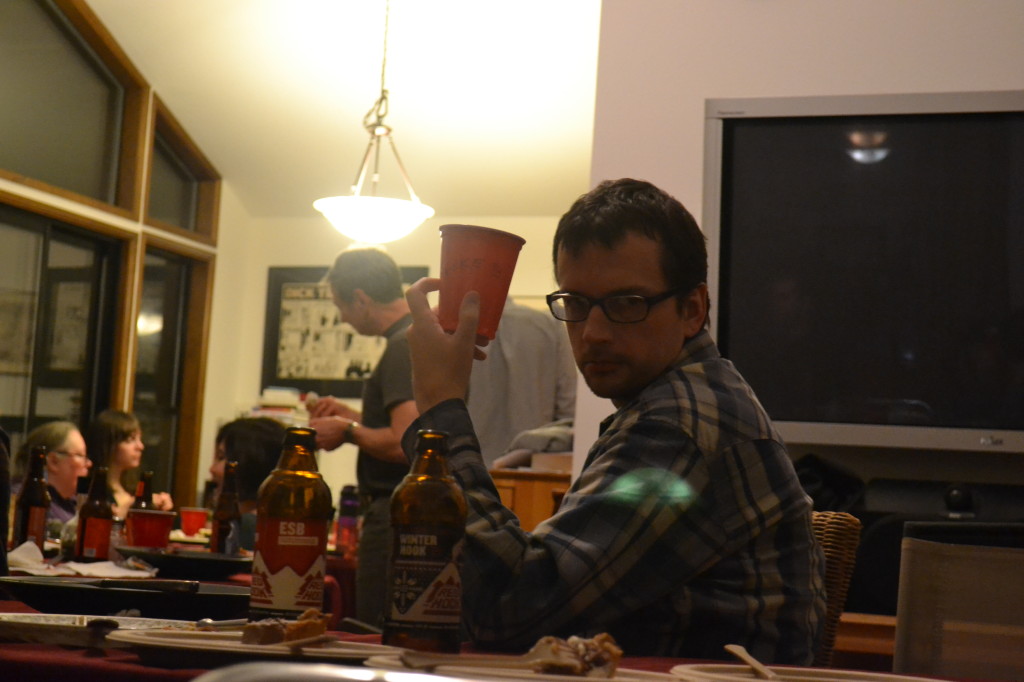 I was happy to be able to hang out with Mike Baehr. Probably the quietest fanta staffer, Mike is a pretty amazing illustrator. I was super stocked to get his mini that weekend.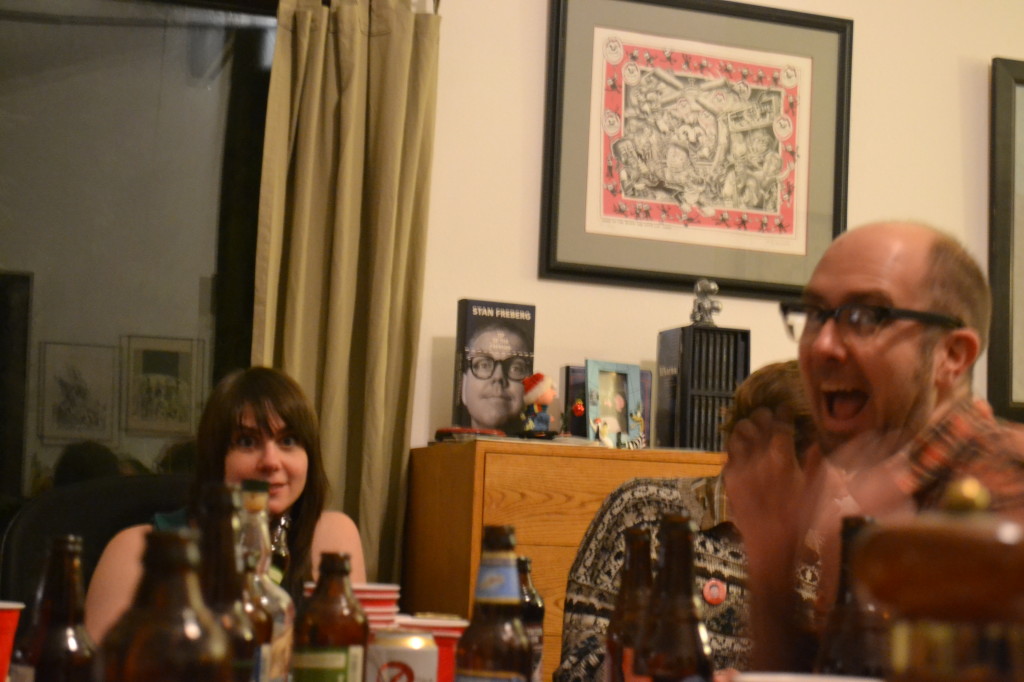 I gave Kaz Strzepek a hard time about his comics. I love Mourning Star and want more! Caitlin McGurk was still super jazzed about how well the opening of the Billy Ireland museum had gone. I was still making my way through Tom Spurgeon's epic write up on the show.  
Keenan Marshall Kellar and Tom Neely drove all the way up from LA. From what I understand, they had amazing driving time.
My old friend Josh Simmons showed up a little later after having dinner with some family. He's a good man. He's joined here by local talent Marc Palm and Kentucky visitor, J.T. Dockery.
I got some good gabbing in with Josh and Tom Van Deusen. Tom has been doing the lord's work by publishing new Real Stuff stories.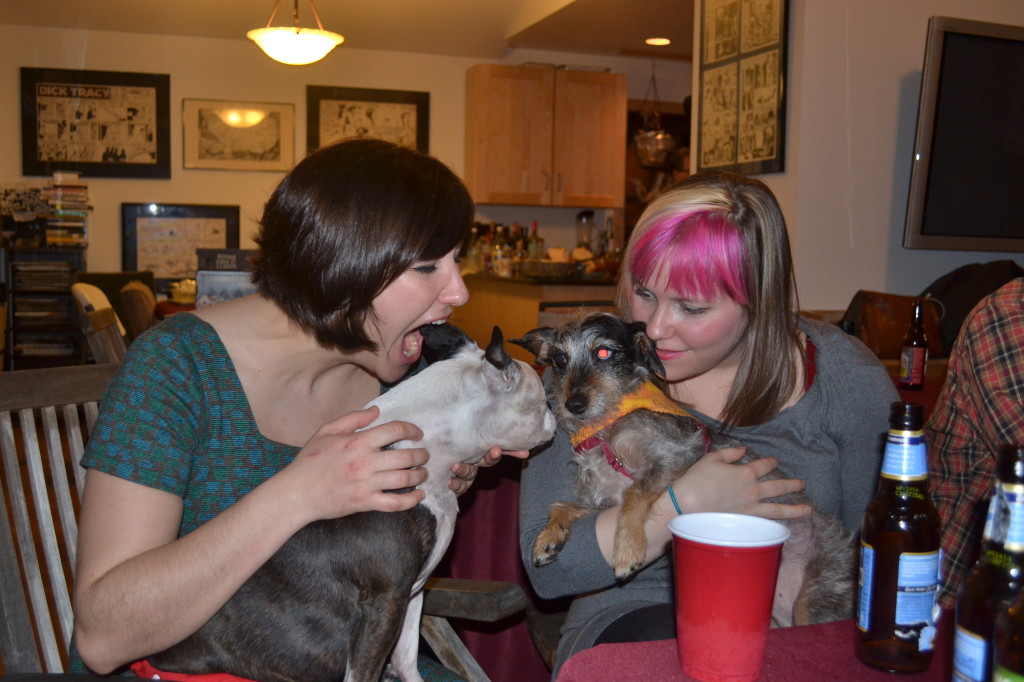 The Fantagraphics marketing department seems to have a rule about being accompanied by awesome dogs. 
Seriously, what's not to love?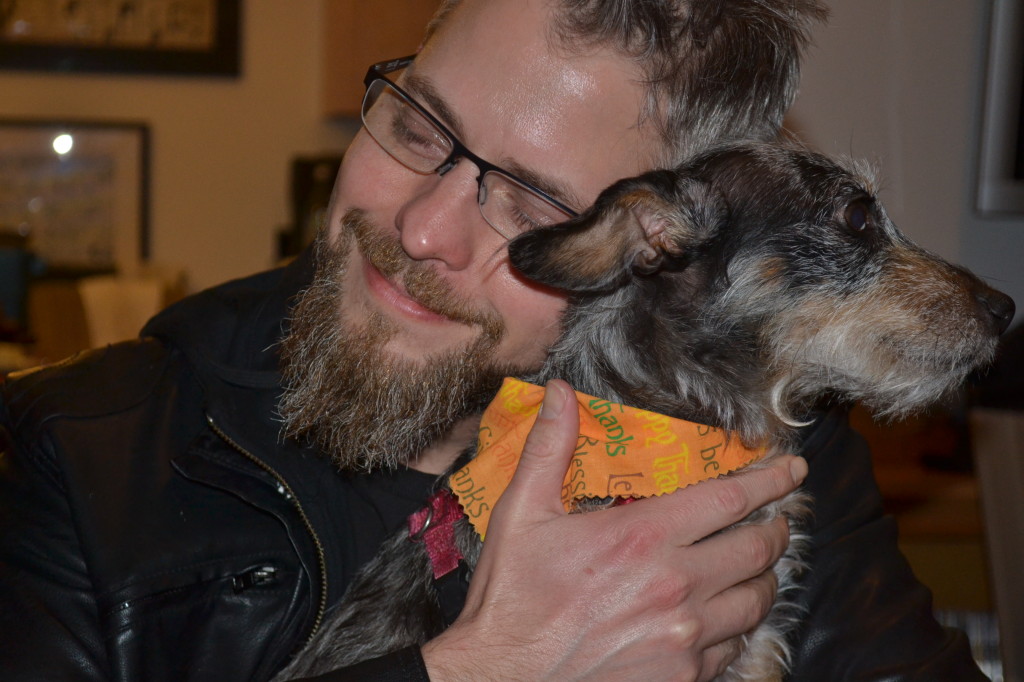 Even the stone cold Tom Neely warmed up.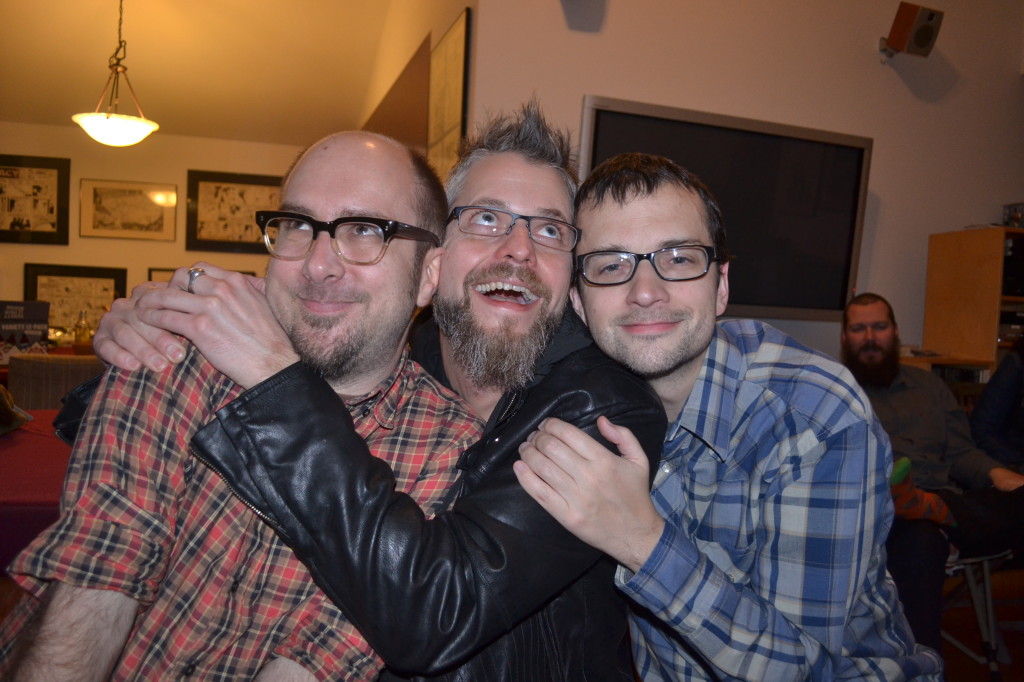 Or maybe it was Kaz and Mike being the great company that they are. We all shuffled out of the Groth house and made our way to a nice early night. I got a swell please take crash, staying over at Jen Vaughn's place while she was dog watching elsewhere. I watched about 20 minutes of an old episode of the shield and crashed hard.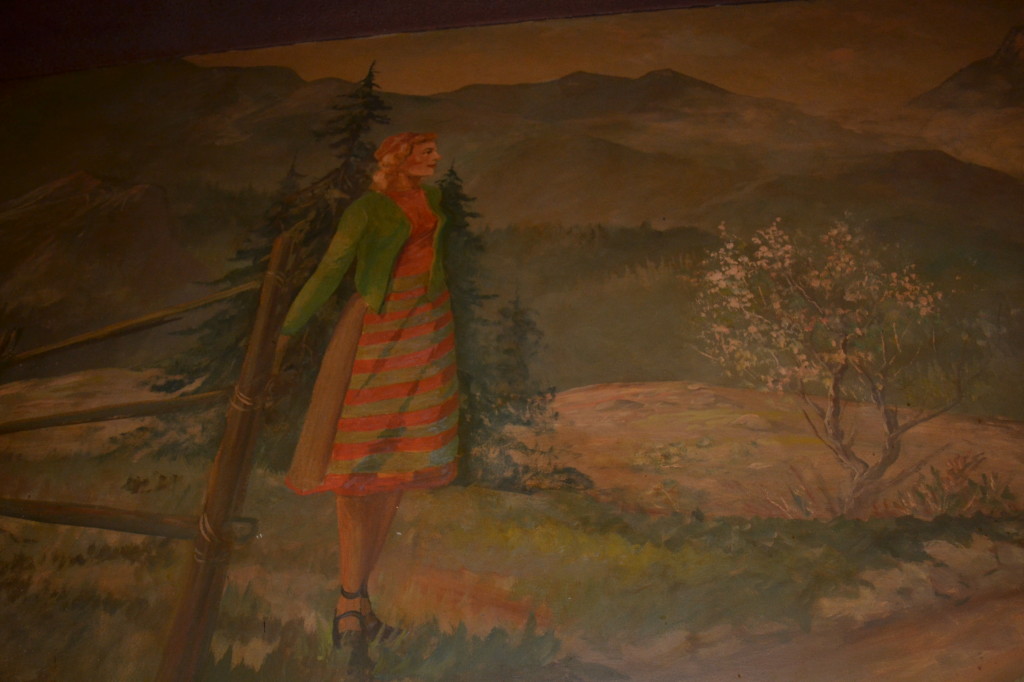 The next morning was more shield watching. Jen was late grabbing me for breakfast, and I had no idea where I was, other than it was a basement in Ballard. We got eggs in a really neat old place in Ballard. I forget the name, but it was great. I was a hungry baby. I seem to be getting up at 7am naturally. It's not right.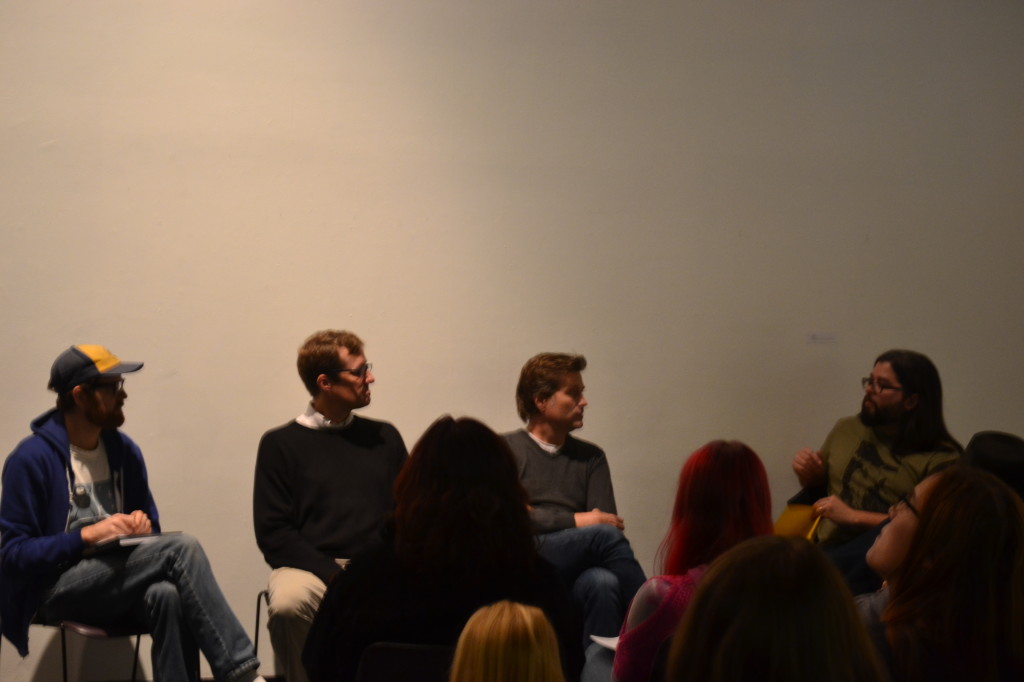 After breakfast, we took off to the Vera project to see Zack Soto moderating a panel with Alec Longstreth, Eric Reynolds and another person who I can't remember. Friday was a programming day. attendance was light, but that didn't stop folks from enjoying themselves. There was also a silk screening workshop, where Pat Moriarty printed up the cover for a new minicomic he had ready for shortrun the next day. 
David Lasky and Greg Stump collaborated on a giant comic with audience participation. I feel like this year is Lasky's year. The Carter family won a well deserved Eisner and it seems to help bring more attention to David's work. I would easily argue that David is one of the greats of the alternative generation.
Zack Soto and I took off to go do some comics shopping. We were both still upset about the recent closing of the Half Price books in Capital Hill. Luckily that didn't stop us from getting some good comics. I picked up most of this there. Our next stop was Arcane comics, where I got this pretty old Glenn Head comic Zack found a French De Crecy book that had no dialogue, so he was pretty happy too. I would of bought that book in a heartbeat if he didn't.
We caught up the Jen Vaughn, Heath Cecere, Francois Vigneault, Jason Levian and Sean Ford for some great Mexican cuisine at Senor Moose.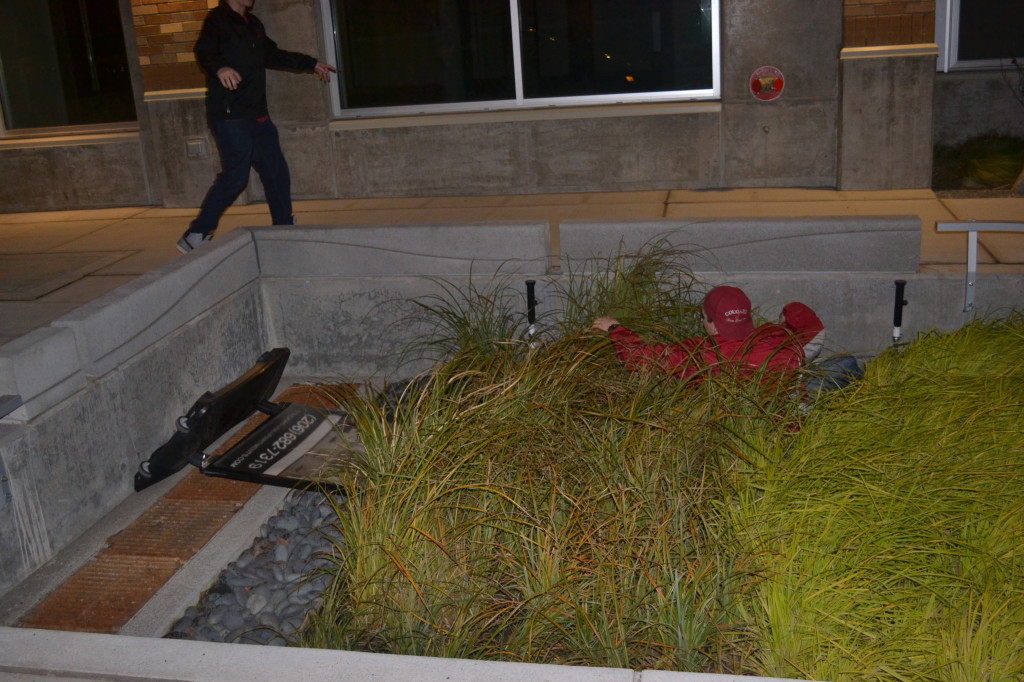 Zack and I went off to find beer and a party. On the way, we saw these really smart young guys jump kicking this sign. They seemed to be possibly inebriated.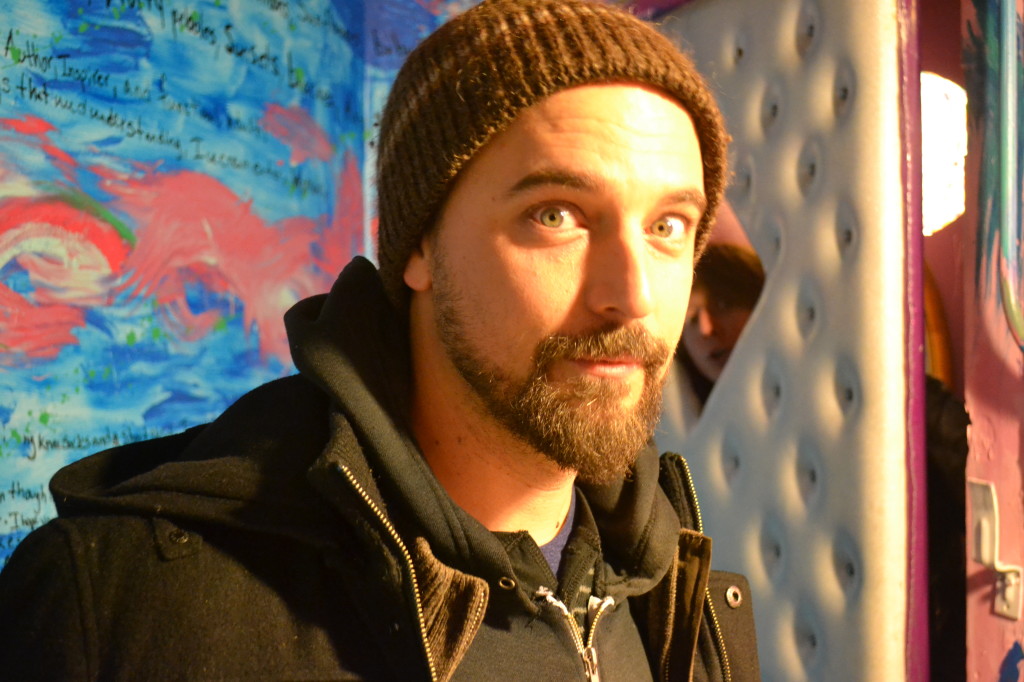 There was a punk show that was the non-official short run pre-party. I wasn't too into it. Nothing makes me feel old and inferior like going to a punk show where I need to bring my own drink and hide it under a table. I ran into Theo Ellsworth right away and that made me happy. Here we are waiting in line for the very trashed bathroom. 
There was a bar next door that was a little better. Tod Bak and Tom Neely both dress better than me. 
Max Clotfelter was the belle of the ball that night. We all love that guy.
Here is a peak at an awesome mural he did in the space. Sean Ford joined me at the Ballard basement that night. After a lengthy cab ride, we stayed up late having a deep talk about our love of comics. Comics rule everything.
The next morning was a little rough. I woke up at 6am. It makes me feel old. Sean going for an 8am run around the neighborhood made me feel old and lazy. We got donuts on the way. That made me feel better.
The show itself, is located in the middle of nowhere. Heath and I walked about 5 blocks going into a million stores before finding an actual ATM. You had a better chance of finding 5 different deli's with amazing bánh mì sandwiches than you would to be able to find and ATM. That is probably my biggest complaint for the weekend. I ran into Jesse McManus who was doing the same thing. The only reason I found an ATM was because there was a small white sign that said ATM inside in the window of a restaurant. Next year, get an ATM in the building. Your exhibitors will thank you.
The space featured a large open room upstairs that had about 90% of the exhibitors. It's a really lovely large space. The big windows provided some really nice light to come in and kept the room at a nice temperature. It was a much bigger show this year. The previous location at the VERA space was nice, but also crammed using every square inch of their space. The Washington Hall made me a lot less claustrophobic.
On the main flor, they had programming and a small room of exhibitors. There was a panel on women in comics moderated by Megan Kelso with Geneviève Castrée, Gabrielle Gamboa, Roberta Gregory, and Virginia Paine. That's a great group of super smart folks. I felt bad for the folks in the small room. it wasn't nearly as well explored as the upstairs.
What's Short Run without a photo of Greg Means and Alec Longstreth. 
Speaking of Pat Moriarty, here he is with Josh Simmons. Greats of the Pacific North West.
And here is Jim Woodring, who had a fine selection of Spanish editions of his work, joined by his son, Max Badger. Max is a very tall man. One might say roman god tall.
Peter Bagge probably had my favorite table. He was selling a bunch of stuff that he had accumulated over the years. My favorite purchases from him, was a toss up between the 2 Live Crew Eros comic from Fantagraphics or three issues of Kar-Tunz' from the late 70's. Kar-Tunz' was a news print zine that Harvey Kurtzman published while he was teaching at The SVA. One of the issues features a Drew Friedman cover. Was that guy ever not amazing?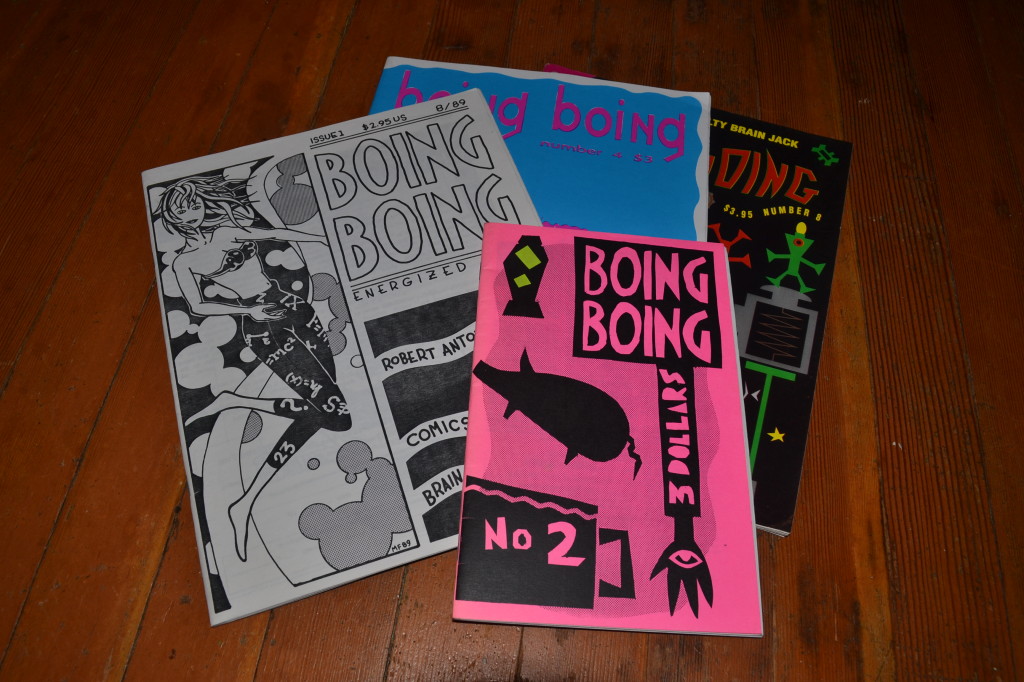 Theo Ellsworth and Sean Ford seemed to be doing well. Sean has two issues of his new minicomic out. It looks amazing. I am always happy to have more Sean comics. 
I was really happy to finally meet Geneviève Castrée. We talked a bunch about some common experiences. Here she is with partner, Phil Elverum. We talked about the comic he did Simon Hanselmann back in 2007. We all like Simon. 
I asked my good friend Joel Rich to watch my camera when i went to the bathroom. Thank you Joel, for providing me with some web content. 
J.T. Dockery hooked me up with a huge stack of goodies.
Jason T Miles had this Conor Stechschulte book. It's got amazing silkscreen work on the inside. Those Closed Caption Comics folks don't stop impressing me.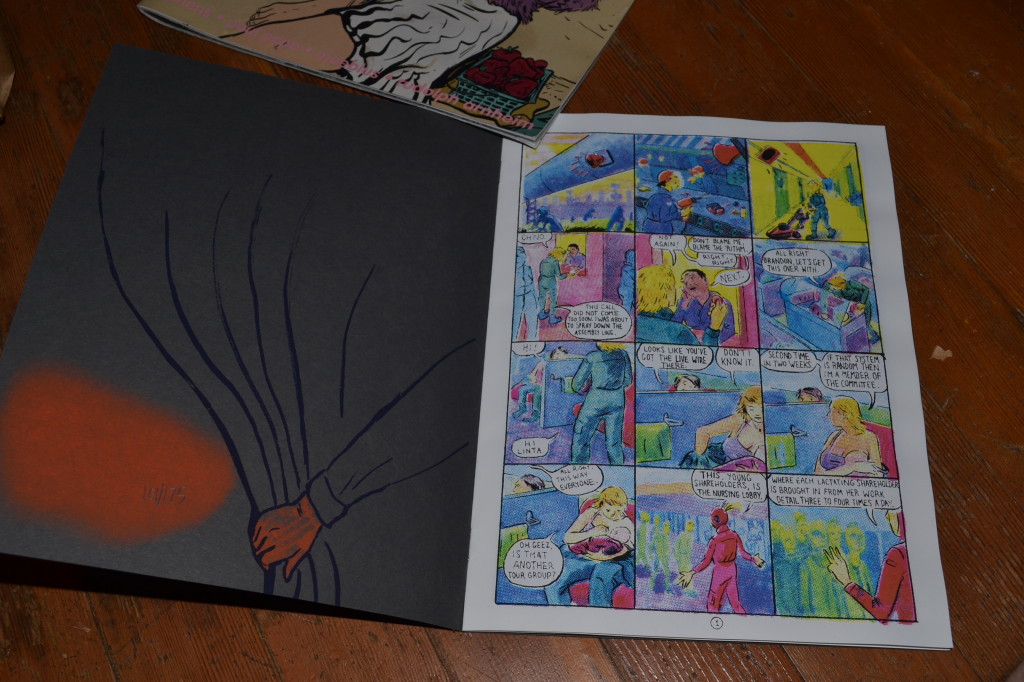 Here is some more good shit. That Sam Bell comic with the black cover is amazing.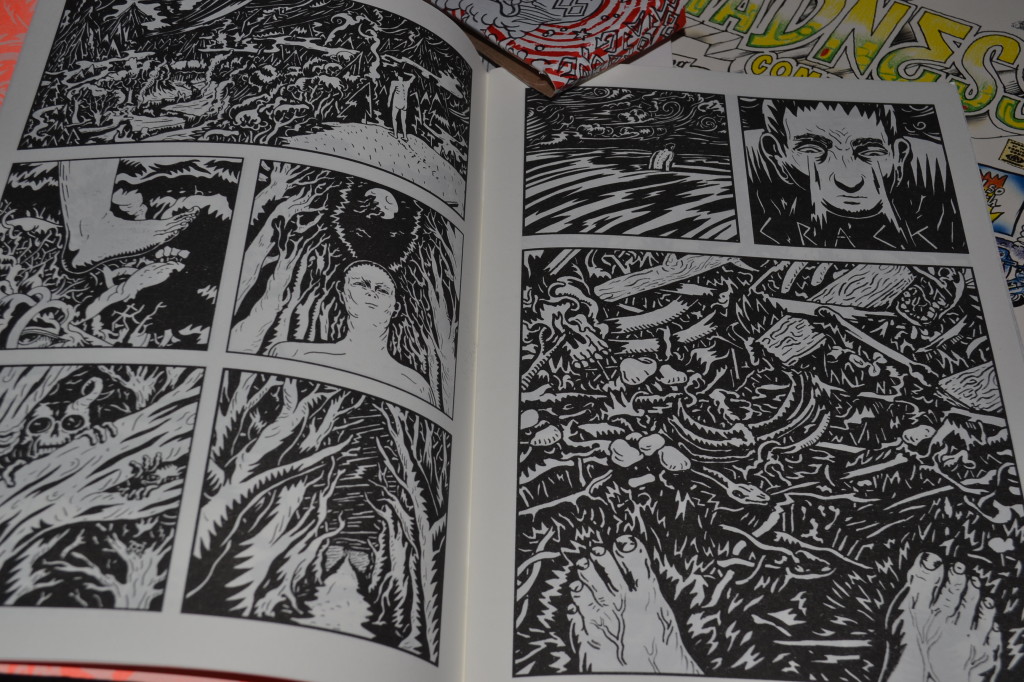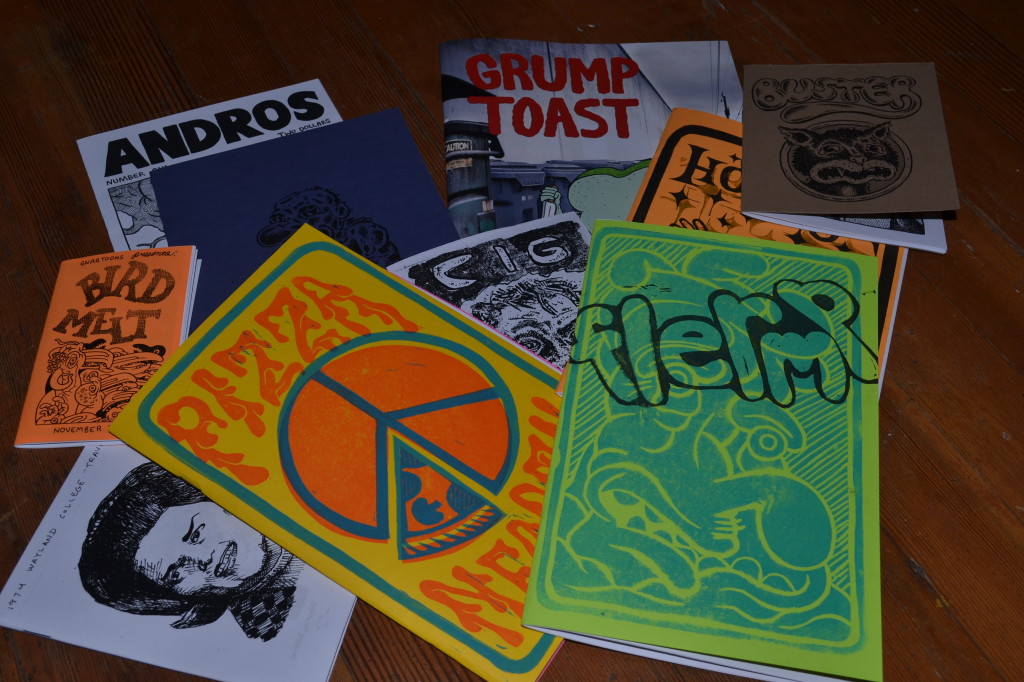 Here is a stack of comics from a bunch of the intruder dudes. really amazing crew of a talented folks. 
Colleen Frakes saw me with an unruly stack and gave me this bag. Collen will forever be dear to me for supplying me with this bag. I ended up over filling it. So yeah, I really needed it.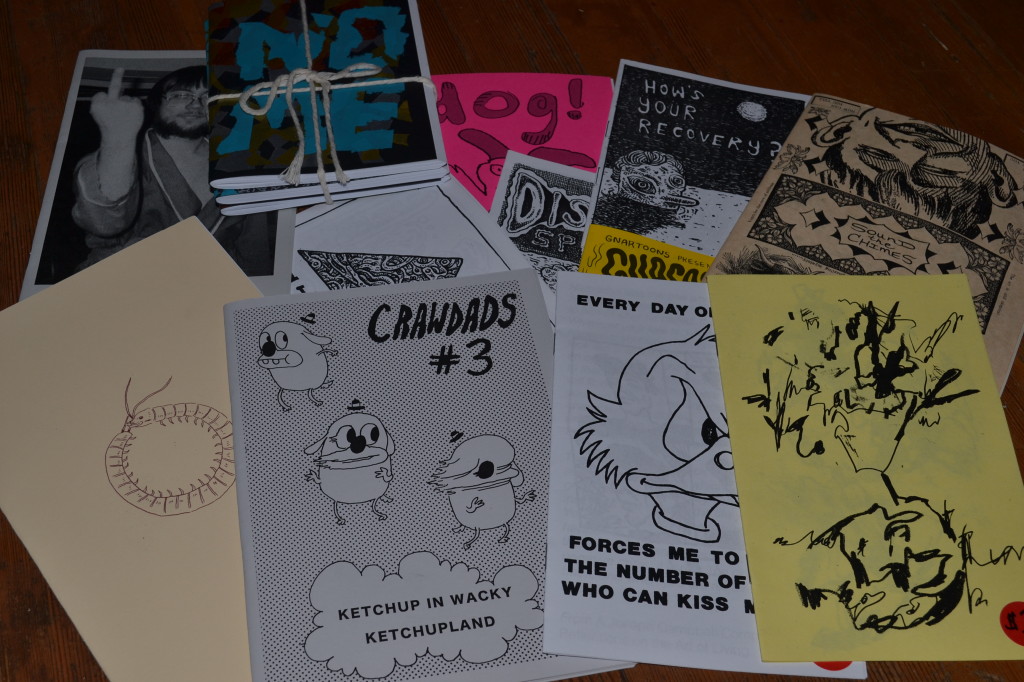 Here is some stuff from Karisa Sakamoto, Jesse McManus, a new Aaron Mew mini about silverfish and Jason T Miles' new anthology, No Me.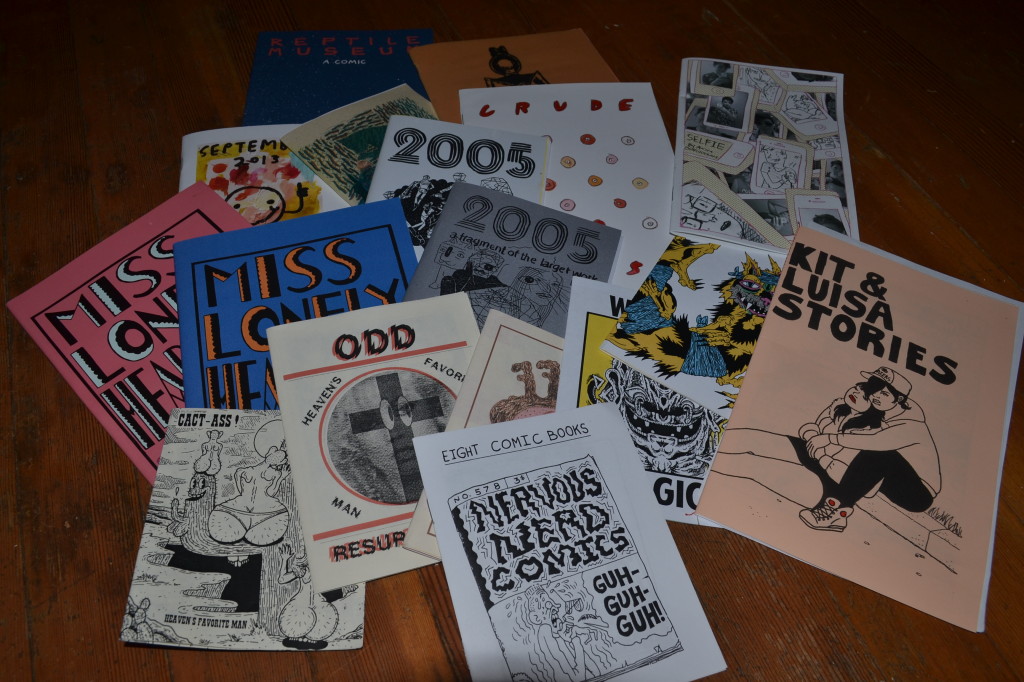 I grabbed both of Gabrielle Gamboa's minis. Anything by Sean Christensen that I didn't already have. Matt Crabe had some great cheap mini's. He mentioned having gone to every small press how he could this year. Brittany Kusa had some really great stuff. I hadn't heard of her before. Here mini comic, Crude Nudes was hilarious. 
A stack of Lasky, Geneviève Castrée minis and a Spanish comics anthology that Jim Woodring gave me. It blew my mind. 
More minis, including some Tim Root, Bobby Madness and Sean Ford's latest. 
Here is the new Real Good Stuff. Dennis Eichhorn probably has the best handshake in comics. He hooked me up with goodies too. including a coaster that may or may not of been previously used. 
Nate Neal was there and came all the way from Brooklyn. Here is a couple of his latest. We met the night before and we were trying to figure out how we knew each other. then I remembered that I interviewed him. 
Woo, new Phase 7. The 90's guy in me is looking forward to the Weezer stuff. Don't tell my music snob buddies
Robin Bogert hooked me up with 3 issues of the three Junque Land that she writes for her swell fiance, Jfish to draw. It was great to chat with her, although i did miss Jfish's smiling face. He is down in LA working with some O'malley guy.
Over all, Short Run was an amazing show. there was some small hiccups like the lack of ATM's and the little exhibitor room, but compared to the everything that went right. This show looks to have a solid future. The difference between this year and last year is huge. Organizers Kelly Froh and Eroyn Franklin add Janice Headly to their team. The three of them seem to found the right spark for Seattle small press. Small Run no longer feels like a show for a regional show, but more like a destination show to end the year with. I have heard that next year, the show will not be on Thanksgiving weekend, which is super positive. Although the event competes with a national shopping holiday, Short Run was still a very busy show with comics being snatched up around the room. And it was a comics show. The focus was on the work, not on crafts or zine culture, but on comics itself.
And thank you to Jen Vaughn for playing hostess to this boring Canadian.