Day 3 – I started out the weekend at Stumptown going to a panel by Patrick Rosenkranz. Patrick is a bit of my go to guy for advice when I was putting the inkstuds book together. His three books from Fantagraphics are all excellent and well worth reading. The Canadian in me has a special appreciation for his Rand Holmes book. Patrick's panel was really great. There was even some stuff in there that I didn't know.
My time on the floor was a bit of a rush of trying to check out as much stuff as possible since I would be all booked up in panels the next day. Chris Cilla had this awesome display for his minis.
I am always happy to see these boys. Zack Soto, Kaz Strzepek and Ben Catmull.
Seattle cartooning crew of Kelly Froh, Max Clotfelter and Eroyn Franklin were also in attendance. Jason T Miles was there as well, but seemed to be running around all busy like most of the time. For being in such close proximity to Vancouver, I have had very little contact with them, which is too bad, since they are pretty fantastic. Check out Profanity Hill for more Seattle goodies.
Mare Odomo was making good use of the outlets and getting caught up on his video games. A true master never rests at his trade.
That night, I got to go for dinner with some pretty spectacular folks. This photo almost feels like Jeffrey Brown's last supper. Featured in the photo are Craig Thompson, Joe Sacco, Jeffrey Brown, Sierra Hahn, Sarah Glidden and Thi Bui. Craig is a regular listener of the show, and even called me out for talking about how much I like Piranha 3D on the show. Thi gave me a preview of the book she is working on about her families experience immigrating to the States from Vietnam. I really liked what I read so far.
After dinner, it was off to comic art battle at the Jupiter Hotel. The Jeffrey Brown from Be a Man made an appearance on stage and owned it!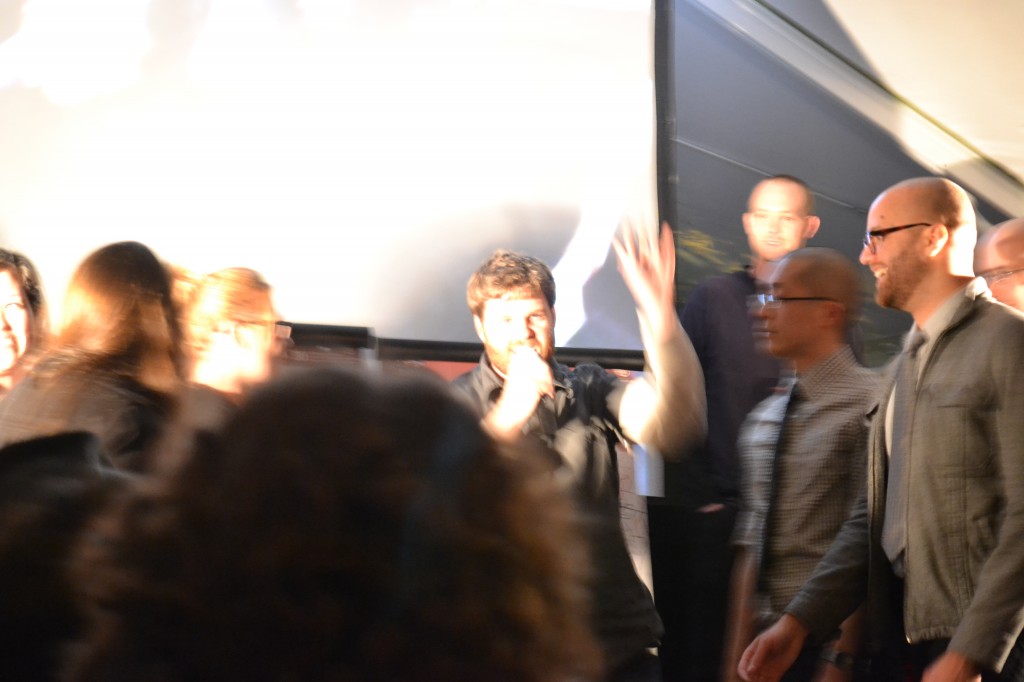 After some undocumented revelry, we got down to business in the hotel room, where Joe Keatinge displayed his manly prowess on little Brandon Graham.
I think that was enough fun for one day.
Day 4 – Oh look, it's Patrick Rosenkranz again, this time with Fantagraphics marketing man, Mike Baehr.
I don't have a lot of photo's from the convention this day, because of my panel duties. My first panel was with Jeffrey Brown. Brandon Graham joined us as a last minute addition. we had some intense nerding out. Pictured below is Jeffrey's X-Men issue 192 themed sketchbook. it is a thing of wonder. Also notice Brandon's messy table at the convention. I would go back every couple of hours and clean it up. Messy.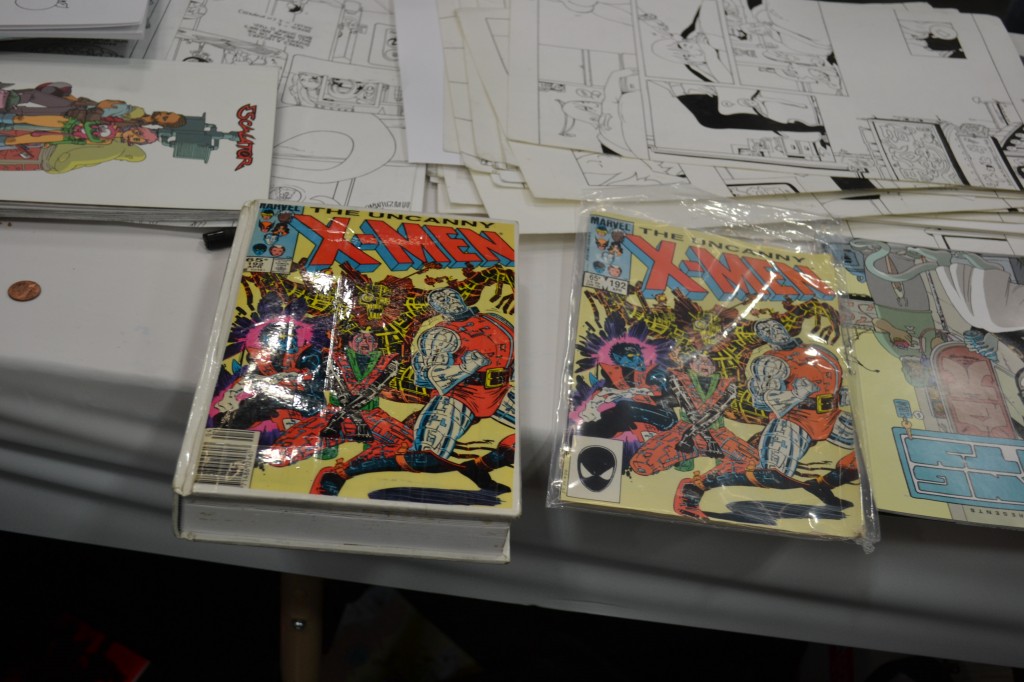 I really enjoyed my panel with Sarah Glidden. I was a little nervous about how much we would have to talk about, since Sarah was just on the show not too long ago, but we had plenty to talk about and it was awesome.
My last panel was with Molly Crabapple, where we discussed different facets to her work.
I will be posting the audio from all of the panels over the next couple of days.
After the convention, a large group of us stumbled our way to a restaurant in the middle of nowhere. The food was great though.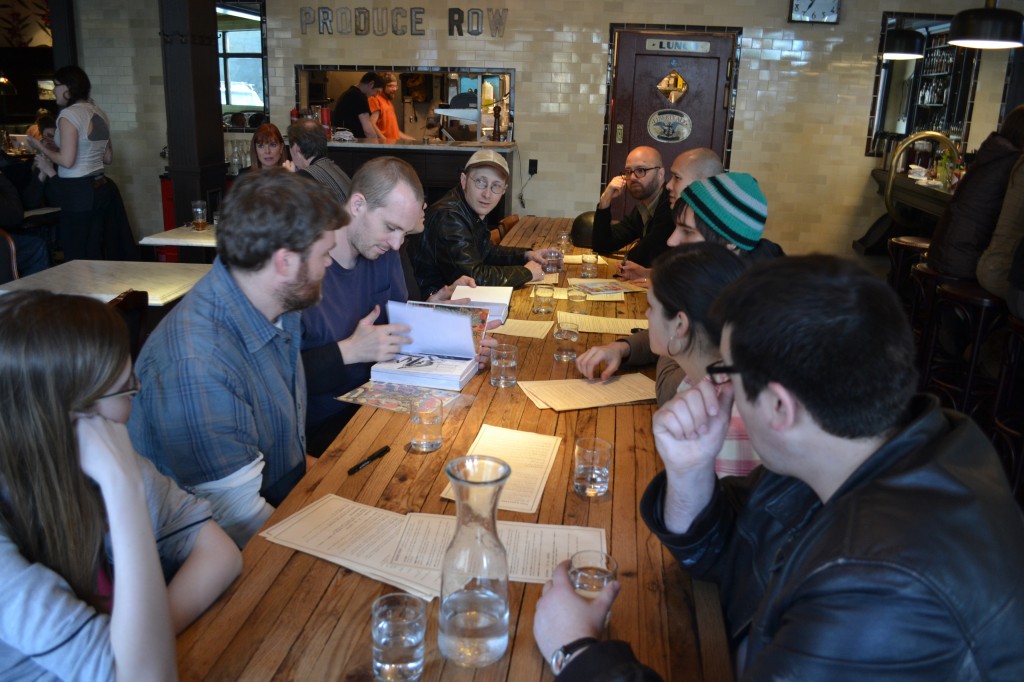 After dinner, we made our way down to the Pony Club. Here is a nice shot of Farel Dalrymple and Milo George. Milo is a smart guy and I had a great time talkin' shop.
Is this the best that Portland has to offer?
Here's some random Pony Club shots.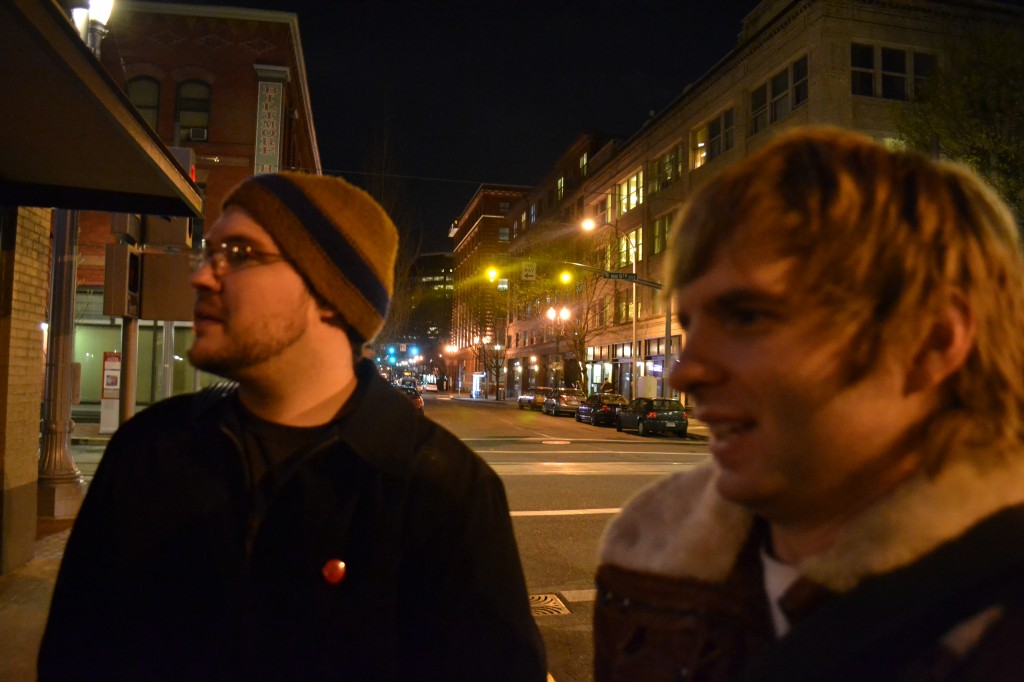 Day 5 – The return home involved a quick run through Portland so sweet Brandon could have lunch with spicy Craig.
Truer words never spoken.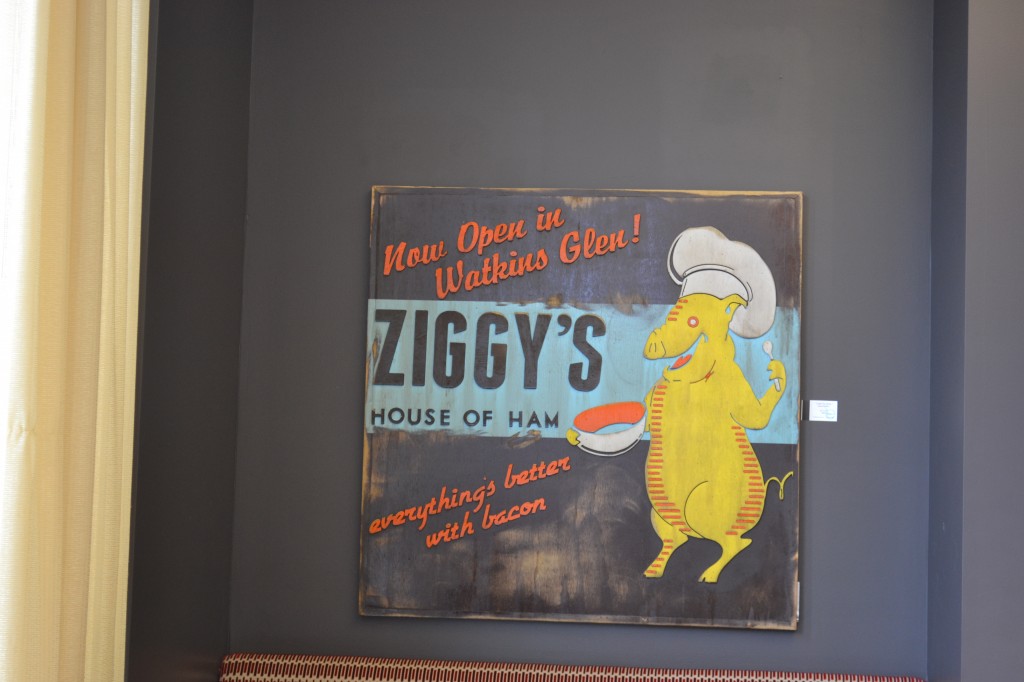 Corey Lewis joined us on the train ride back. He Brandon were up to something.
I think it was this.
Up next, TCAF. Thanks for reading!