I really enjoy the Toronto Comics Art Festival and try and attend every year. Because of some personal financial stuff, I wasn't able to attend last year. Inkstuds is work I do out of passion. It doesn't pay, so going to these shows is something I would like to do more often, but have to be pretty financially selective about what I can attend.
For me, this show was well worth the plane and hotel expense. In my first 2 hours of being in Toronto, I was standing in a hotel lobby being introduced to Frederik Peeters, David B, Boulet and Judith Vanistendael. I was down there to meet fellow Anglophone, Glyn Dillon to go to the Cartoonists being translated get together that Peter Birkemoe from Beguling was hosting at the Pilot Bar around the corner from the Marriott that everyone was staying at. The event was just announced a couple of nights before, so there was only a handful of folks in the bar beyond the guests themselves. Not that I was complaining. It's not often that you get such a high talent to fan ratio. Peter interviewed each of the international guests for a couple of minutes about translating their works as they tagged off on at a time.
I was very excited to meet Ulli Lust. Whom I had just interviewed the night before. here she is talking to Peter before he started the event. Sorry I got you with your eyes closed Ulli! She was by far, one of the most styling people of the weekend.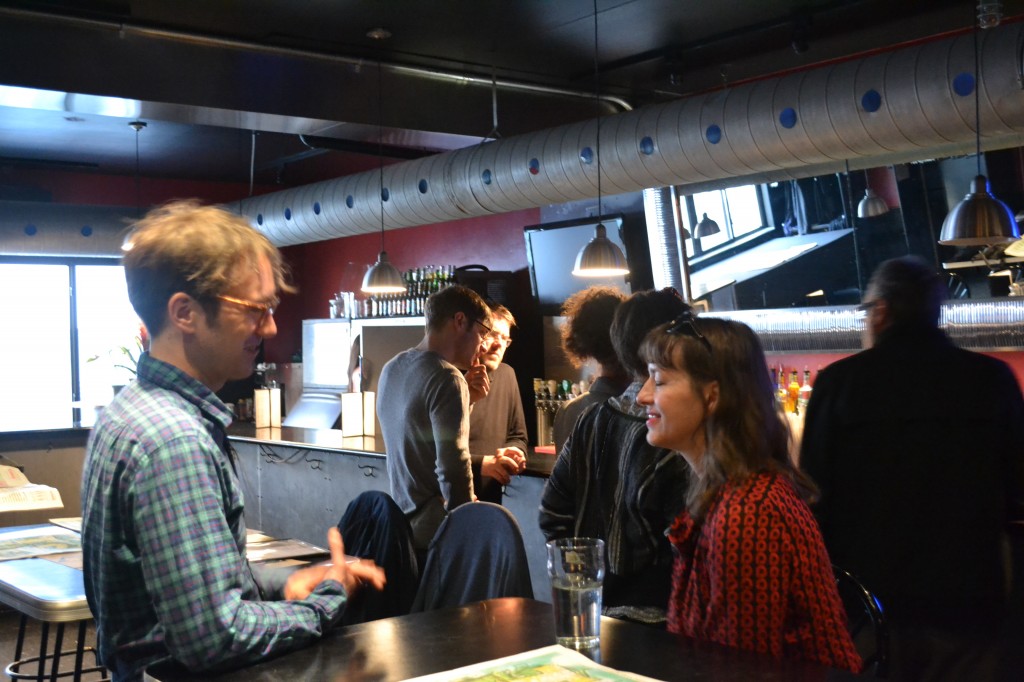 Here is Boulet, Frederik and Judith.
and I seem to think Boulet is very photogenic, so here he is with David B. I am a big fan of David B's work. I hope to interview him one day.
All the European creators had flown in that day, and were on a very different time schedule. Boulet has been travelling through North America for the past month, so he was not ready for bed at 9pm. We managed to talk Glyn Dillon into staying up a little longer, but the next morning, they were off to Niagara Falls with the large faction of the international comics contingent, as a part of the generous hosting of the Beguiling. We were also joined by French comics Journalist, Xavier Guilbert.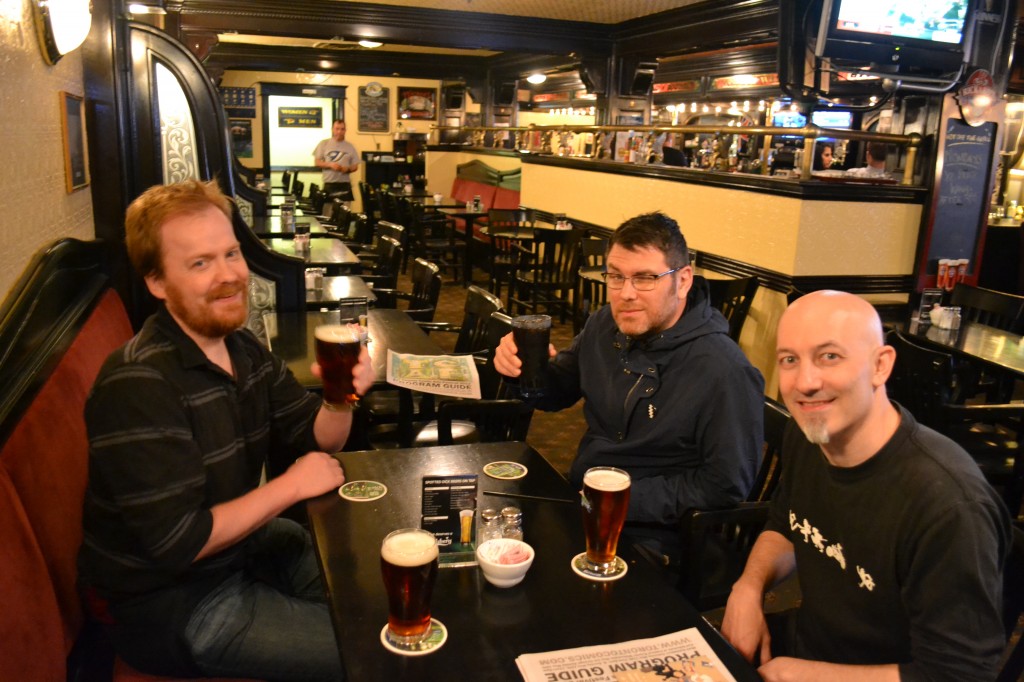 After going back to the hotel room and doing some tweeting, Vancouver buddy, Brian Fukushima texted me, wide awake as well, so it was back out for one more pint then off to bed to start my first full day of TCAF madness.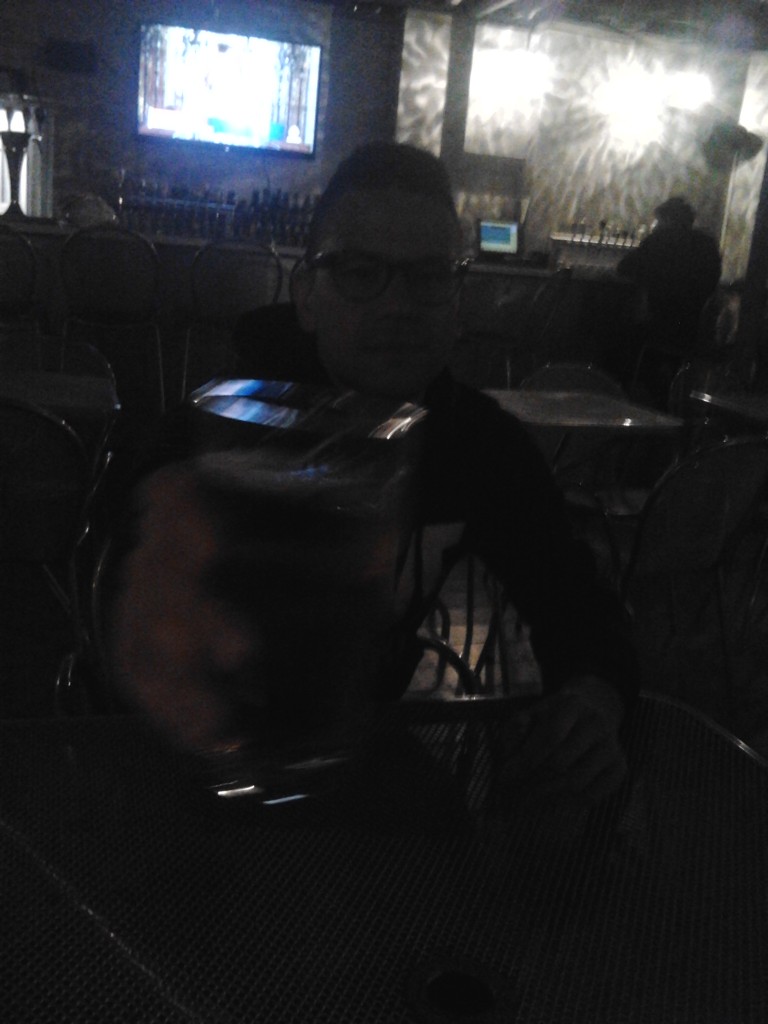 I was woken in the early morning by Seattle friends and hotel roommates, Jen Vaughn and Jacq Cohen. They had come in on a red eye flight, so I took off for the morning to go shopping while they crashed out.
The Silver Snail comic store is in a new location in Toronto, on Yonge street, and it features a connected coffee shop called Black Canary. It was weird.
Here is a peak at my shopping for the day. I was very excited to find that Searle book. It features drawings he did during World War 2 including time in a Japanese POW camp. While waiting for roomies to wake up from epic nap, through the magic of twitter, I met up with Xavier again and the always great to see, Tom Spurgeon. Tom approved of my stack.
With roomies awake and a city to see. Our first cartoonist that we ran into was while getting coffee at Snake and Lattes. It was excellent to run into Steve and Leslie Wolfhard. I love those guys.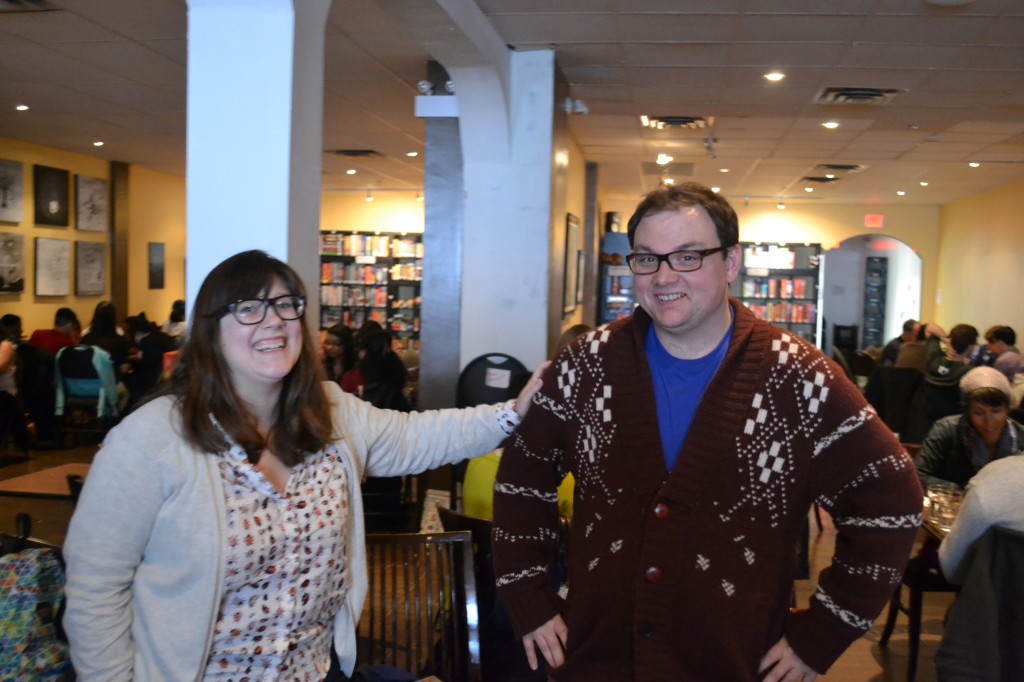 Former Vancouverite and now Beguiling employee, Chris Eng joined me for the day, it was great hanging with him. Here he is with Theo Ellsworth. I could just hang out there the day before and day after TCAF and get photo's of every great cartoonist you could imagine. They are standing in front of an original Winsor McCay strip.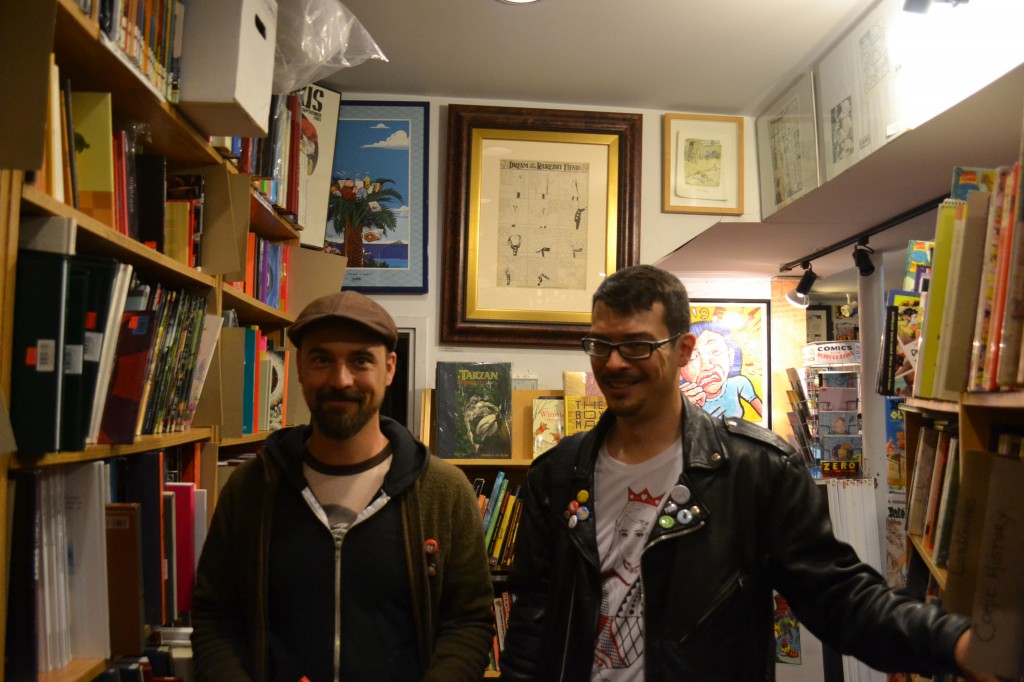 Like Noel Freibert and Edie Fake.
We went around the corner to check Honest Ed's and ran into Michael Deforge and Saicoink. Jacq did not like who farted joke.
From here, I split ways with Jacq and Jen as they went off for fancy dinner, while Chris and I went to the Taiyo Matsumoto opening. I did not take any photos while there. We had enough time to see the show and then run off to the talk between Tom Spurgeon and Gilbert and Jaime Hernandez. Gilbert was very kind to pose for this photo.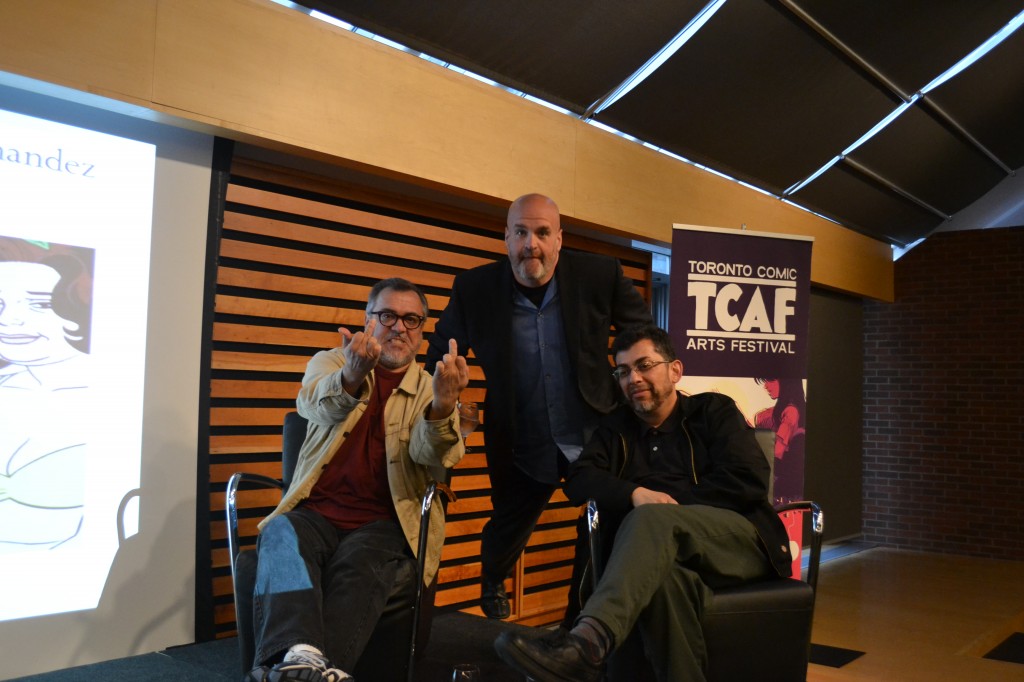 I finally got to meet the extremely talented Roman Muradov and his wonderful wife, Sophia Foster-Domino. I saw Roman and ran to give him a big hug. I don't think that went over well. Here he is in his best TCAF gothic pose.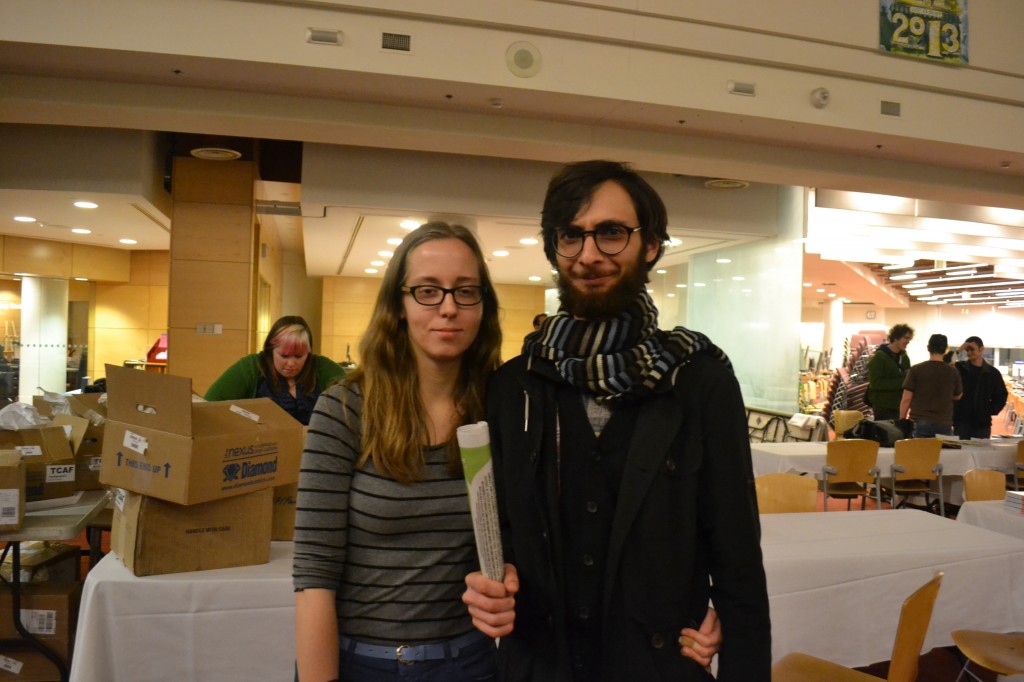 After the talk, everyone was at the Pilot. I rest for a while to catch up another Vancouver ex-pat, Dr. Benjamin Woo, he was joined by Jason Turner.
I caught with my other roomie, Caitlin McGurk and Jen.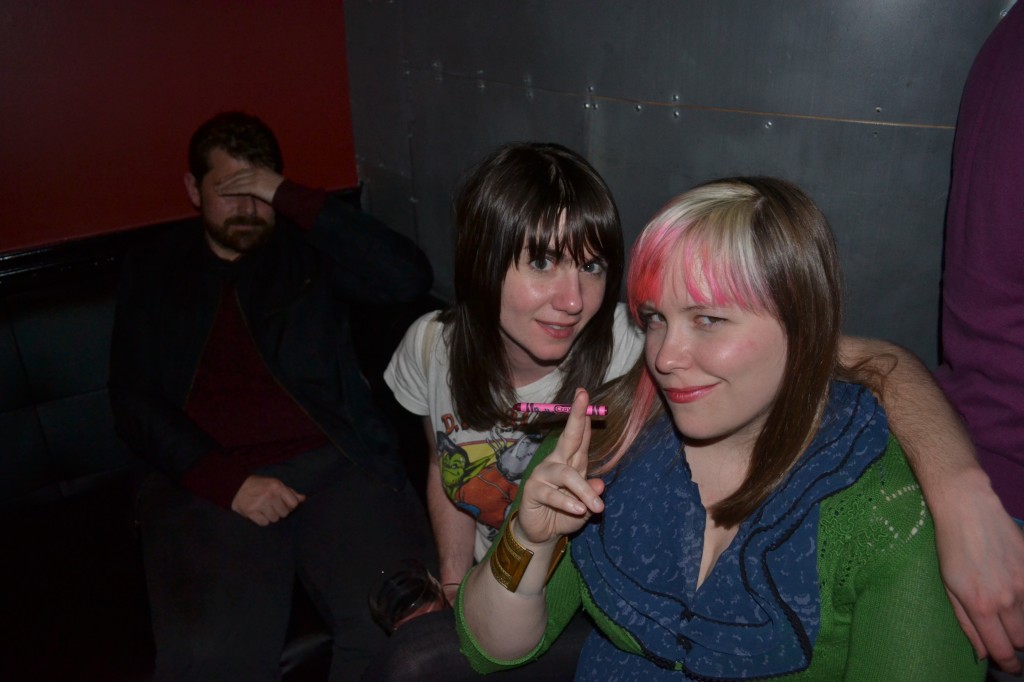 Gay comics represented by Justin Hall and charming friends.
Upstairs on the top floor, Billy Mavreas, Conundrum publisher, Andy Brown, Joe Ollmann and everyone's favorite funny comicker, Michael Kupperman.
It was good to catch up with Paul Pope, who was showing up a galley of Battling Boy. It looks great. Ivan Brandon was flipping through it, saying something about it being beyond comics, which made no sense to me. What's wrong with comics? He had some other weird theories that made even less sense to me. It's neat how spread out comics are, that you can come from very different directions. (I apparently miss-quoted Ivan. but we were drunk, so who really knows what happened. Paul could of been quoting Shakespeare while I was beat boxing.) Â 
Back at the hotel, Seth was holding court with some great stories. I also got to catch up with Jaime Hernandez. The work he is creating right now, is some of the most important comics being published today. Every time he has a new story out, everybody is talking about how amazing it is. From here, it was off to bed for me, to get my energy together for a busy day of comic shopping.