I discovered Tessa Brunton's work through a tweet by one of my favorite comics folks, MK Reed. I don't usually click on such links, and if I do, I don't usually remember to visit the site again. In Brunton's case I was charmed and after looking through the archives, I decided to order her available comics. I got a package in the mail shortly and loved the look of In the tall grass's paper bag covers with bright color images.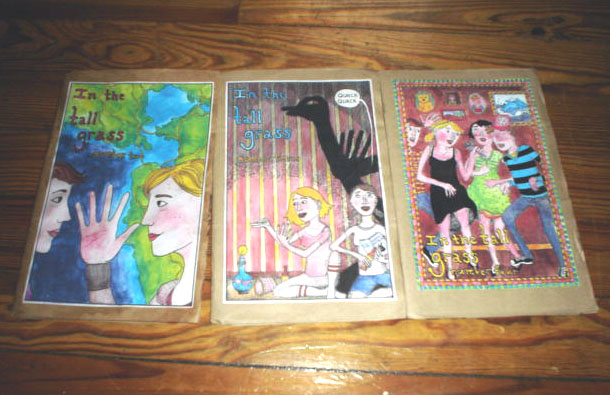 My terrible pic shouldn't stop you from ordering these.
In the tall grass 2-4 are great 20s, urban, slice-of-life comics that err on the sunny side. As the issues progress you see Brunton more from mostly three-panel jokey strips to longer stories. Though strips don't generally give me enough room to get immersed in a story, in the issues these autobio stories build on one another to give us a picture of Brunton and her Bay Area-worldling. My favorite thing about her work is her use of fine patterns to deepen the environments in her comics. It's this attention to visual details that make her comics repeat-readers—you'll always find some tiny new delight in each panel.
If you've been following the work on her site, you know that Brunton has recently been diagnosed with Epstein Barr and is more actively dealing with the repercussions of abuse. These themes of healing and change are darker than the misadventures of maturing, but they are also inextricably linked with that earlier subject matter. By working out her struggles on the page, she bravely gives her readers the chance to reflect on the parts of our own lives that are difficult and painful.