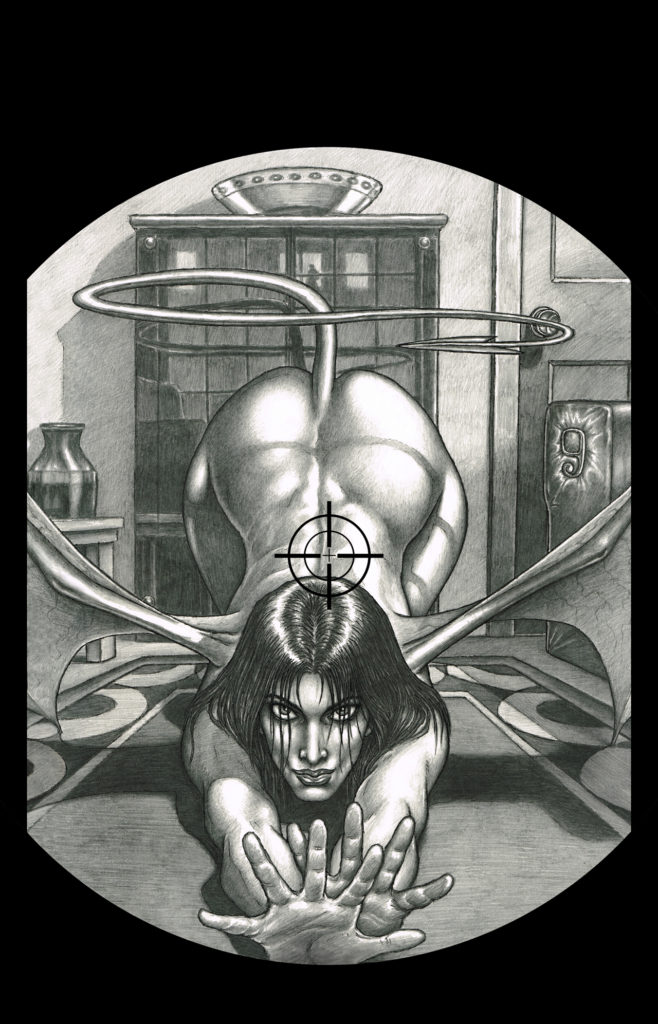 You can only see her through a telescope anymore. Or is it a rifle scope? In diegetic terms, it is a telescope, but they can seem very much like the same thing. Regardless, it is now the only way to see her.
Trevlin Utz drew comics professionally from 1994 to 1998. For the first three years he worked collaboratively, at a Virginia publisher he outlasted. For the last two, he worked alone, for an Illinois publisher still prominent today. Almost everything he made related to Donna Mia, "a Demoness to make you forget other girls," and her picaresque swagger through a United States flush with vampire swells and human gluttony. She is a succubus, in part, and often she is naked. This was called the "Bad Girl" era, though Donna Mia did not want to be bad. One time at a party she met a man who was dating Truman Capote. One time at a carnival she met a veteran of World War I. Another time in a diner she met Neil Gaiman, but Neil Gaiman wasn't quite Neil Gaiman in 1995.
It was the time of the comic book industry crash, and this is an interview with somebody who was there, until he wasn't.
-Joe McCulloch
Note from the broadcaster. Something weird happened with Joe's audio where he was recorded quicker than the guest, so as the interview goes on, there is some overlap in voices. These kind of things unfortunately happen with live recording. I once had an interview that didn't record anything the guest said. I also once had an amazing in person interview with Ho Che Anderson where the recorder wasn't turned on.
If you like this podcast and want to hear more, please consider supporting Inkstuds on Patreon.

Trevlin Utz
[ 1:40:37 ]
Play Now
|
Play in Popup
|
Download