Comics as we know it is wide and fractured. There's Direct Market comics, bookstore comics, webcomics, indie comics, manga, Eurocomics, and several more subcultures. I'm curious about what working under the broad umbrella of "comics" is like for creators, publishers, critics, academics, and more. Over the course of this month, I'm going to interview several people whose work, position, or goals I find interesting and attempt to paint a picture of what "comics" means today.
For the month of February, I'm taking over the Inkstuds podcast in order to introduce Inkstuds Spotlight, a focused look at what it means to be in comics. A comprehensive look isn't my goal. My goal is to show you several different slices of life in comics, as the people I'm interviewing this month play a wide variety of roles in comics.
A bit of context before we begin: Inkstuds is a comics podcast founded and hosted by Robin McConnell. It's focused largely on indie and underground cartoonists, and now that it's 500 episodes deep, exists as a great resource for finding out not just more about comics, but about the lives of cartoonists. ComicsAlliance is one of the most important news outlets in comics. I'm biased, having written for CA for a few years, but the staff has a voice and variety of interests that still can't be matched. With both sites broadcasting Inkstuds Spotlight, I'm hoping we can reach a wide slice of the comics readership.
Today, I'm talking to Whit Taylor, creator of Watermelon …and things that make me uncomfortable as a black person, Madtown High, and Stethoscope Microphone. Taylor creates indie comics and sells them at cons like SPX in addition to working a day job. Taylor's work caught my eye with Watermelon, and I was pleased to see that the combination of genuine emotion, comic timing, and clever storytelling that she displayed in that book reflects through her other work, as well. I spoke to Taylor about creating comics, working conventions, interviewing, and her storytelling techniques. Between our conversation and today, Sparkplug Books announced that it will be publishing her comic The Anthropologists this summer, and she is currently editing an anthology with a working title of Subcultures for Ninth Art Press. On top of that, Taylor has an essay on comics and music coming in Leah Wishnia's Happiness #4, due this March.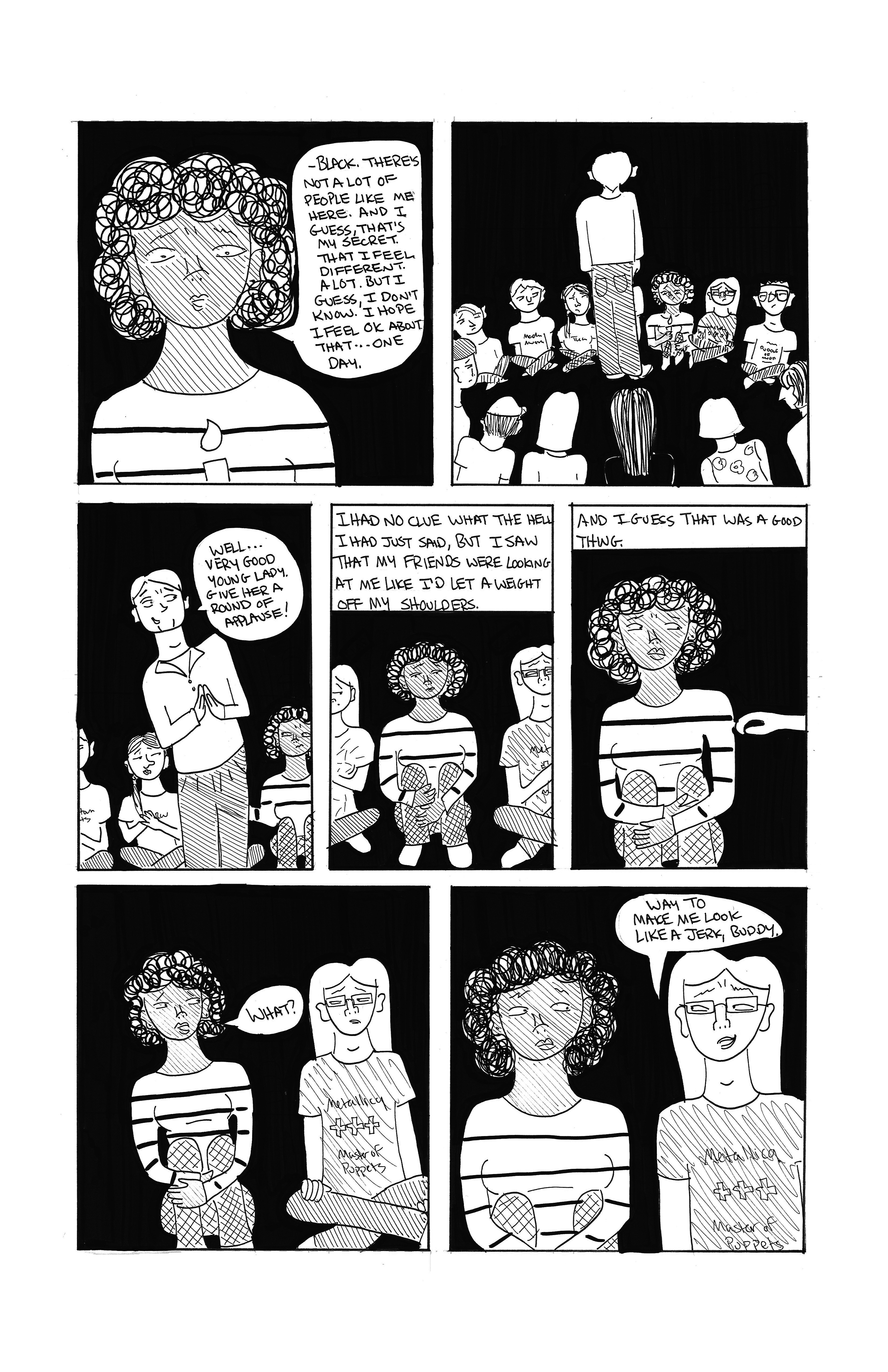 Inkstuds Spotlight - Whit Taylor & Creating Comics
[ 31:58 ]
Play Now
|
Play in Popup
|
Download
0:00: Taylor discusses when she started reading comics, hating reading as a kid, reading X-Men and Generation X, enjoying the work of Jeffrey Brown & Craig Thompson, I point out how her work seems like stand-up comedy in a way particularly apparent in this OKCupid strip, her creative process, her book Watermelon and addressing sensitive subjects, whether certain aspects of her work are autobiographical in nature, preferring short works to long-form work, her high school memoir Madtown High, being a nerd in high school, and the origin of Stethoscope Microphone.
10:00: Working in color with Copic markers, finishing Madtown High and wanting to do something fun and no pressure, doing reviews and interviews at Panel Patter, reaching out to noted comics reviewer Rob Clough for guidance, using her social science work while reviewing books, Brené Brown's TED Talk on shame, studying up to talk about art, working alone on her comics, having cartoonist friends, playing instruments, working at least four conventions a year, and SPX.
20:00: Not being a natural salesperson, being up for an Ignatz for Madtown High, the fun she's had at the convention MICE, using Jessica Abel's old website to figure out how to make minicomics, whether she wants making comics to be a full-time career, being prolific, being a quick artist and needing to slow down, the first comics she made, Harvey Pekar seeing her earliest work, on not hating her older work, doing ten minicomics that most people have never seen, Domino Books distributing Onesies for a time, doing interviews with people like MariNaomi and Matt Moses, and disclosure versus reality in autobio work.
30:00: Doing down-to-Earth stories, working in sci-fi or fantasy in the future, her website and store are located at whimsicalnobodycomics.com, and putting comics on tumblr at whimsicalnobodycomics.tumblr.com.
Recommended Links:
–Brené Brown on The Power of Vulnerability
–Sparkplug is publishing Taylor's The Anthropologists
–Panel Patter
–Winter Break Comics # 9: OkStupid
Whit Taylor:
–Twitter
–The Whimsical Nobody Comics store
–Whimsical Nobody Comics
– This entry was posted in Inkstuds Spotlight, Interview. Bookmark the permalink.