Originally recorded live at Seattle Emerald City Comicon, this discussion features Adam Warren, Brandon Graham, Carla Speed McNeil, Cheryl Lynn Eaton, and David Brothers. They dig deep into Adam Warren's EMPOWERED, exploring everything from the tiniest bit of continuity to how Warren taps into the culture at large with his sexy superhero comedy.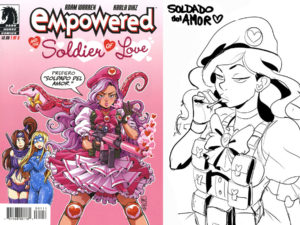 EMPOWERED, the Graphic-Novel Series: 10 Years of "Sexy Superhero Comedy"
2017 marks the 10th anniversary of the Dark Horse Comics debut of writer/ artist Adam Warren's graphic novel series EMPOWERED, a manga-influenced "sexy superhero comedy"—except when it isn't!—about the trials and tribulations of a struggling young superheroine. Join Warren, moderator David Brothers, comics blogger Cheryl Lynn Eaton, and creators Brandon Graham (PROPHET) and Carla Speed McNeil (FINDER) for a discussion of the past, present and future of the perhaps surprisingly acclaimed series!
If you like this podcast and want to hear more, please consider supporting Inkstuds on Patreon.

Ten Years of Empowered, with Adam Warren
[ 58:40 ]
Play Now
|
Play in Popup
|
Download