Since this week is TCAF (I am actually flying out tomorrow morning), and I usually try to do a lot to document the trip, I realized that I hadn't done anything in a while to cover recent comics events I have attended. It's been busy up here in Vancouver.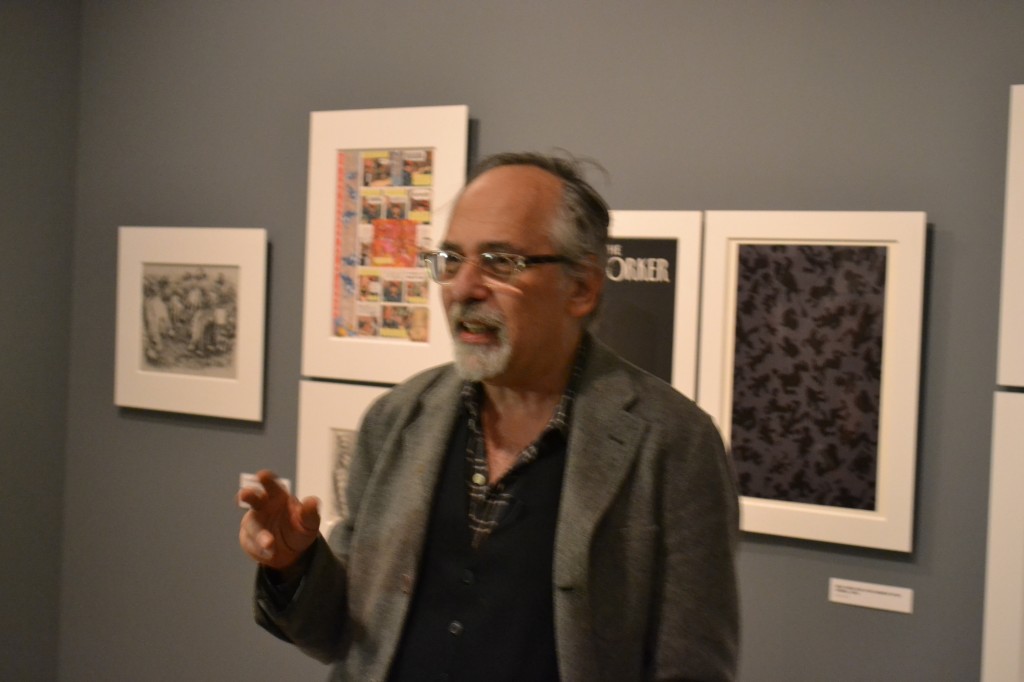 Starting out with the very massive Art Spiegelman retrospective at the Vancouver Art Gallery, Co-Mix. It's massively impressive show. the exhibition takes up the whole 3 floor of the gallery, which is no small accomplishment. Curated by Rina Zavagli-Mattotti, she is able to compact a really voluminous amount of work into an easily navigable story covering one of the biggest names in comics. She was in town for the hanging out the show, I am really bummed that I didn't try to get an interview with her. The work she does with Galerie Martel is amazing. One of the high points of art in comics. If I ran a gallery that focused on cartoonists, that is what would be my base of inspiration. Also, her husband happens to be one of my favorite cartoonists and guests I have had on the show.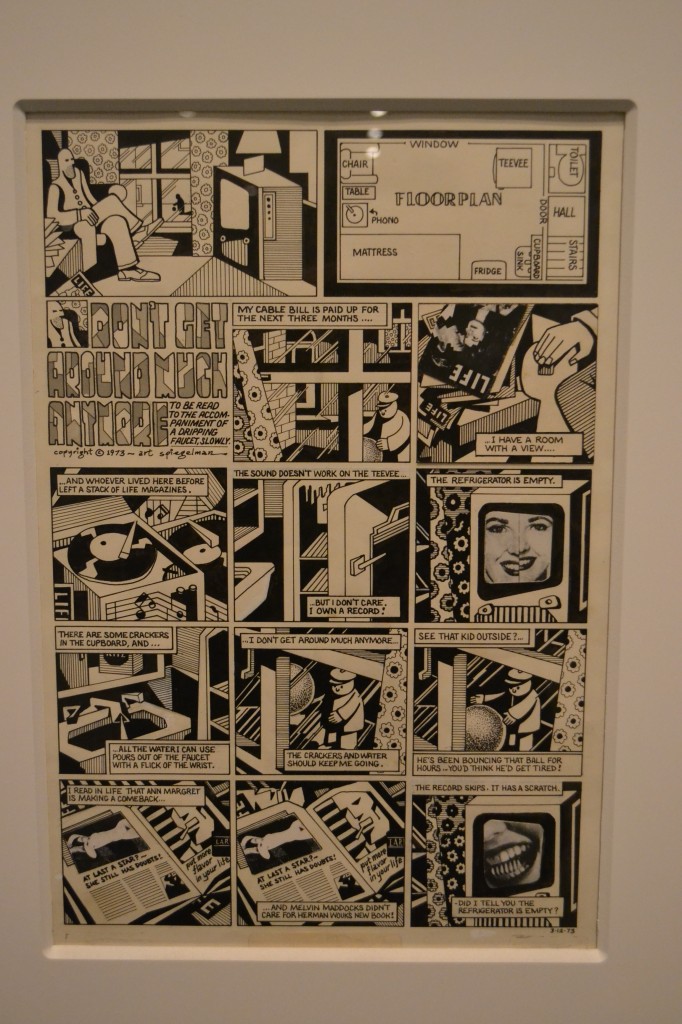 I loved being able to see what the original work looked like. Spiegelman's really formalistic underground work like Don't Get Around Much Anymore really stands out to be in particular.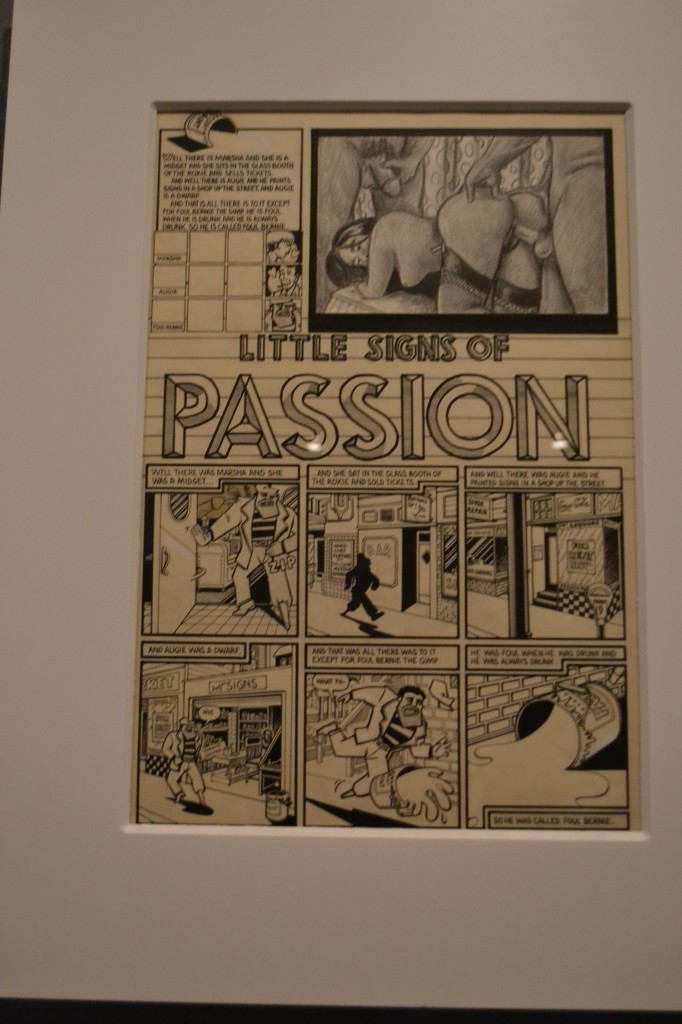 I am a sucker for process. I rather own a stack of work that leads up to the final drawings, than the final itself. It gives you an idea of how that work was created. In most cases, very close to printed versions. The sketching process is the unseen work that informs the final.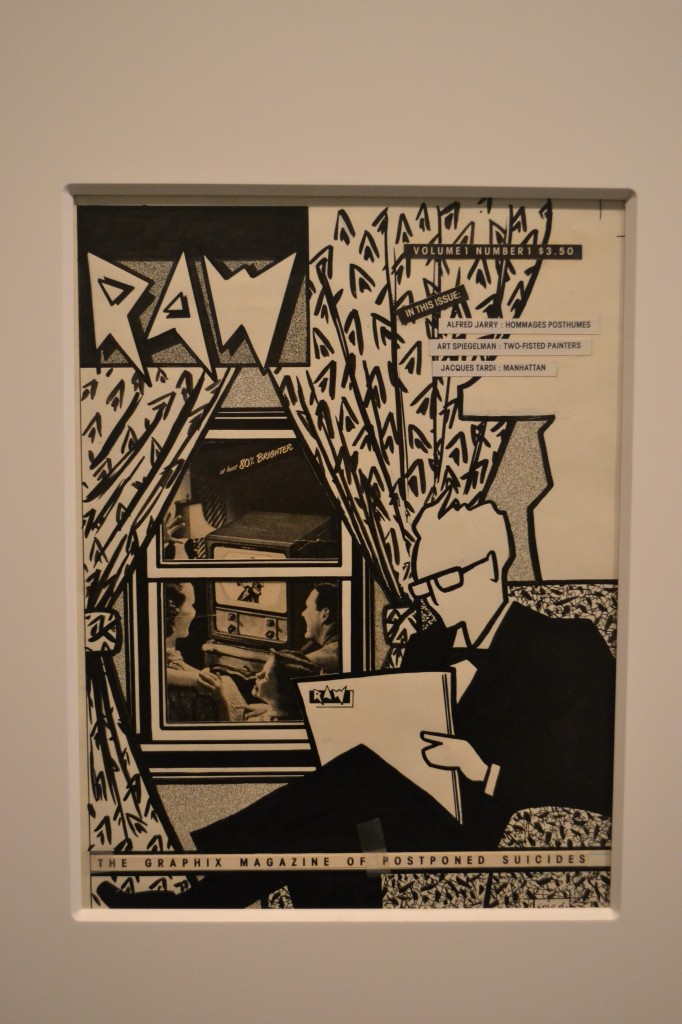 Oh hey, yeah, just the original art to the cover of Raw issue 1, no biggy.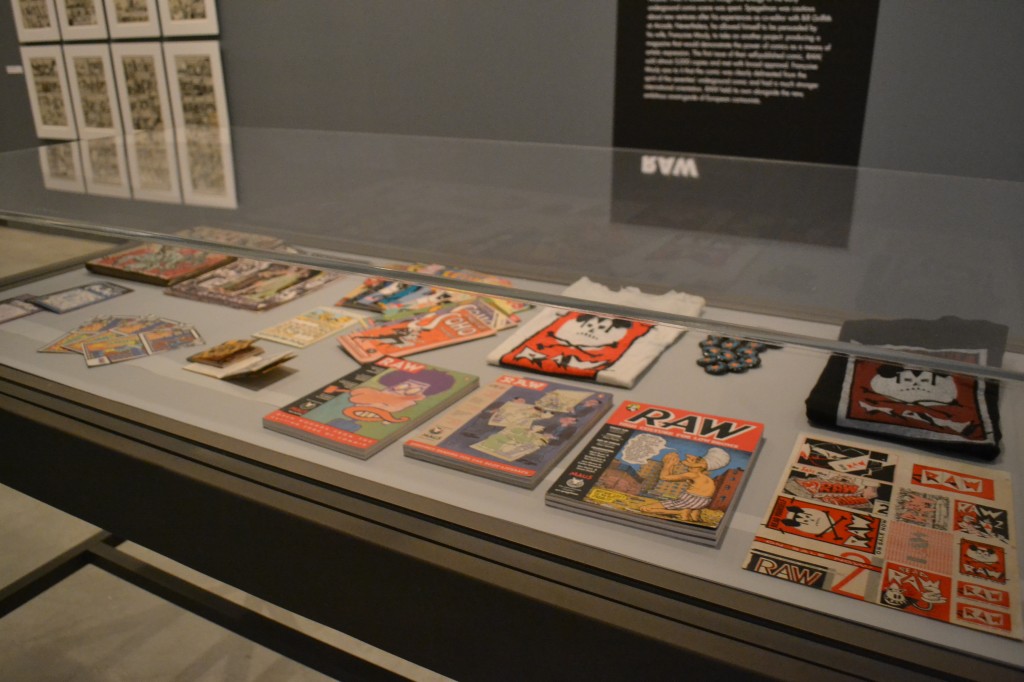 Can someone get me a Raw t-shirt?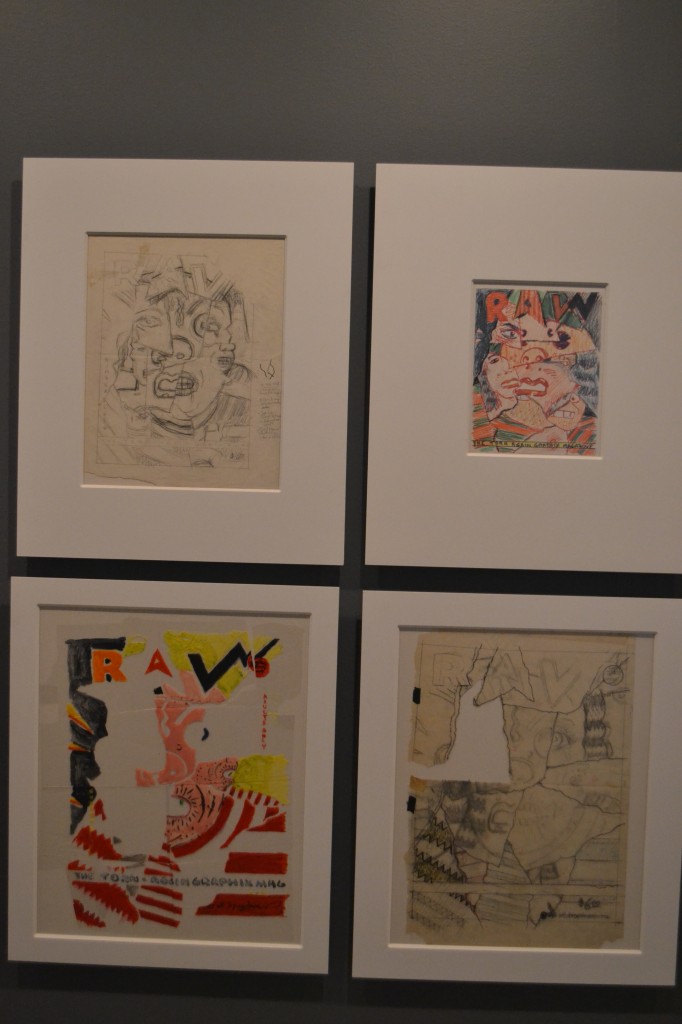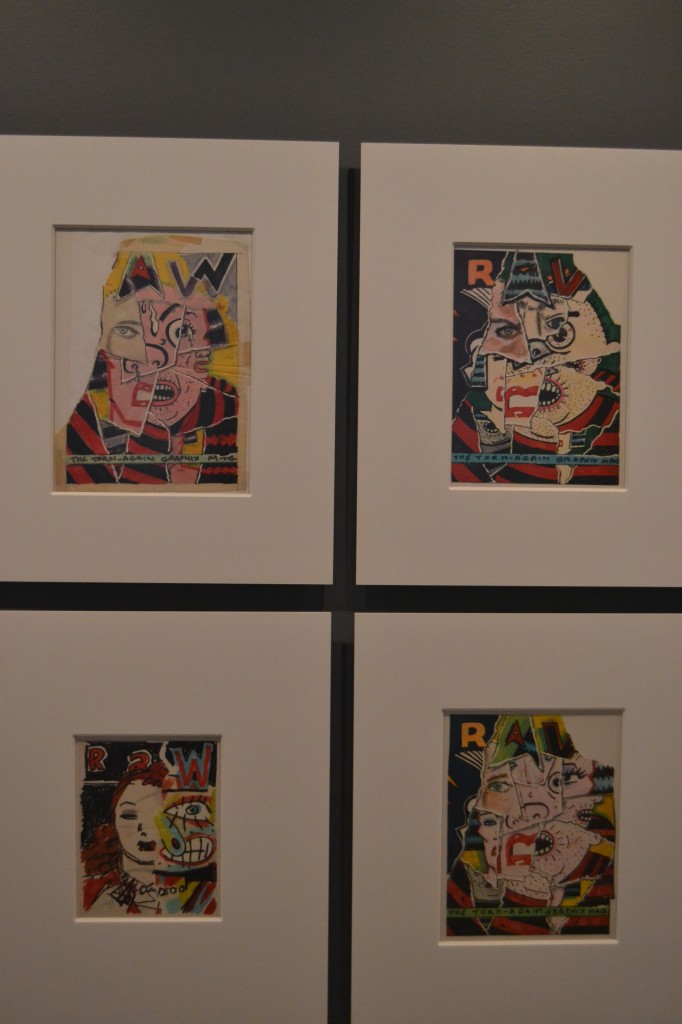 Speaking of process, the middle of the Raw section of the show, featured eight stages of developing the cover to the 7th issue of the series. A great glimpse into the production of what is to me, one the most important works in modern comics coming to where they are today.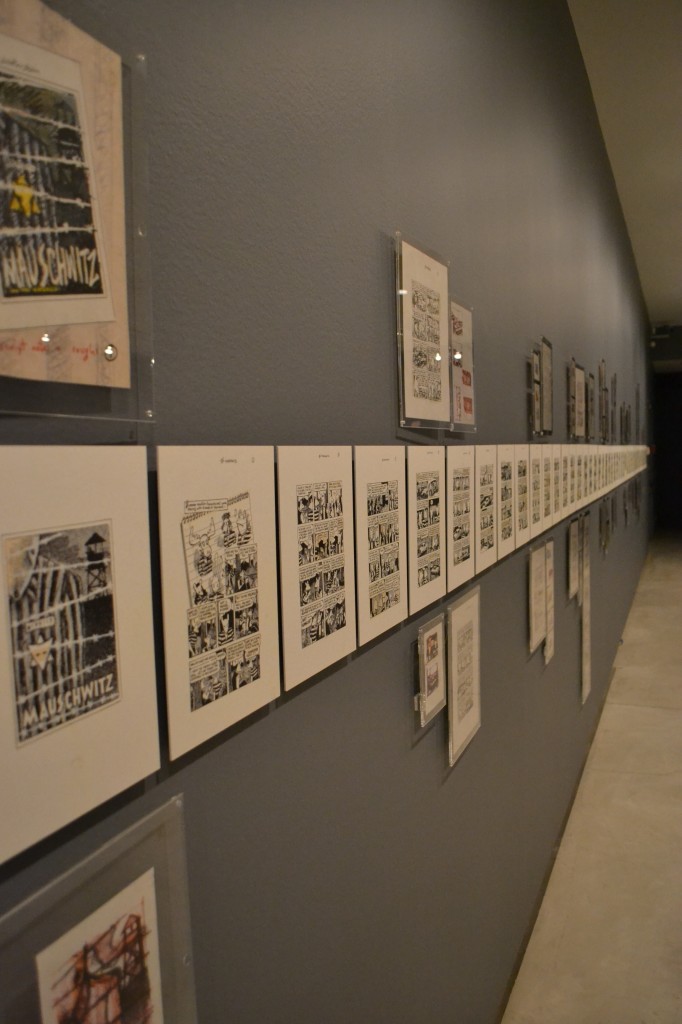 The largest section is dedicated to Maus. The first book was lined around the room with reproductions of each page with an accompanying process sheets that help to inform how Spiegelman would slim down the reading process.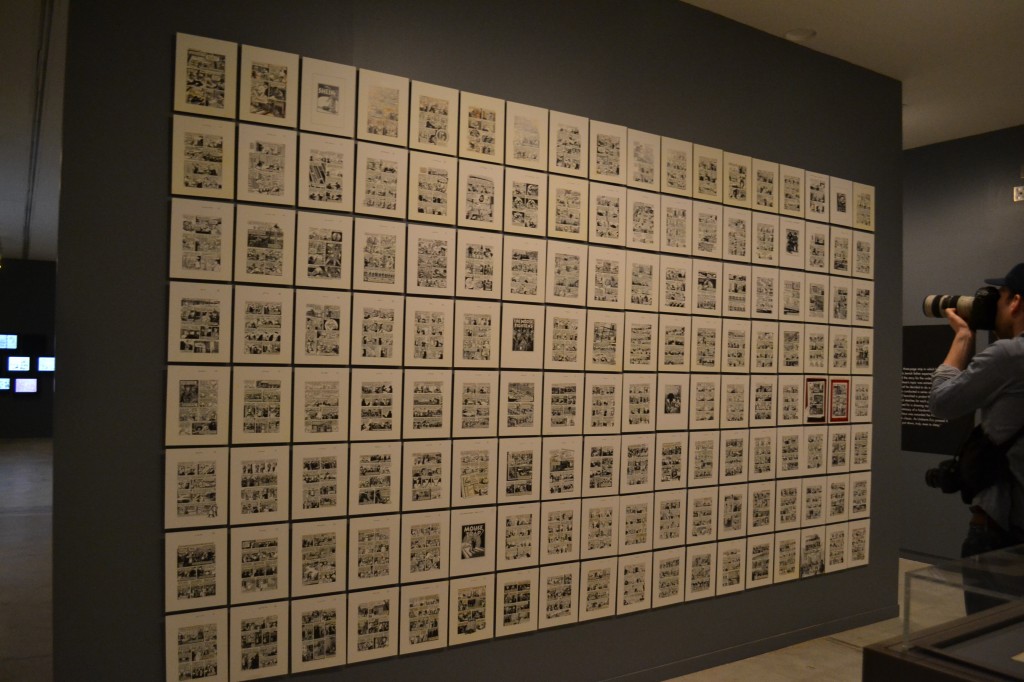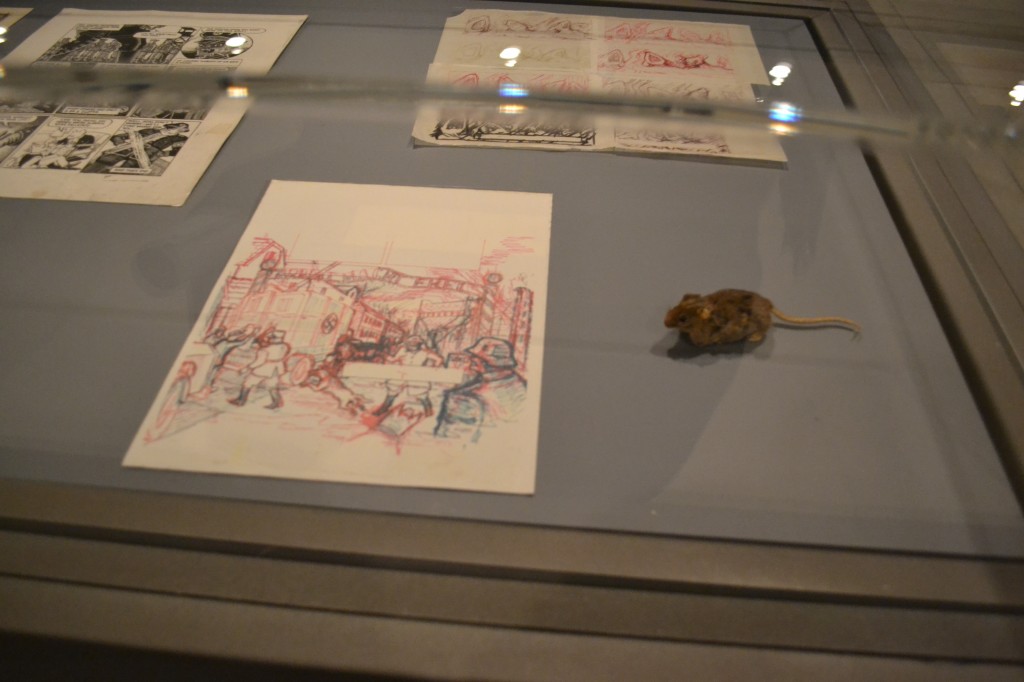 I loved the little mice they put in these display cases.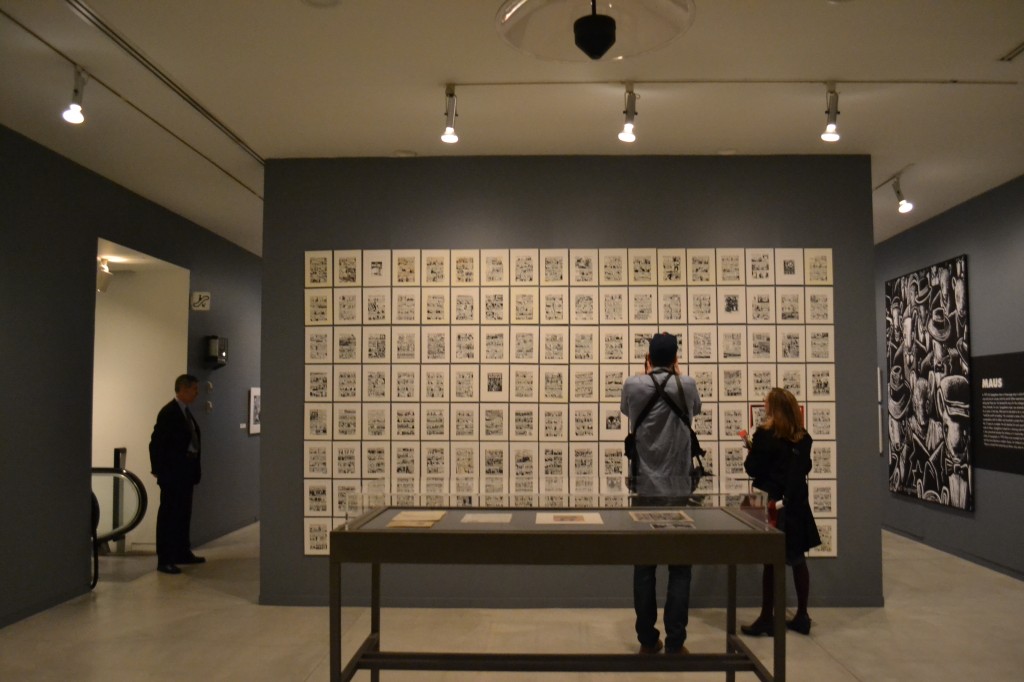 Here is the second book of Maus on one wall. If you look near the ceiling, you can see a small speaker with a cone over it, directing the sound so you would only really hear it if you were below. It featured excerpts of recordings of Spiegelman's father from when he was collecting the family history for his research. During the press preview, some reporters were complaining about the sound getting in the way of being able to hear Spiegelman talk about the work in the room. I found that odd and compelling. Honestly, we can hear Spiegelman anytime, he was one of the best documented modern cartoonists, I think there was a great irony that the other reporters really failed to grasp onto.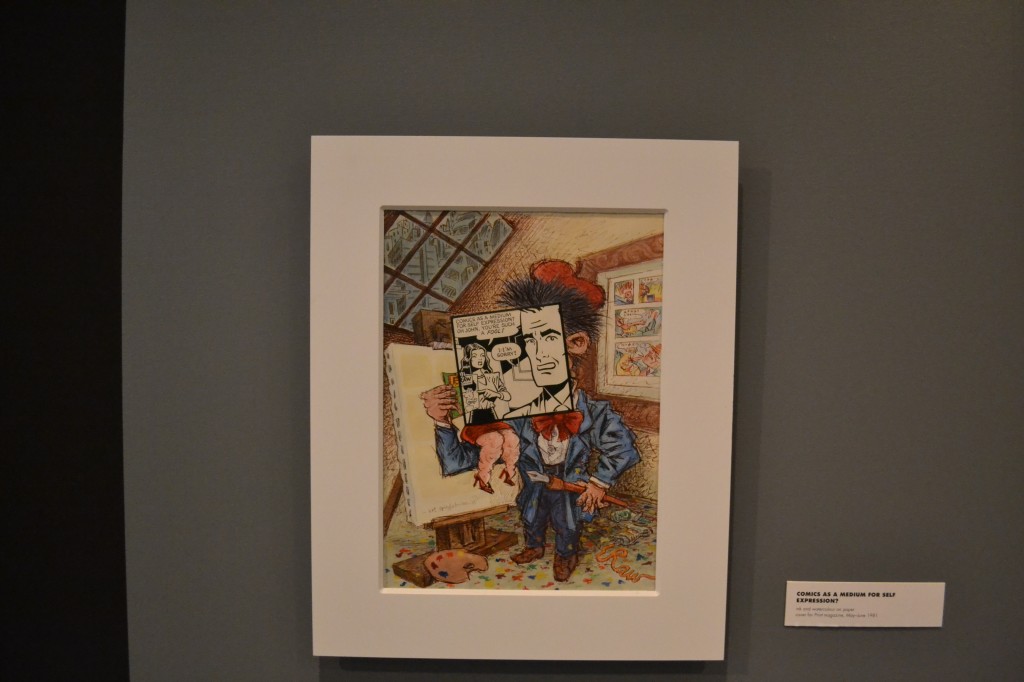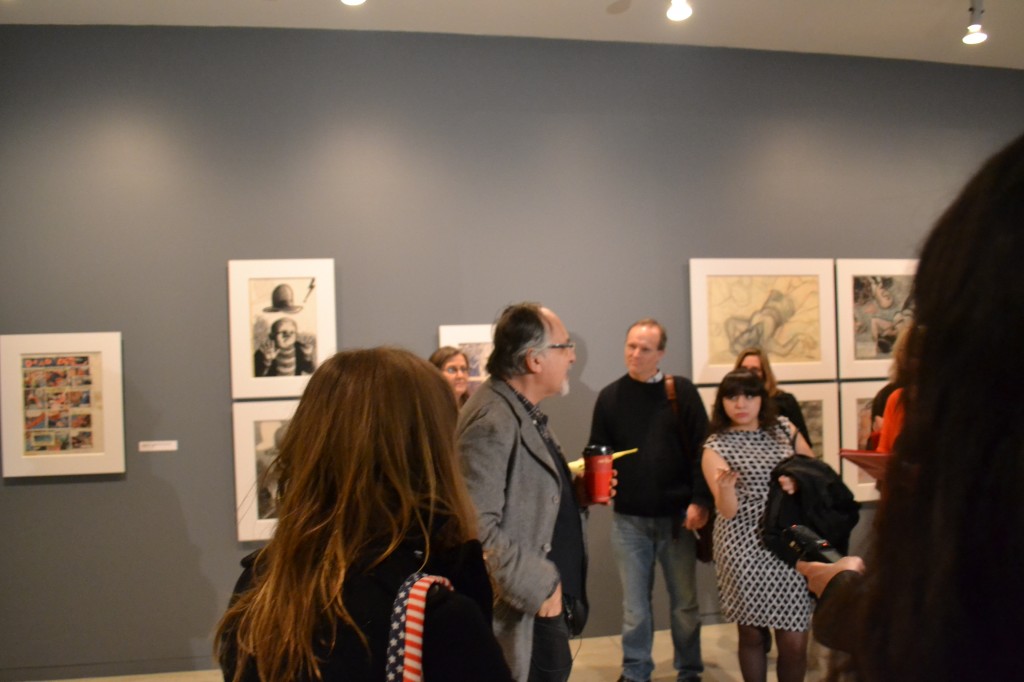 Here was the feeding frenzy of reporters getting their 4 minute sound bites. I got one question in. I think it was a good question with a good answer, I will find a reason to use at some point soon. But being in this situation is really an antithesis of what I like to do with the studs. I feel the show really works, when I am able to get personal with the guests and it's seems as though no one else is listening. It's just us. Being in scrimmage of reporters is just not enjoyable, I don't want to fight over a soundbite. I am sure I could of gotten a couple of more questions in, but I just can't be that guy. I did not end up getting an interview with him. Am I am disappointed, yeah, but I also wondered about what could I bring to the conversation that's new? I have some specific directions in mind that I will keep to myself if the opportunity arises, but until then, there are a lot of other cartoonists that have not been in Time Magazine that have plenty to say.
The show is really amazing, if you have a chance to see it, please do. This is only a small sample of it. If you don't make it to Vancouver for this show, please do check out the catalogue, Co-Mix, which will be published by Drawn and Quarterly in the next couple of months I think.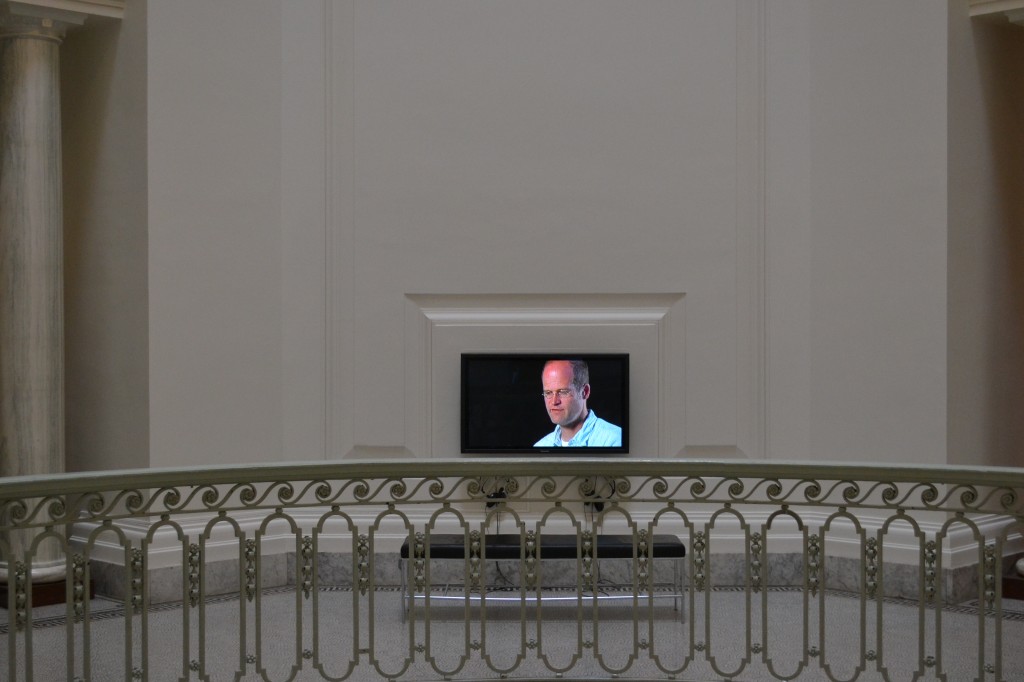 and yeah, Chris Ware on TV in a really beautiful gallery. it's good show indeed.
And now on to Emerald City. This show isn't completely my bag, but i still like to go, because they put on a fun show and it's only 3 hours drive from Vancouver. I traveled down with Emily Carroll and Brian Fukushima. Every time i tried to take a photo of Emily, she slapped the camera out of my hand, so I took this on the sly. They were not impressed with me.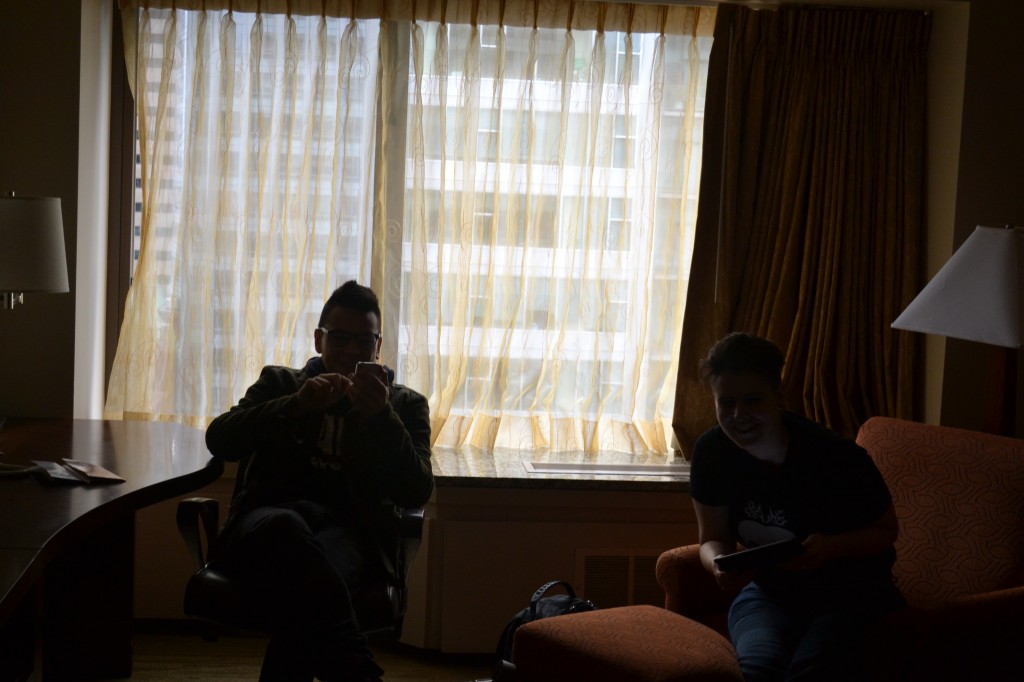 We stayed a couple of blocks up hill from the convention center. It was fine walking to the show, since you got to go through this park were people would be doing their cosplay photo-shoots. I am a sucker for taking photos of furries. I just love the passion people have for it.
The very funny KC Green was one of the first folks I talked to. he was very excited to see Brian Fukushima, me not so much.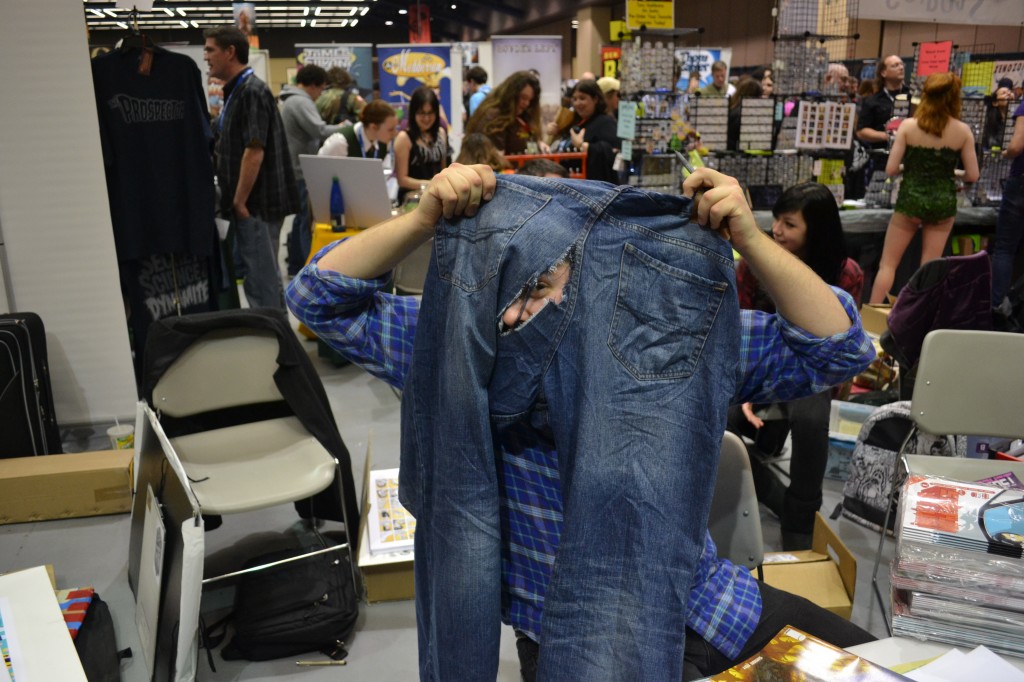 I mainly spent the time hanging out the table for Simon Roy, Farel Dalrymple, Joseph Bergin III and Brandon Graham. I dont know if you can tell from this photo, but Brandon's table was a mess. At one point I snapped and cleaned it up for them. Those guys are doing something good on Prophet. Real good. Simon was having a hell of a time that weekend, as you can tell my the state of his pants.
I am always happy to see the smiling face of Zack Soto. Here is joined by the rest of the Family Styles crew, Francois Vignault and Jason Levian. They all do great stuff. Jason's been a bud for a while and I am glad that comics has a guy like him organizing great stuff in Portland. Francois is ok.
Simon got some amazing food. Joseph was selling off some sweet prophet prints he made for the show.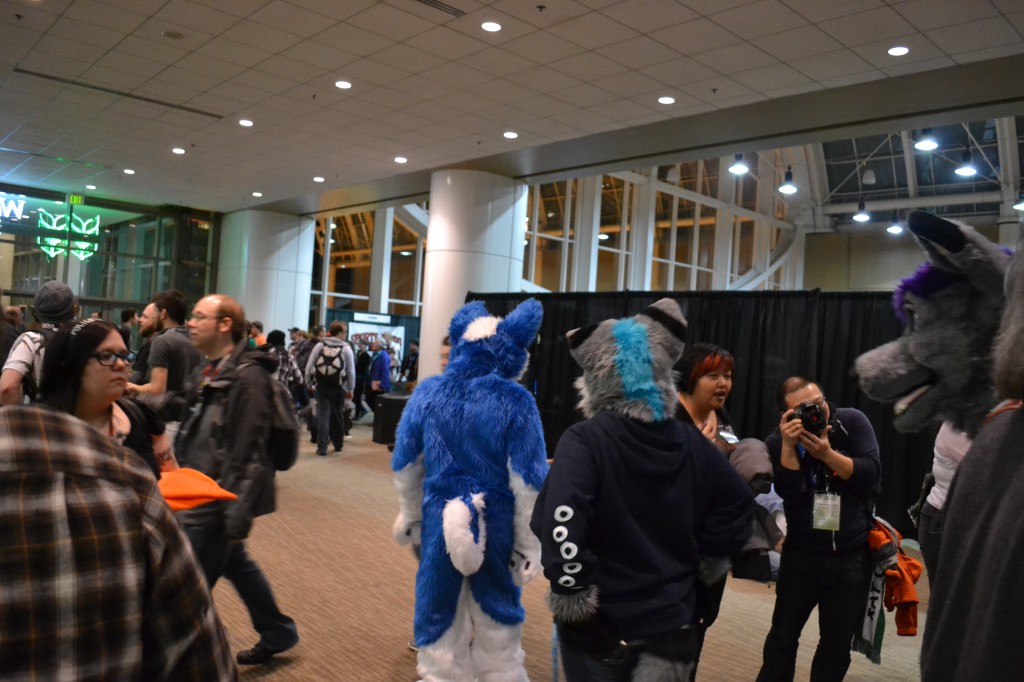 Furries. yay.
Simon Bisley, need I say more?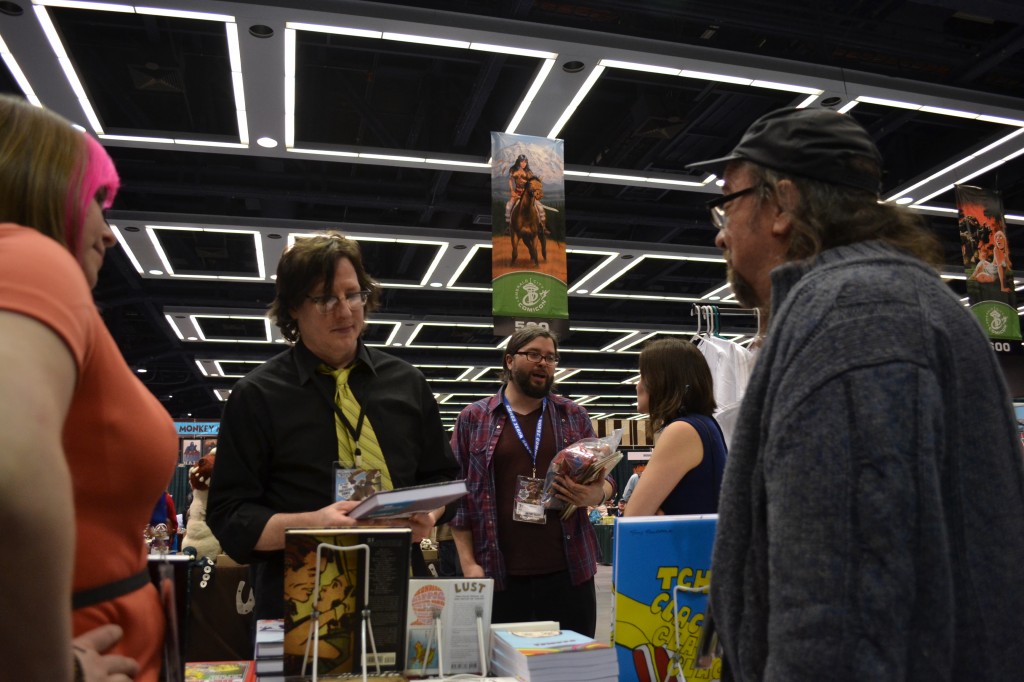 Here's Matthew Southworth trying to get a deal at the Fantagraphics table. this photo is full of people I love to talk to. Jen Vaughn, Larry Reid right in front of me, and Zack and Jacq Cohen talking about in the back ground. Larry was telling me his version of stories of fantagraphics in the olden days, that i had heard different versions of from some local cartoonists. Lots of great history. I hope Tom Spurgeon's book about Fanta comes out one day!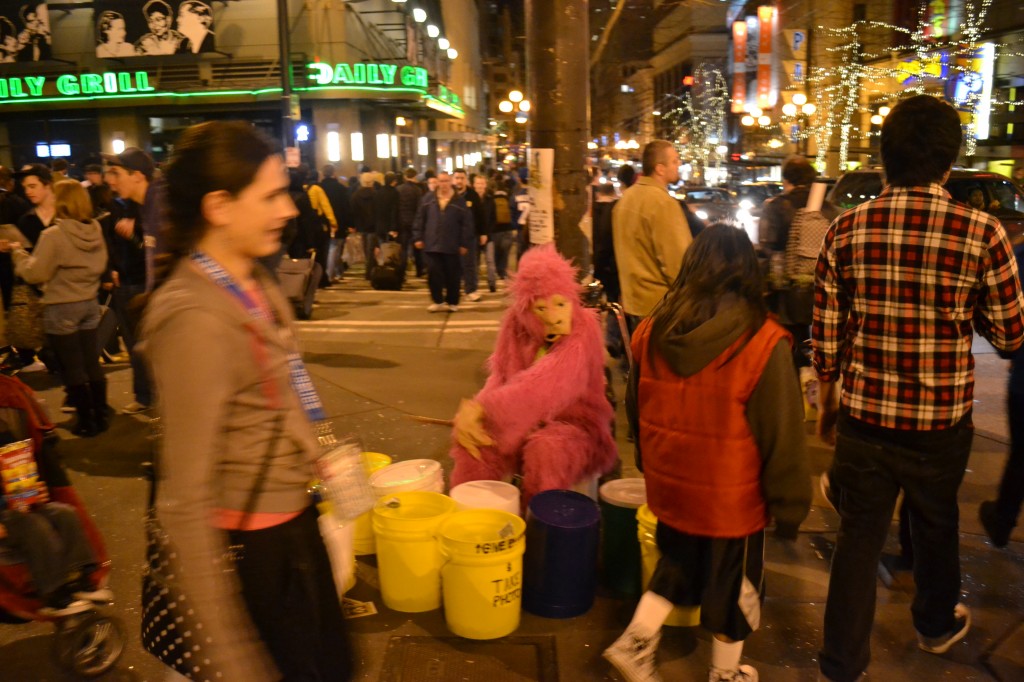 Speaking of Spurgeon, talking to him is always a highlight. I wish I was half the interviewer he is. I probably annoyed him to no end with terrible jokes and questions, but i appreciate him taking the time. Sunday morning, we went for a good breakfast of comics gabbing with Tom, Emily, Brandon and Simon. Brandon and Simon were late, I don't know why, but I expected it.
Brandon is too generous some times. Someone asked him to draw on his bass guitar, so he carried it around all weekend. Ask Brandon his joke about being a bass man now.
I really felt weird about the tattooing at a comic convention behind boxes of back issues.
It's Sloane Leong and Charmaine Verhagen, two ridiculously talented women. Sloane has been posting a ton of great stuff lately. check her out.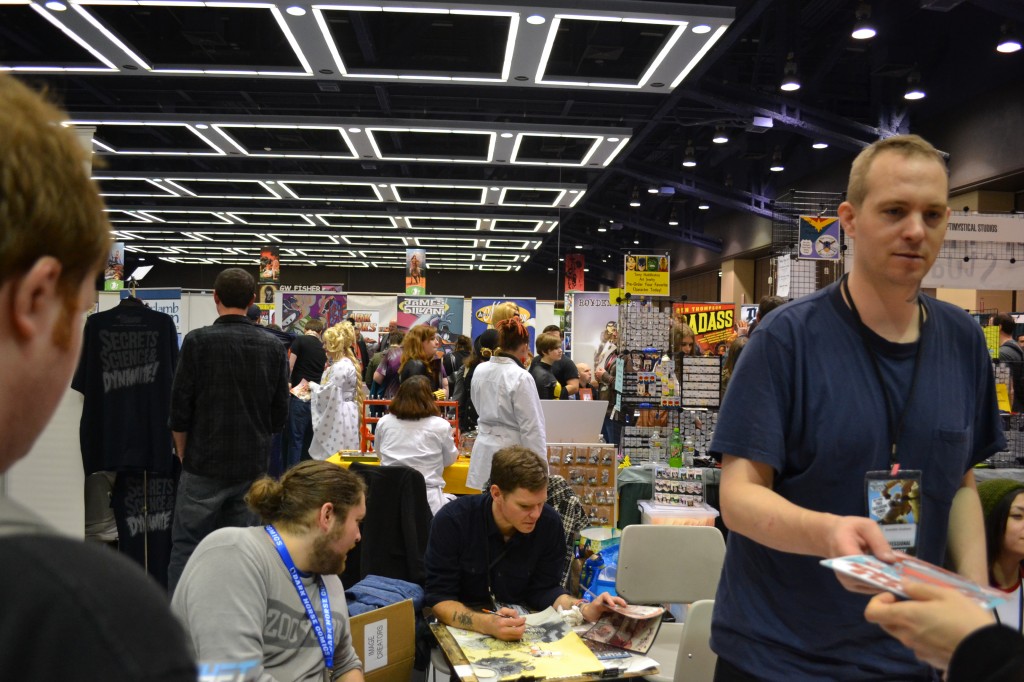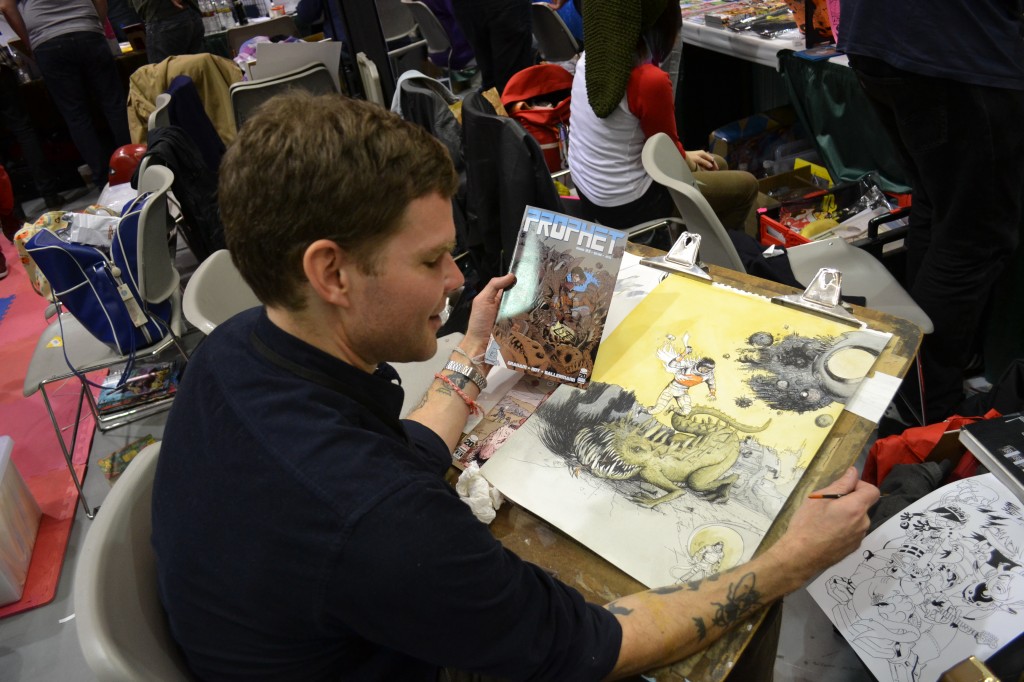 Farel sat behind the table painting this amazing Prophet cover. When his book,  Wrenchies finally comes out, it will blow people away!
I got really creeped out by this photo section. It was just a bunch of dudes taking photos of scantily clad women. It felt like I was walking by the stage at a strip club. And in a way that's fine. It has it's place, but the comics guy in me get's frustrated and weirded out.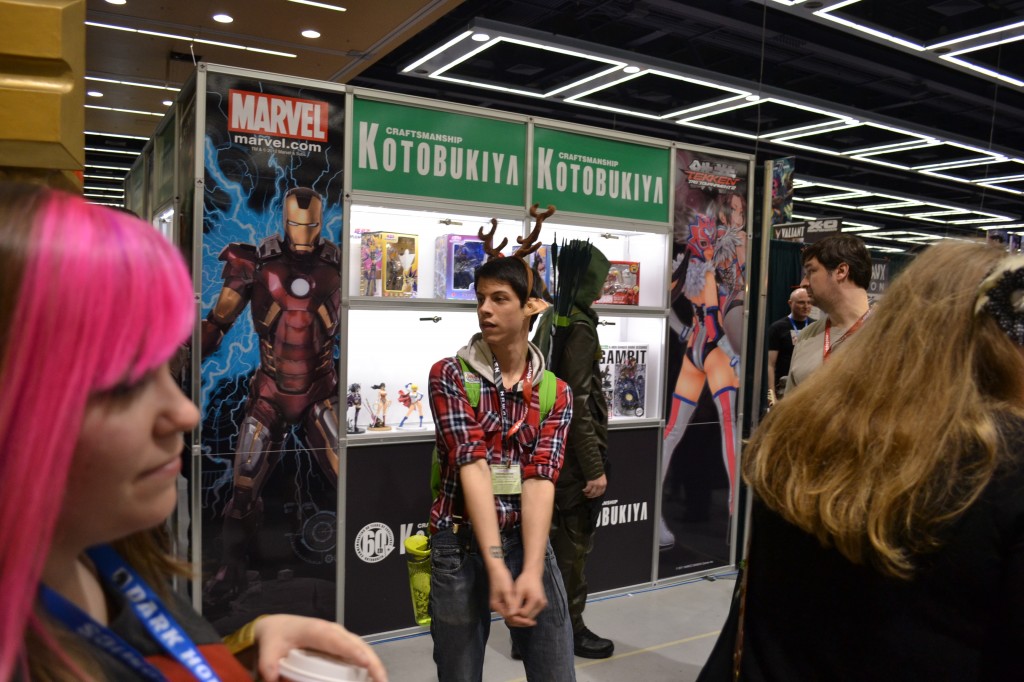 On the other hand, this Sweet Tooth cosplay was a million types of adorable.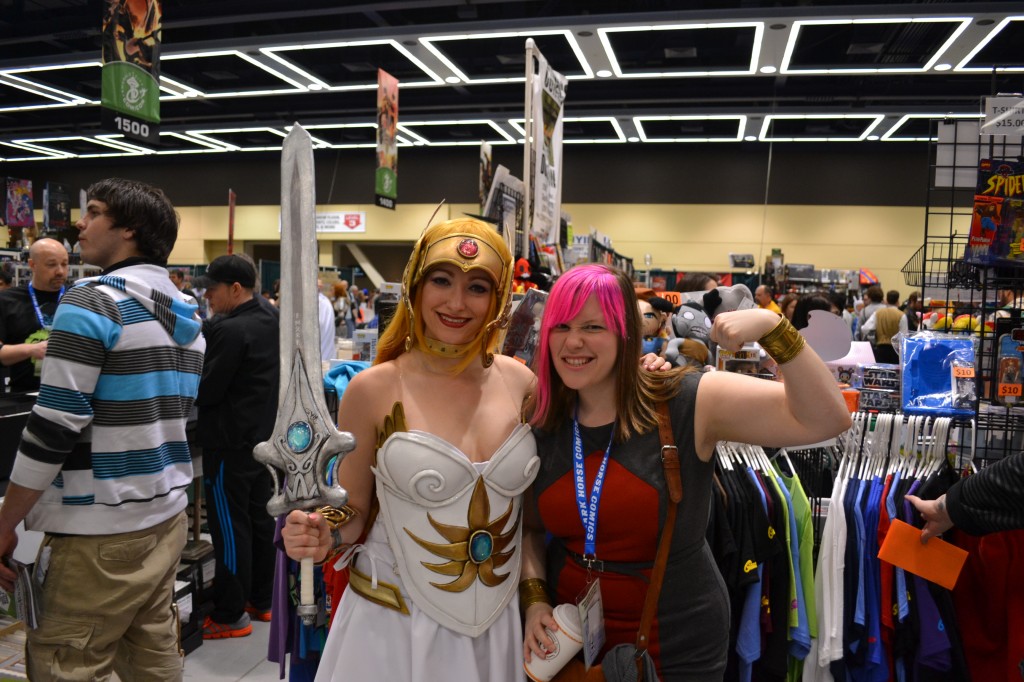 Jen Vaughn was very excited to meet She-Ra.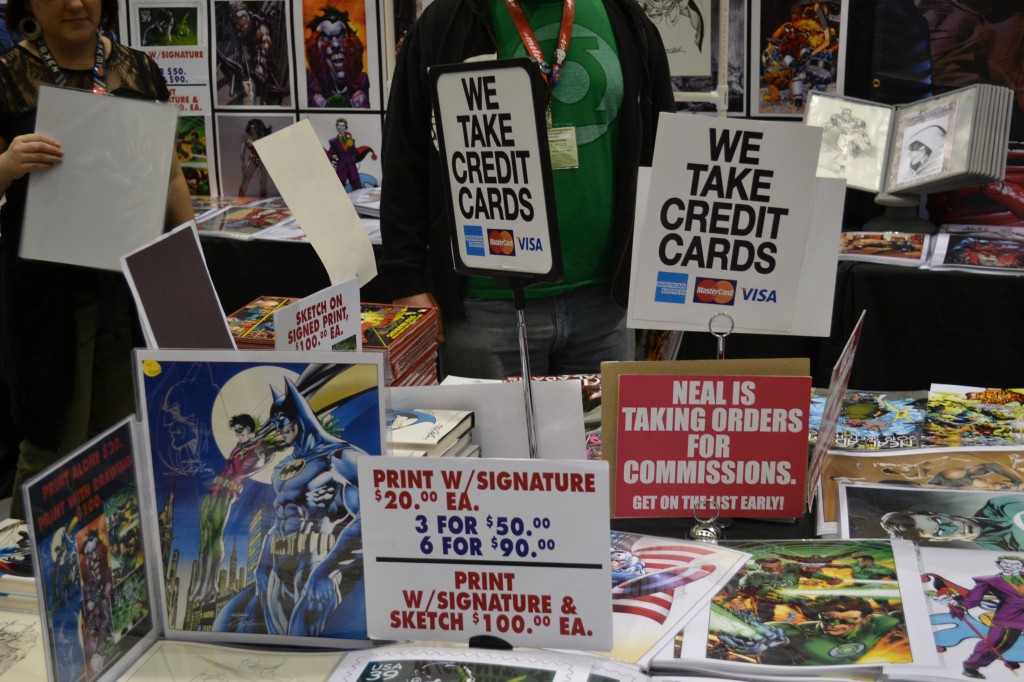 The Neal Adams table, doing it for the fans…
This women had a little mustache that she was placing on things. I didn't really understand it.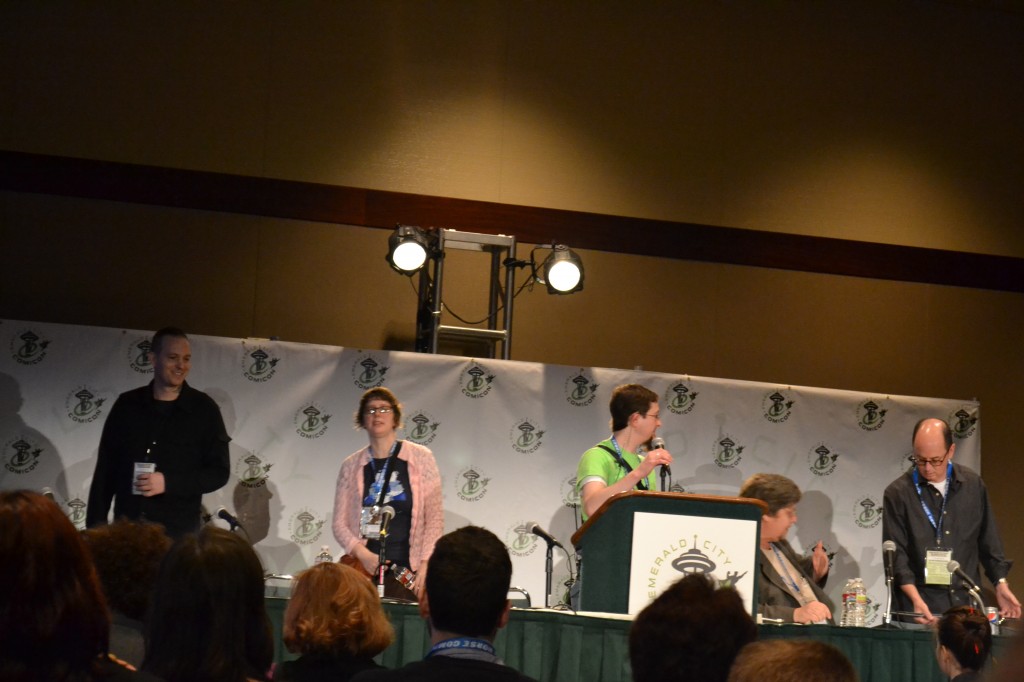 I went to one panel. I think it was on whats wrong and whats good about comics. Brandon Graham, Colleen Coover, Bill Willingham and Terry Moore were the panelists with Chris Roberson moderating. Some of it was interesting, and some was horrible. Bill made a lot of pretty deplorable comments, which seems to be what he is good at. Basically stating diversity is fine in comics, because there are comics out there he does like, and some that he doesn't. yeah, whatever. There was also some weird entitlement from audience members, i didn't get it. not my scene. I liked most of those folks on there. ok, almost all.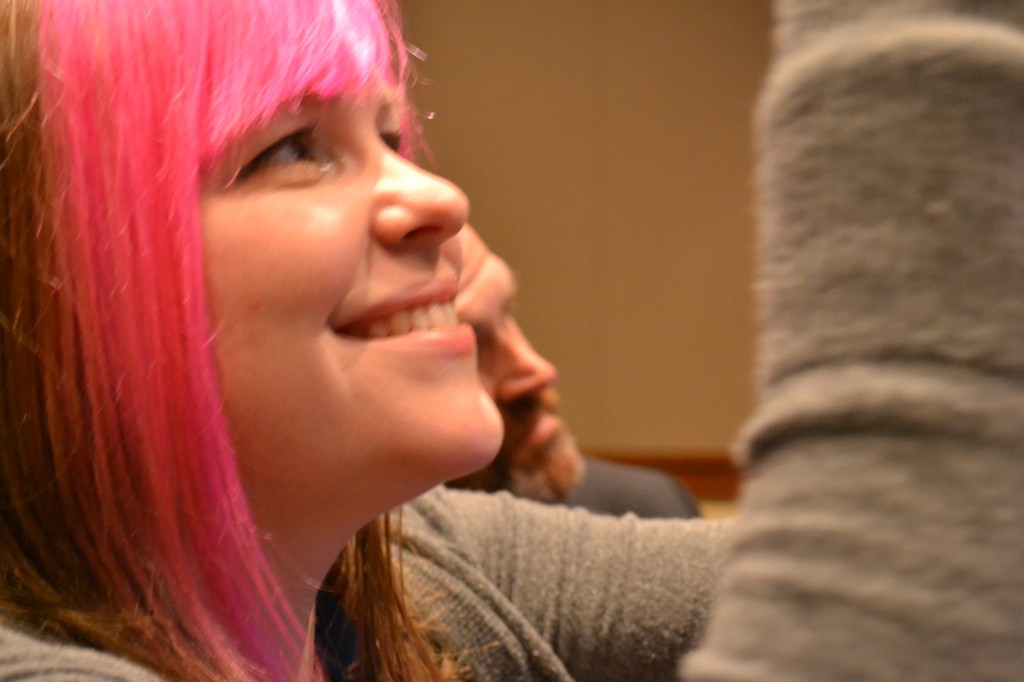 On the other hand, Jen was delighted.
Emily wanted me to get a photo of this Hawkman with the opening wings. Happy Emily?
Yay, it's Phil McAndrew. Phil has a new book coming. it's going to be great! He better come on the show, or else.
And now onto Fanexpo Vancouver. This was a busy show, it's second year running, but still has a lot of kinks to work out. I spent about 45 minutes waiting to get my press pass. At Emerald City, it takes me less than 5. The show attracts a lot of cosplay and people excited to get their photo with Tia Carrera. I think I bought 3 things. One of them being art off of Rebecca Dart.
Seeing Gareth Gaudin is always great. We have known each other for almost 20 years. Gareth runs a very excellent comic store called Legends in Victoria. It is well worth going to. He brought a copy of Amazing Fantasy for Stan Lee to sign.
After talking to some artists, checking out what was for sale, I mainly spent my time helping out at the Comic Legends Legal Defense Fund table. Free speech and censorship are pretty important issues and I am always happy to help out this cause when I can.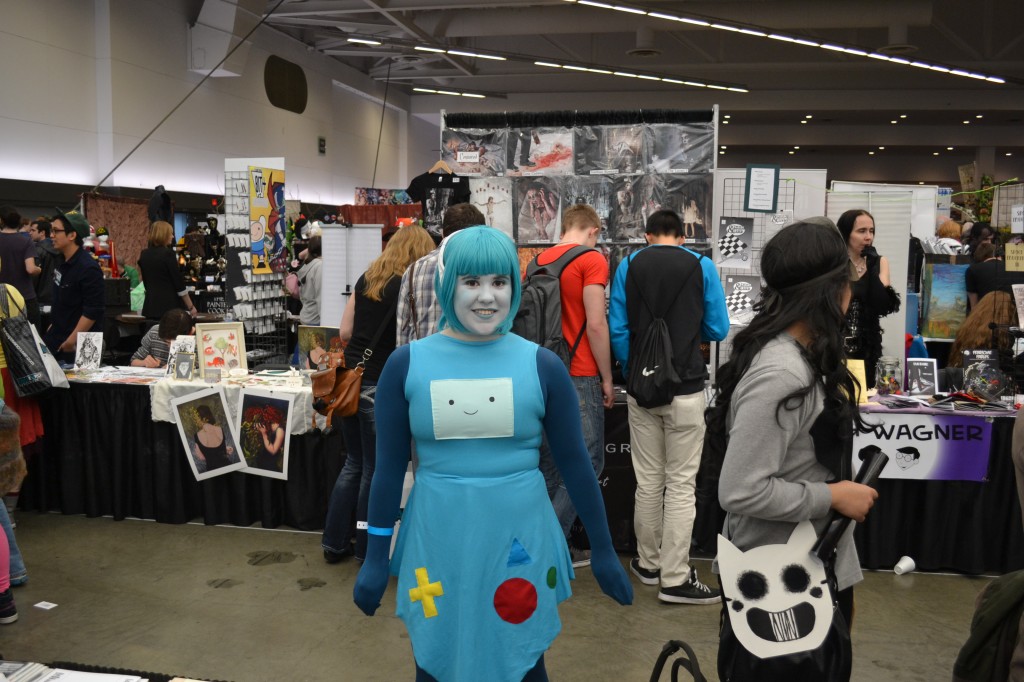 BMO!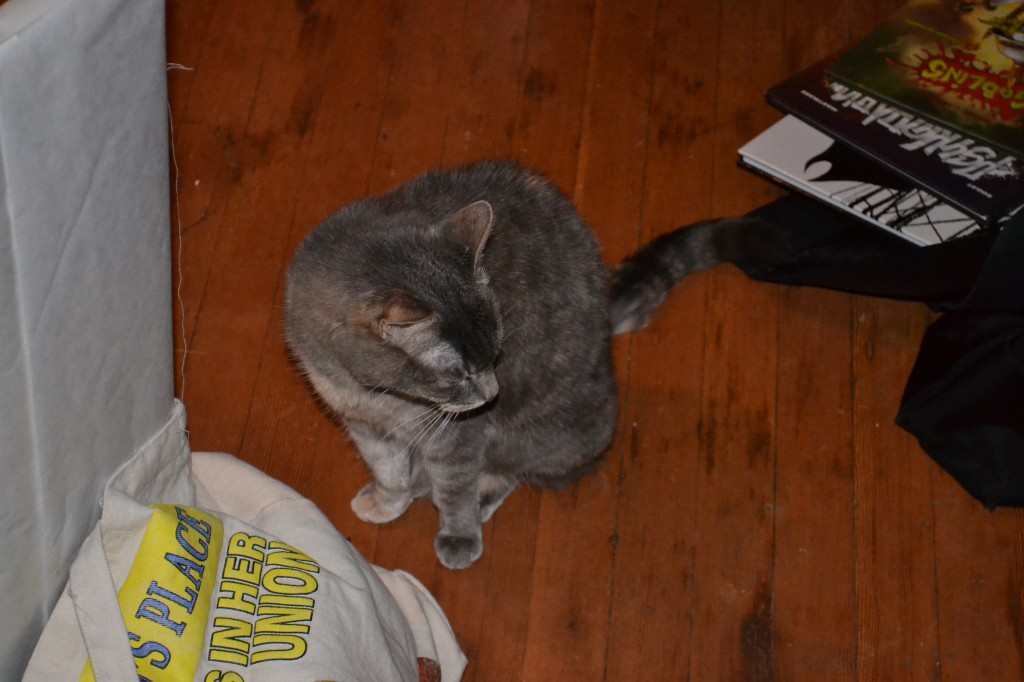 And here is my cat. she's pretty great too.